From:
Michael Geraghty, Sr
.........dad of SSgt M. 'John' Geraghty, Jr (stationed at Pope)
I work in the Thoroughbred horse racing industry. A longtime friend --- one of the leading cardiologists in the south ---
Dr Carl Gessler of Huntsville
, Alabama, was (is) so impressed & humbled by what my son John went through to earn his red beret --- and then later reading up (via my directive) on fellow
Alabaman Mark Forester...
(
pictured below RIP
) and then on the full historical exploits of the
US Air Force Combat Controller
--- that he called me to say he wanted to name his new foal, a colt... "Combat Controller."
I was going to make you aware of this news at the time, but each of us who "live" the Thoroughbred racing game know that it's almost as difficult to get a newborn to the actual races as it is to see a high school football player make it to the NFL. There's an old adage on the racetrack which goes: "There are only 2 types of horses: Those with physical problems, and those that are gonna have physical problems!" You see, they're twelve-hundred pound animals who run 40 MPH on very thin lower legs.
In any event, news arrived on Wednesday night that a new racehorse would debut on Saturday night Nov. 28, 2016 in Louisville, Kentucky at Churchill Downs (home of the Kentucky Derby) named... COMBAT CONTROLLER!
So please pass word far & wide to anyone that you're connected to inside the fraternity. While the name of the horse was initiated by my friendship to an affluent racehorse owner and inspired by my son---an active duty CCT---the horse is named in honor of
ALL OF YOU GUYS
--- those who serve today and all of those who came before.
Michael Geraghty, Sr
Laurel, Maryland
dad of SSgt M. 'John' Geraghty, Jr (stationed at Pope)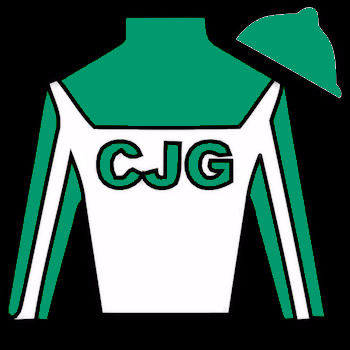 08/24/17, Saratoga, Scratched
From Insider Mike; Looking ahead....

This saga began months ago, the day after Thanksgiving, at Churchill Downs in Louisville, Race 1. Combat Controller raced that night like he was blindfolded. Since then, he's been coming around by the week and training well. He went from trailing the field in the first race to finishing 3rd twice. He's now doing everything a trainer hopes to see: Eats every oat every day and has stayed sound / free of injury.

He's also not goofing off in workouts (well, as much. That may never fully subside until he's older. In the sphere of horse racing, 3 years and months (his age) is still quite young. He's literally a big, playful kid and last but not least---still has his testicles.
Don't laugh...in the equine world they're quick to come off if a horse refuses to concentrate, compete seriously, and/or becomes dangerous. Combat Controller's dad, Awesome Again, was a world champion and his mom, a minor stakes winner on grass surfaces. As such, a case could be made that Combat Controller is worth a hundred grand- or more -even if he never wins a race, as HE could pass on the abilities of his parents---even if that same DNA finds a way to by-pass him.
But I digress. Most importantly--and this is huge--Combat Controller never gives a half-hearted effort. He fights during every race and morning training session, as he has the mind of a champion.
PLEASE pass word far & wide inside the USAF Combat Control community and Special Operations. Please put Combat Controller and his races on any message boards, Tweet-it-out and put it on Facebook. EVERYONE who is - or ever has been - a Controller should be watching. Hell, the entire United States Air Force should be watching! It's rare that an expensive racehorse gets named in the honor of a group completely unknown to pop culture...done purely out of respect.
We gotta make everyone understand that this is a thousand times cooler than, say, the
NASCAR truck which carried the USAF CCT emblems.
I'll grant that that was cool. But this is cooler.
Note from Mac; I gotta look after you Insider Mike, We're tight with Brendan Gaughan who's NASCAR truck had a special paint scheme to pay tribute to CCT/ST and his friend, Combat Controller, MSgt Phil Freeman. Brendan's dad, Michael Gaughan owns
Southpoint Casino
and
Equestrian Center
where we
(Combat Control) hold Annual Mini Reunions.
Some of the guys might take offense to your comparison of NASCAR to horseracing, however I understand.
Hey Mac. It's all good. My point on the race car was....that was stickers on a machine. Granted; cool stickers...I saw it and promoted it. But now, we're talking a living, breathing animal who will carry this name for hopefully the next 18-20 years that he'll be alive.
For today, in every race he runs, over many states, his name will be blared over speakers. The name of a racehorse makes people curious; and they'll research what it means. If we can get some wins out of him, his name - and eventually the meaning behind the name - will be covered in newspapers and on message boards. And finally, if he becomes, at least, an occasional winner, he'll retire to the breeding shed after his career; and all sorts of related names will derive from him...perhaps stuff like "Air Force Combat Controller," "Air Force CCT," "First There," "Controlling Air Space" ...and who knows what? Bottom line, it's tradition in Thoroughbred racing for the offspring to carry on a piece of the stallion's name. If he becomes a winner, the name of this horse will have "legs" for many years. These types of things just don't happen in motor sports.
Finally, throughout the lore of American sports history, few sports have been cooler than Thoroughbred horse racing... from Man O'War to Seabiscuit to Secretariat... It's a sport which resonates in probably 38-40 states...not just in the southern states---as does NASCAR. Make no mistake, I'm a fan of open-wheel, as well as NASCAR racing. Auto racing, without question, is a great sport. Still, in my opinion, it ain't as cool as horse racing. And millions of people agree with me. Two June's ago, when the racehorse "American Pharoah" made his attempt in the Belmont Stakes to become the first winner in 37 years of horse racing's Triple Crown, it was found to be the second largest-viewed sporting event of the year. Only the unparalleled Super Bowl had more viewers.
I've been a full-time, professional equine artist since 1988. As 2016 arrives, more than 50,000 people have collected my prints. I have collectors in all 50 states, as well as Canada, Japan and parts of Europe. I still get a kick out of having Thoroughbred art buyers in Ketchikan, Alaska and a few in Hawaii!
Moreover, I'm proud to say that over the years, owners and jockeys of the winners of the Kentucky Derby, Kentucky Oaks, Preakness Stakes, Belmont Stakes and many Breeders' Cup events have commissioned me to paint their horse as an original for their home. I also maintain a list of almost 12,000 names and email addresses of people who purchased prints from me or requested information on my art.
How I began
Just as a top stallion often passes his abilities onto progeny, I inherited a high level of art skill from my father. And, I might add, I've subsequently passed the gift to my two children, John and Christopher. The Geraghty boys, now in their early 20s, are proudly serving in the United States military and not pursuing art as a career.
After a four-year stint in the United States Air Force, I attended art school on the GI Bill. I became classically trained in Illustration and Painting at the Maryland Institute, College of Art. I further enhanced my skill sets by taking intense professional artist workshops in the 1990s from several of the world's leading wildlife artists, such as Carl Brenders and Rod Frederick.
I began to learn about racehorses at the age of 15. My first paying job was a hotwalker on the backstretch of Laurel Race Course in my hometown of Laurel, Maryland. Hotwalkers take each horse from an exercise rider after returning from its morning workout. They then walk the horse for 30-60 minutes at the barn to cool it down.
I was extremely fortunate to cut my teeth in the sport during the 1970s. Before the inception of the Breeders' Cup in 1986, Laurel Race Course hosted several of the more important stakes races in America, notably the Laurel Futurity and the Washington, D.C. International. I stood at the rail as Laurel Race Course hosted Futurity victories by Secretariat and Spectacular Bid, as well as one of the storied duels between Affirmed and Alydar. Today, you'll find bronze statues coast to coast of the horses I saw during the '70s.
I've not only loved the atmosphere of the track, but also the history in which Maryland played in shaping the national horse racing industry. In 1743, the Maryland Jockey Club was established with George Washington and Thomas Jefferson among its members. Col. Washington was frequent guest of the MJC for races in Annapolis throughout the 1760s and 1770s. We know this because our first president kept meticulous records. An entry from his diary indicates Washington lost 1 pound, 2 shillings on the races in 1762.
In summation, Laurel Race Course provided all the motivation and foundation that I would need to succeed as an artist in depicting the sport. You could say Thoroughbred racing is both my hobby and occupation. I know the game inside and out and always do my best to glamorize the horse and sport in every scene.
~ Mike Geraghty
Laurel, Maryland
call or text me at 301. 602. 4385
email me at:
MgArts31@gmail.com
Web Site;
Michael Geraghty Artwork
Facebook;
https://www.facebook.com/Michael-Geraghty-Artwork-132626306756751/