Whether you're fishing boulder strewn rivers or shallow lakes... RiverPro®'s All Welded Aluminum HD Hulls and Mercury's Inboard Sport Jet Drive can get you there.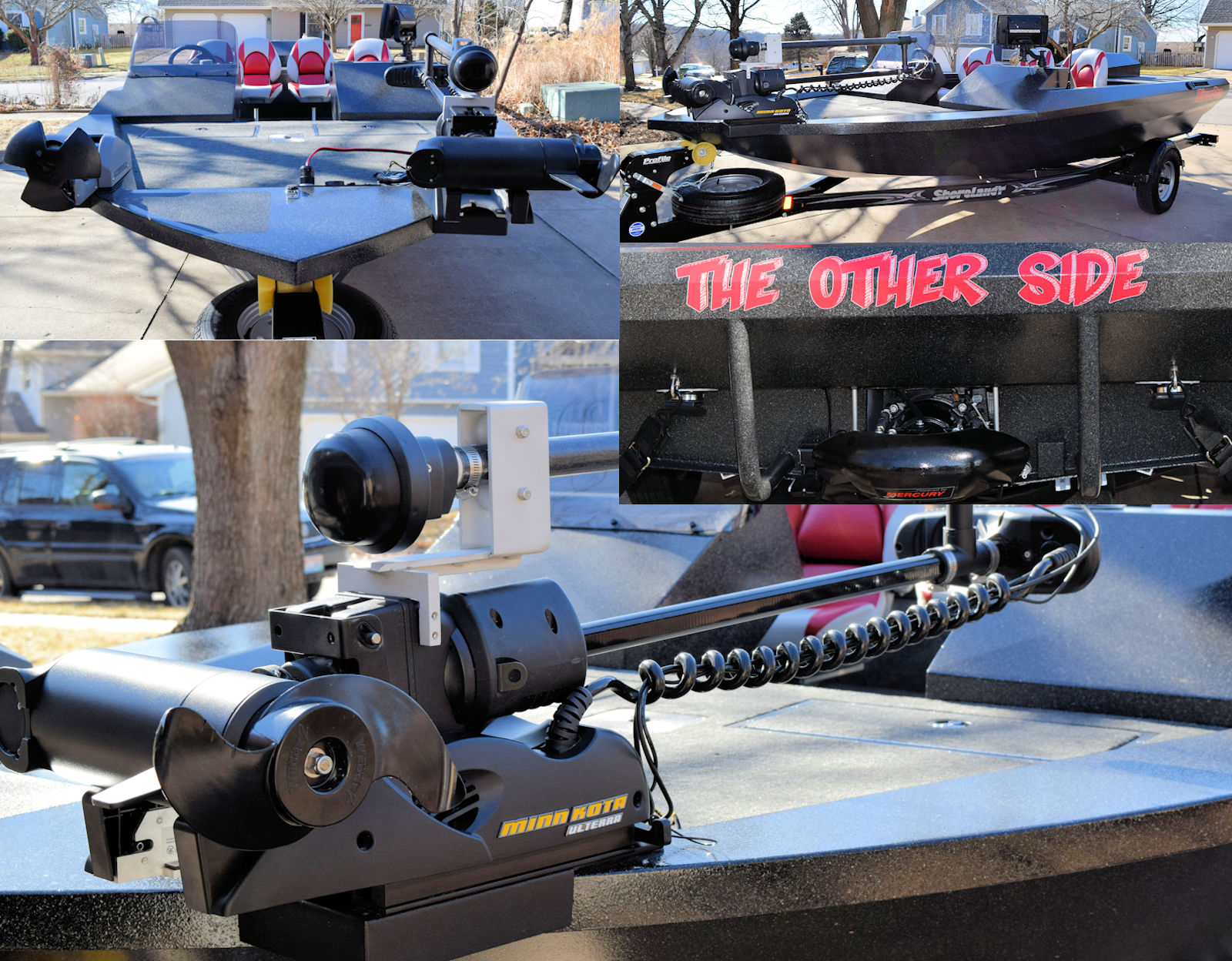 RiverPro, Kevin and Sherry Turner, designed and fabricate their boats at a small shop near St Louis. Every boat is custom made and a piece of art, however like an artist, Kevin builds on what works and leaves the extravagant to you. For example, they wanted nothing to do with my Helix 12, Side Imaging, GPS, Chirp, KVD Edition Fish Finder.
"
It's just too big
!"
and they nicknamed it; "The Big Screen." There's just no place to mount something this BIG!

However they didn't understand the mind thought of a Combat Controller," No Problems, Only Solutions!" Windshields in the way, no problem, take it off. But, but, but, this is a high performance vehicle and hauls ass, you need a windshield. No, all I really need is a Phace Sum2 Sport Utility Mask, model The Fallen.... as pictured above. Captain Jill keeps her windshield, and 1st Mate Mike gets the cool mask with interchangeable lenses. Nobody ever considered mounting a fish finder on the 1st Mates Console, but then they didn't have a "Big Screen!"





Without the windshield I was able to have them put it on a Ram Swing Arm Mount. Now it can be viewed from anywhere on the boat. It's especially handy for viewing from the front fishing seat. Have you noticed the black and red color theme?

They installed the Humminbird Helix and the Minn Kota Ulterra Trolling Motor. It's self deploying, 36 volt, foot pedal or remote, GPS, and down imaging sonar. I wanted this connected to my "Big Screen", but needed to get a transducer switch, an adapter cable, and get it wired.
And you see that thing sitting on top of the Ulterra? It's a Humminbird 360 Imaging Sonar that nobody wanted to touch and I had to have! There were some mounting issues, but I found a
contraption that mounts to the Ulterra and deploys the 360
with the trolling motor. Installation was easy enough and I just had run the wires and get some adapters so I could connect the 360 to the Helix 12 too. Now I have 3 transducers all searching for fish, I just have to figure out to operate the "Big Screen".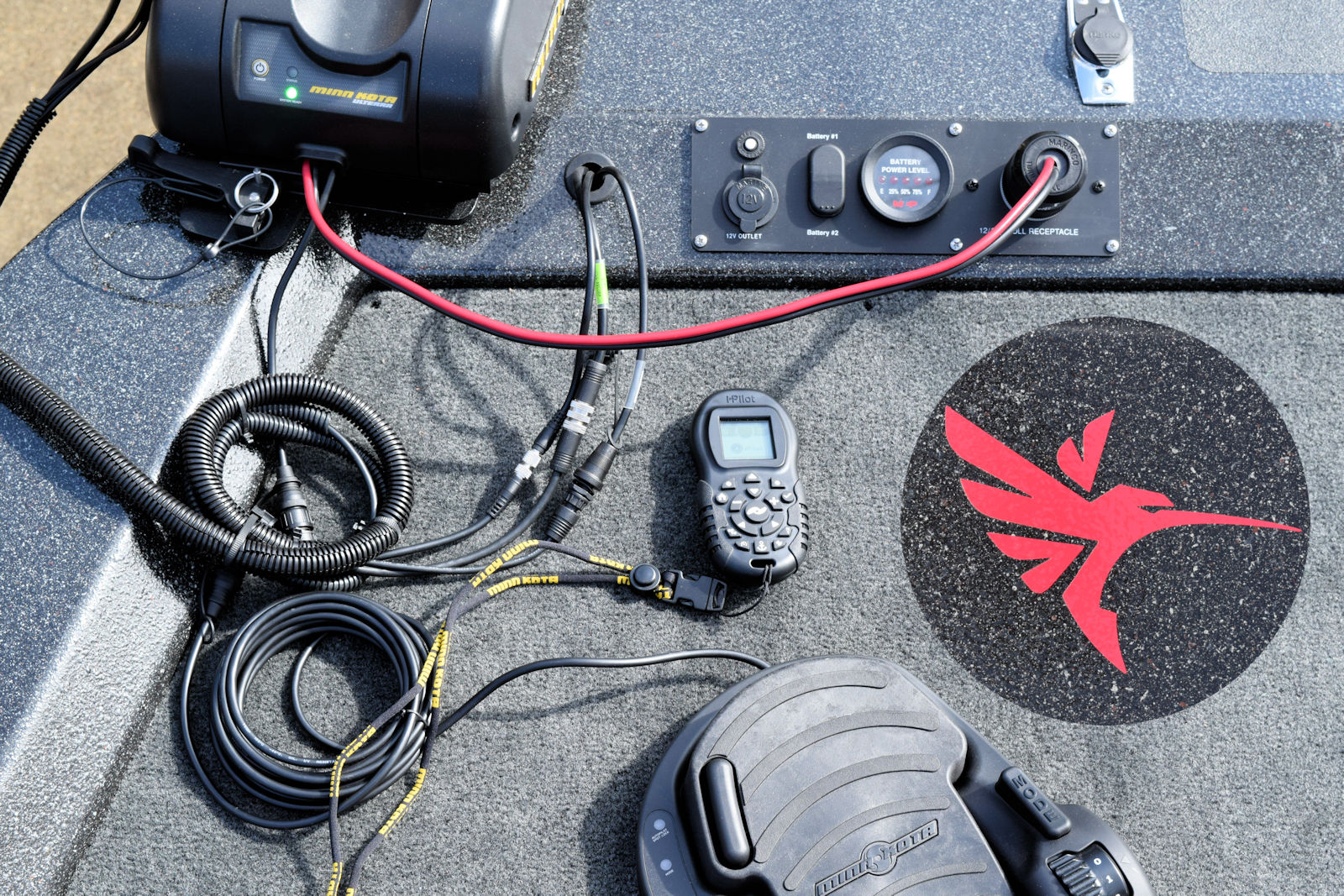 Did you notice the Hummingbird I had made for Jill? No expense spared when it comes to my honey.............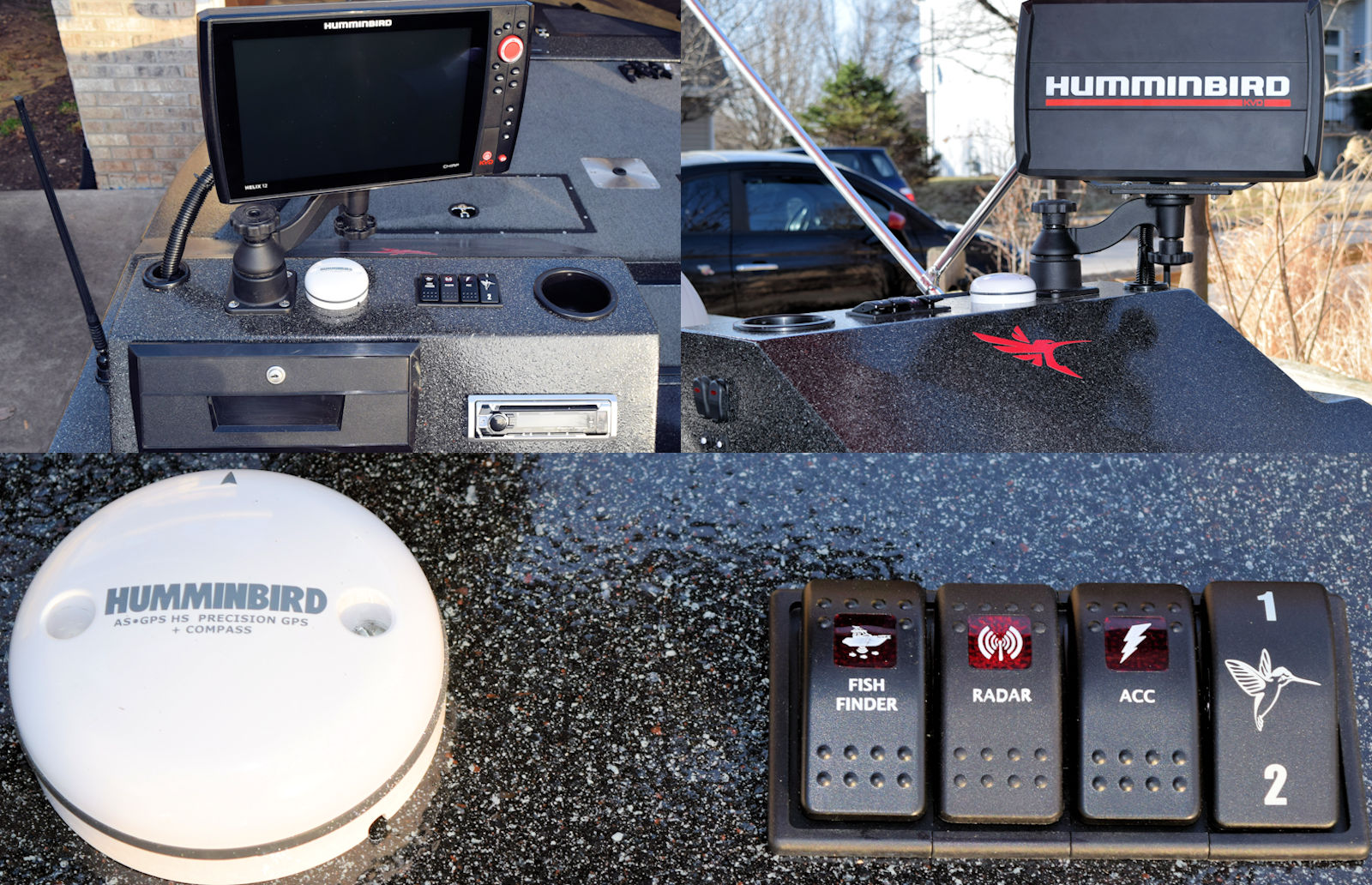 1st Mate's console is now looking like the navigators station too. I have 3 GPS's and 3 transducers and haven't found a fish yet and have no clue where I am? I need a smart person to decipher all this technology.... You can see below that I have a GPS Displayed and a 360 degree radar/sonar running. RiverPro installed a couple of mounts up front for the electric anchor and Ulterra to leave the center of the bow clear for loading. They also left me a channel to run wires. The Ulterra's mounted on a quick release plate and all my wiring has disconnects, so I can remove the Ulterra and 360 easily.



Wore me out just trying to figure out how to connect all the sonar's.......and then supply them power.


SWITCHES FUSE BLOCK GROUNDING BAR


It takes tremendous power to run all the electronics and make sure the engine will start, so I have 4 batteries, 3 up front, 1 in the rear. I also have a 4 bank battery charger installed in the boat which I just plug after using and all batteries are automatically charged.


I purchased some clear hose and a couple of barbed T's to connect the cup holders drain to the front compartment drains. Helps keep our feet dry from cup holder abuse




Did I mention the color scheme is red/black..... and the anchor comes with blue rope?



Believe it or Not; the seats were a subject of concern. My concern, storage and usability. Those 2 center seats are usually stored away, however my thoughts were to have them stored away as usable passenger seats. There was an option for a storage box/ bench seat for this area, but my thoughts were to use the front and rear fishing seats as passenger seats and store equipment (tackle box & cooler) to the outside of the seats. Expense is not a concern when it comes to our passengers comfort, or Jill....................... Sometimes YOU just get LUCKY!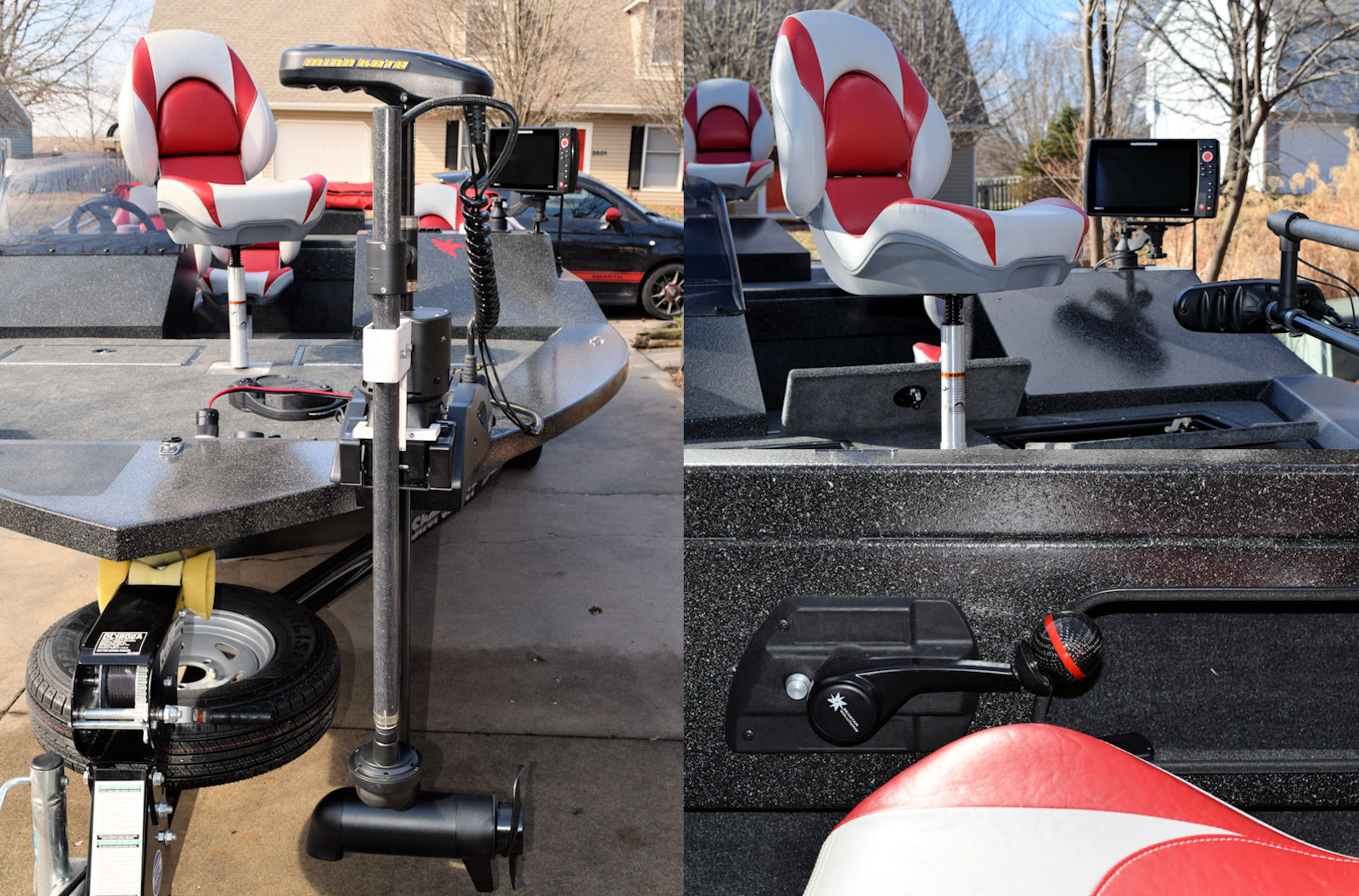 I have 4 seats and 6 seat positions. Of Course, I had to upgrade the gearshift/throttle to a Carbon Fiber handle with a red stripe!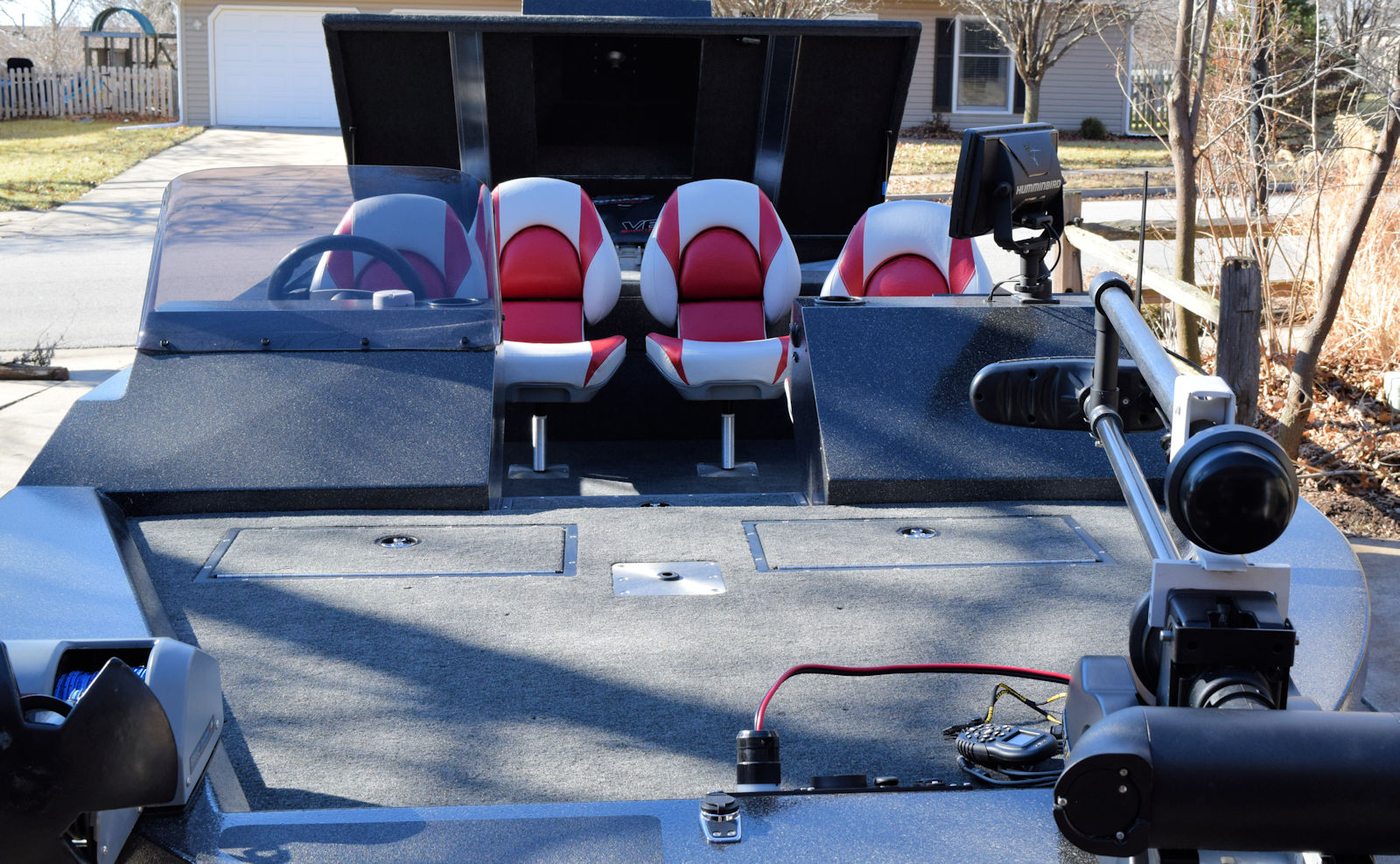 HEY, we've never even talked about what's under the HOOD!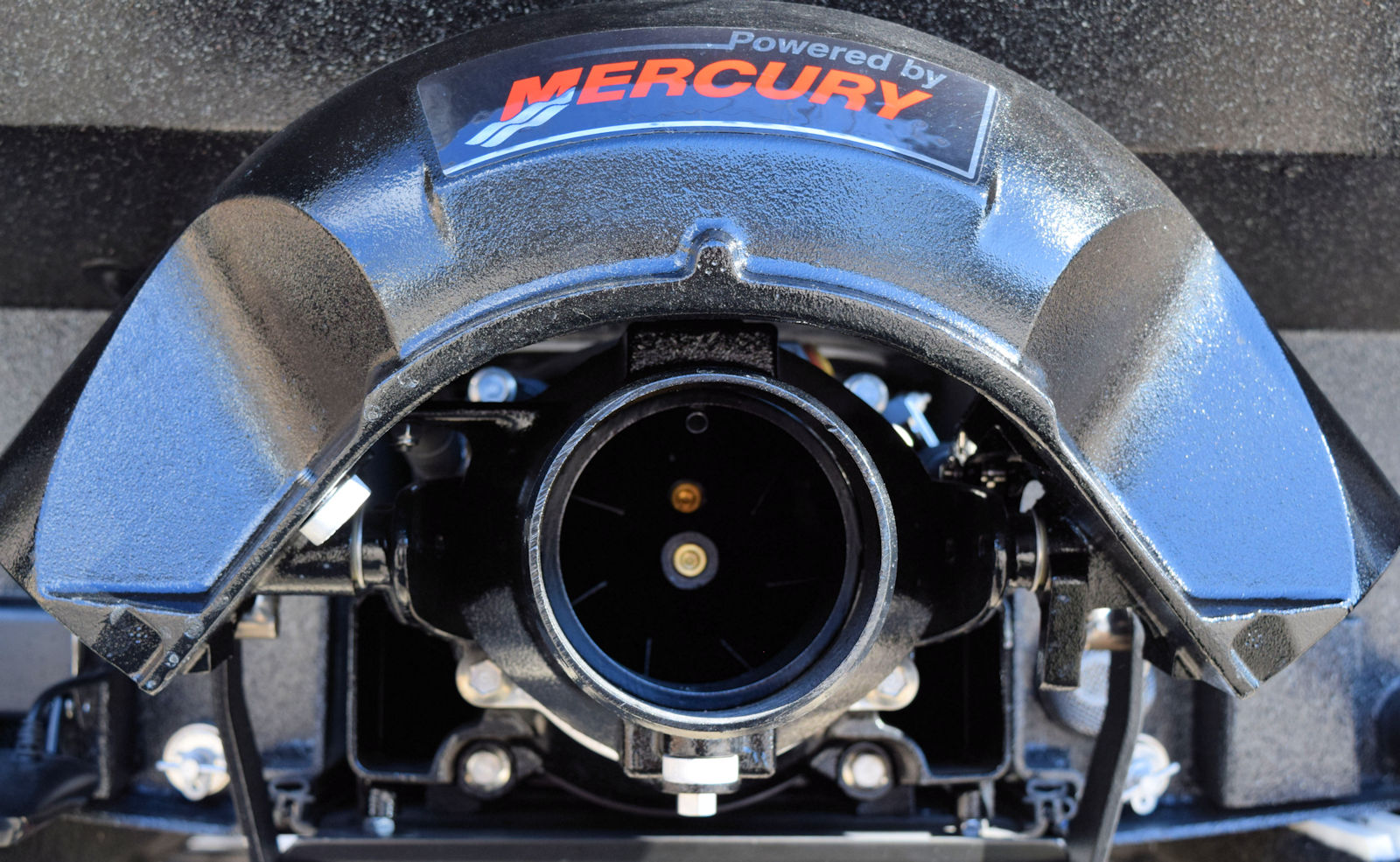 Believe it or Not; This is what's at the other end of the engine that shoots a stream of water out forcing the boat to travel at speeds over 50MPH in only 4 inches of water.......

Are We Having FUN YET!!!!!!