Tan Son Nhut, Viet Nam, 1970, "The" Davy Gfeller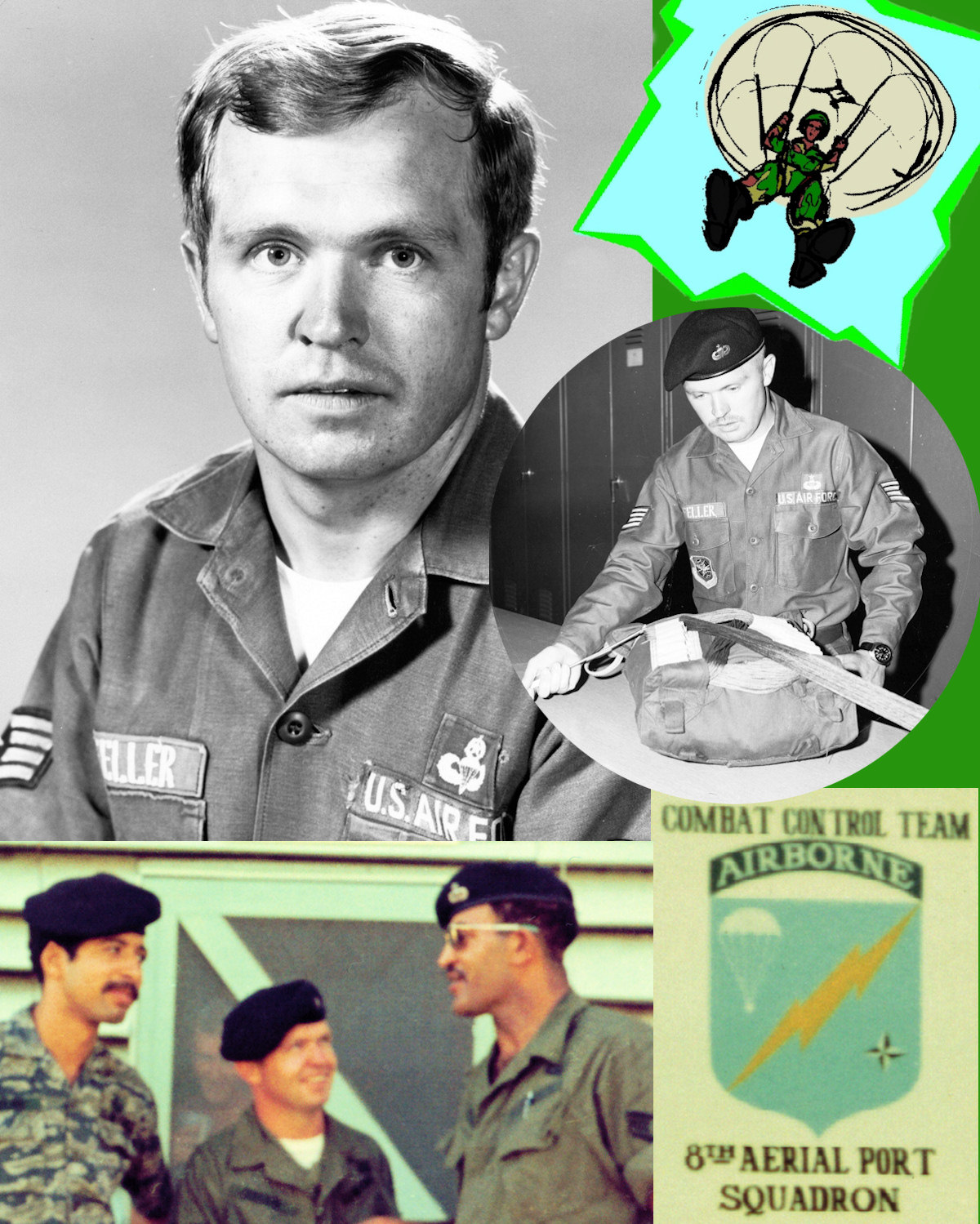 Above; Gil Bigelow, Dave Gfeller, and Walter Willis.... Below;, ?, ?, ?, ?

2Up; ? and Sidney Toups. Up; Donald J. MacLellan, Gil Bigelow, Waldoo Willis, and ?.... Below; Dave Gfeller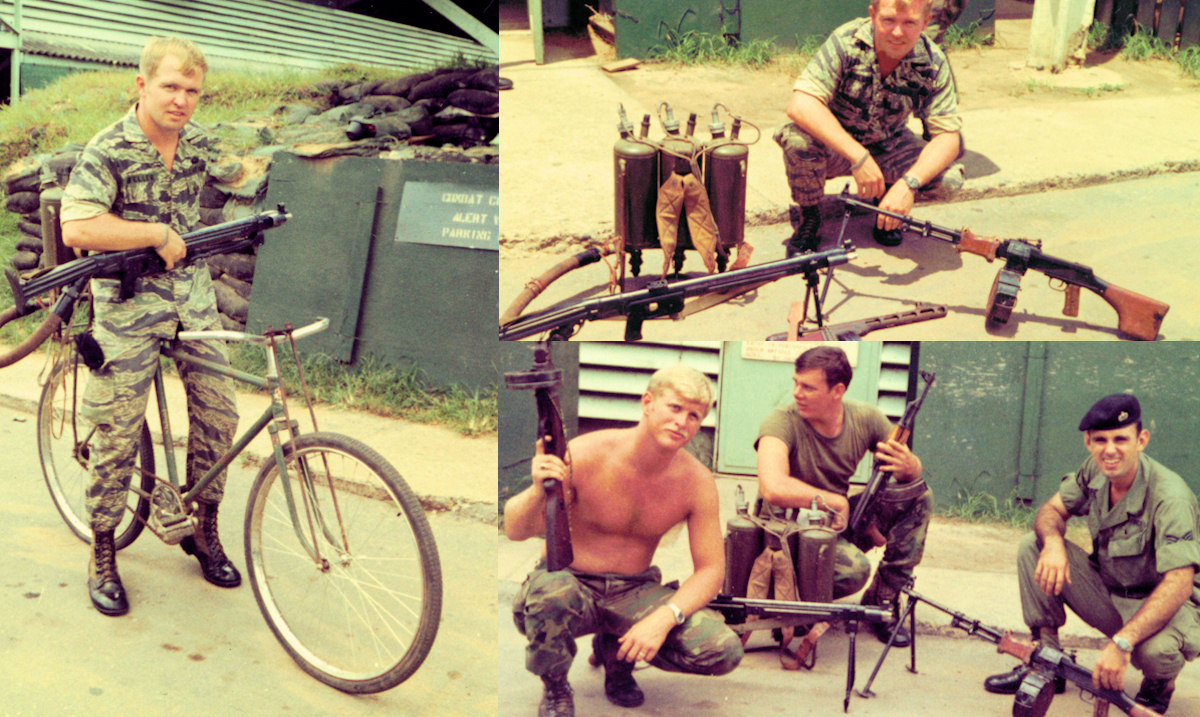 Below; ?, Sidney Toups, Dave Gfeller, Roger Flexer..... Above; Don East, Tom McHale, and Jim Penticoff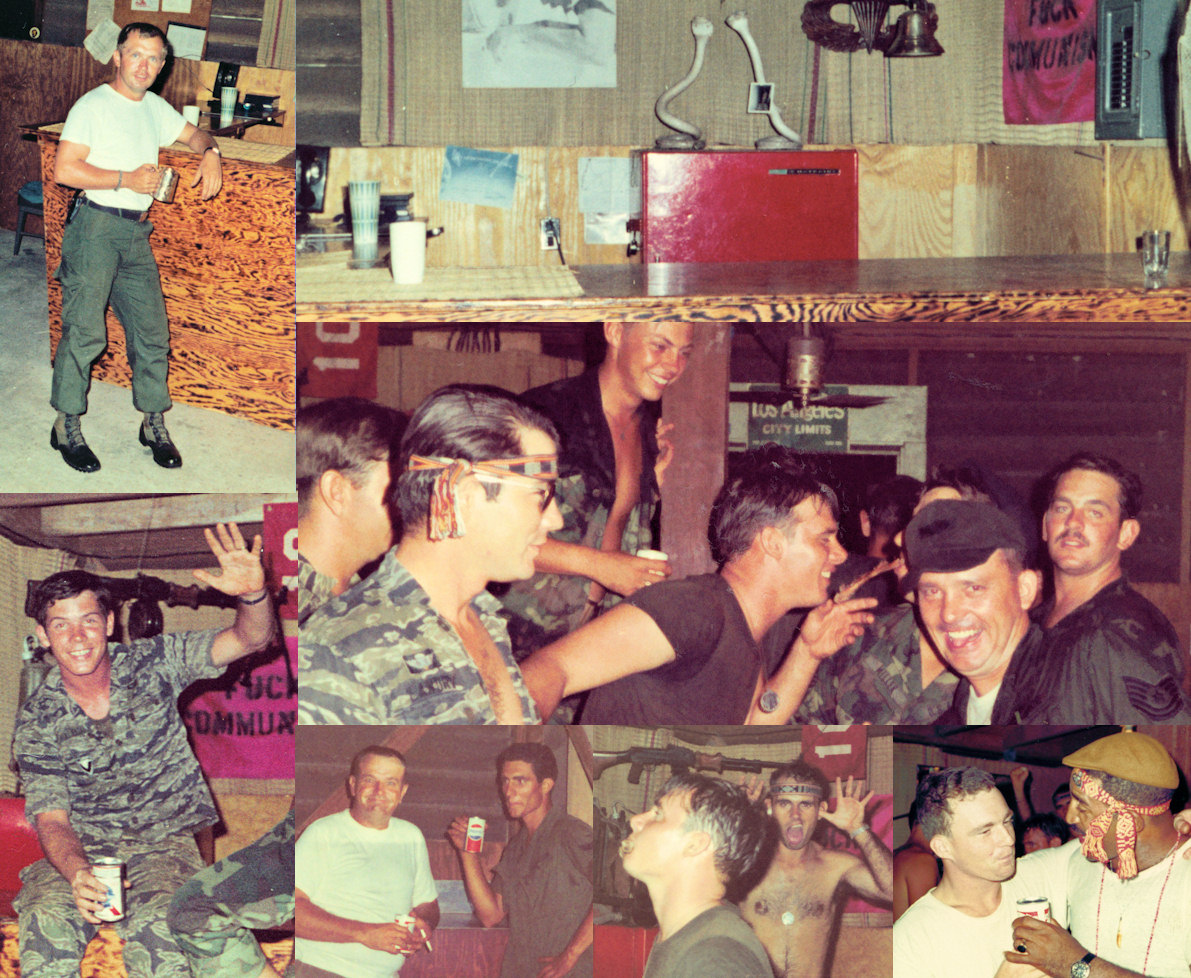 Dave Gfeller; Since reporting on Dave, I continue to get news about him…..
Mike McReynolds! - Sonofabitch. I found him! - and you!
Dave Gfeller. Sonofabitch. It's been 35 years. and Tony Urenda! LC Strobaugh! (Where's Charlie Brown?)
If I'm not mistaken, you were there in '70 as well. Your name does sound familiar. yeah. I remember. You were there. Remember us 8th mob guys - Neil Brown, Jim Wade, Jerry "2k" Bickford? and me (lowly A1C Runfeldt, AT driver of A Team, 8th APS MOB.) (and I see faces I recognize in your photos.) Note; This is Mike and I wasn't in Viet Nam.
Dude, we gotta talk. I gotta find your bar and walk in some day for a drink...
Here's how this happened:
I found http://www.sgtmacsbar.com/Visitors/Visitors10b.html by doing a google search on "Dave Gfeller" and here's what I found:
"Bob sent me a picture from Norton, 1972, of; Chuck Trimple, Billy Burr, Tom Fagan, Dick Heins, Rex Evitts, John Drozdowski, SSgt Powell, Tony Urenda, LtCol. Strobaugh, Dave Gfeller, Bob Ford, and Charlie McCarthy. I'll get it posted to SgtMacsBar Photo Gallery soon………………… I promise???????? I actually have a few pictures to post and hope to find time in the coming months…… I promise..."
The only other link I found on the entire web for Dave was my own. - at http://8thmob.org
So, I started poking around your site and found the above.
I used to have a photo of Dave in front of a big sign in the hootch behind #872 that said "Fuck Communism". I've lost the photo, but remembered the image and just now saw the fucking sign itself - above, and there's Phillips! One of our 8th MOB guys - that guy looking right at the camera on the right side of the photo -
I was just telling another 8th APS guy about Dave and decided to google him again and see if he'd show up. And he did!
http://www.sgtmacsbar.com/CCTPhotos/Gallery15/Gallery15c.html
But what's this about a parachute malfunction? Jeez. It was after my time. I didn't know about it until just now. see page 2
That really sucks. How's he doing these days? He's not merc'ing in Iraq, is he?
-but on the above web page, you didn't even mention anything about the day he got shot in the ass at Kham Duc and made it back to Saigon on his own.
May, 1970. I was at Long Thanh. We were doing resupply to the units in Cambodia. (We were loading C-130's with 155 rounds this day) We heard the transmission and thought he was dead. Charlie Brown had called in for a "replacement controller" and we overheard the transmission on our PRC-45 at Long Thanh. We knew that Charlie's partner was Dave, and we knew that if Charlie was calling for a replacement, something bad had happened...
Later that night, we were all back in #872 at TSN when Dave walked in, wearing those blue hospital pajamas, no shirt and flip flops. He had been hit in the ass by "the tailfin" (so he says) of an RPG that exploded against a berm 20 yards away, got medivaced to Chu Lai(?), then used our familiar "connections" with the air crews to hop a 130 back to TSN and walked in the door. A few hours late, sans his gear, but alive.
I was in the middle of writing a letter to my grandfather that night, telling him that my friend Dave had been hit that day and we didn't know what had happened to him. And then, the sob walks in with a silly grin on his face and said "Look what happened to me." and pointed to the caked blood covering the back of his blue hospital pajamas...
From Tommy McHale, 11/17/2010; I noticed some inaccuracies and thought I would correct some of the assumptions with first hand documentation. After 40 years of time, events can get muddled. One was a view referring to the time Davy was WIA. It was not in May of 1970, but between 3-8 Aug. at Kham Duc, probably the 8th. I patched him up best I could, it was in fact a butt wound, and NO, even though we were partners I didn't give him mouth to wound resuscitation. Although I think Wassinger offered??? I put Davy on a medivac chopper and requested another controller, it was not Charlie Brown. I pressed Steve Wassinger into controller duties because when Dave was hit I was blown into a ravine and lost my hearing. Steve Wassinger didn't hesitate and stepped up to help me direct artillery and sorties. We had been under attack 24/7 for 5 days and we were out of almost everything. Priority was always ammo for our big guns and small arms.


As I recall (not fact) we lost 17/18 GI's defending that strip. As you may recall, we lost it back in 68. When I requested another controller, our Di-We (Capt. Howie) brought in a fresh team and came himself to access our situation. Davy got a Purple Heart, Steve Wassinger and I were awarded Bronze Stars with the V device.


Sergeant Thomas F. McHale distinguished himself by heroism while engaged in ground operations against an opposing armed force at Kham Duc Airfield, Republic of Vietnam, from 3 August 1970 to 7 August 1970. On those dates, Sergeant McHale assumed the responsibility of all air traffic control at this besieged outpost. He remained at his unprotected radio vehicle, exposed to a continuous hail of rocket, mortar and small arms attacks. During one attack, with complete disregard for his own safety, he remained completely exposed in order to render first aid to a wounded team member. His precision and exactness in coordinating the air traffic prevented damage or destruction to the aircraft under his control. By his heroic actions and unselfish dedication to duty, Sergeant McHale has reflected great credit upon himself and the United States Air Force.
I saw Dave once more after my tour was over - at Norton. But he was a bit messed up about things. We were both drinking too much and somewhat "affected" by our time in Nam. I was waiting for orders to Pope for riggers school. He was still CCT - 63rd Aerial Delivery.
I got out and left in Nov. '72 and got far away from the USAF, the US government - and everybody. I took off on a new Triumph Bonneville (I liked the Limeys) and didn't look back for many years.
Seeing Dave and his daughter reminded me of how I looked from '74 or so until I "cleaned up" during the early '80's and started to try and find my way home.
It took a while...
In fact, I didn't really settle down until I met Cathy a few years ago and decided that I was finally ready to get married - I had found the right one! http://alanr.com/wedding/cathy/index.htm
But it sure did take a while - both to find the right one and then to realize it was time and that I was ready...
So. Thanks for doing this site. Finding Dave again, after all these years, is a special treat.
Please stop by ours - http://8thmob.org
and - if you can reach Dave, let him know I said "hi" and would like to say "hi" some time in person. I'll be seeing Neil Brown and Jim Wade in DC on 9/24 - our own private little 8th MOB reunion.
These days, I live a pretty sedate life - running web servers and web-based database applications from my notebook computer in my garage/office at my little rural hideaway - http://nodeadlines.com/ebay/images/79KingwoodAve.jpg - 10 acres and a creek http://nodeadlines.com/ebay/images/thecreek.jpg (For the past 7 years, my brother & I have had a renewing contract - running the Customer Satisfaction Surveys for ATT Worldnet.)
And, if you can reach Dave, tell him to stop by - and, you can remind him what I used to say about you CCT guys .... "jumping out of a perfectly good airplane"... etc... ;)
Where I ended up - or, better to say, where my nightmares ended... http://www.alanr.com/BaoNguoiViet.html
Thanks for doing this site. - And, I enjoyed the music. Repetitive, but good choices. Reminds me of how we felt back in the days when we were invulnerable....
And thanks for helping me to follow up on a long lost story... "What ever happened to my friend Dave Gfeller?"...
If you can reach him, forward this email. See if he remembers me... ;)
Welcome home!
- Alan Runfeldt
8th APS Mobility Operation Branch, DETs & OLs, Vietnam, 1970
http://8thMOB.org
Forgot to tell you about this one - in April or May, 1970, as the story goes, Dave was doing his thing at the hump on the strip at Djamap (pictured right, also known as Firebase Snuffy) when up walked a Montagard Chieu Hoi. Ask Dave about this. It may be the only time a member of the 8th APS (or CCT, for that matter) actually captured an enemy soldier..

Mike - Thanks for getting back to me so quickly. I got pretty damned excited when I found your site last night. Seeing Dave's photo pages just blew me away. - Seeing Dave as I remember him in 1970 was also quite an experience. I just kept looking at his wry smiling face, saying "damn, damn. It's Dave!"

Although we (8th MOB) were just a bunch of loadmasters and freight specialists, we were pretty close with the CCT we worked with. We had none of the training or backgrounds of your teams' guys, but we shared many experiences in the field throughout Vietnam.

During the early '80's - and shortly after my own first serious relationship evaporated - caused mostly by the attitude I was carrying around with me after Vietnam - and which I had no way to understand at the time, I hit the road as a traveling computer technician.

My specialty was linking up PC's with photo-typesetting machines that were commonly used to publish smaller magazines and newspapers. I had done some work on foreign-language systems, so when the question was asked about doing a Vietnamese language system for a small newspaper in Westminster, California - an area later to be designated "Little Saigon", I answered " Tat Ngien, Toi *noi* Tieng Viet!" (Of course, I *speak* Vietnamese...)

That opportunity was the beginning of the way "home" for me - after more than 12 years.

I lived and worked in the Vietnamese community for two years, and was the only Vietnamese-speaking Anglo in the (then rather small) community - and I was the only Anglo staff member of Nhat Bao Nguoi Viet - the "Daily Newspaper of the Vietnamese People". We developed the software that enabled their typesetters to enter copy on the PC - with all Vietnamese characters and accents ('tone marks') of their native language. My special part was in developing a system to automatically convert PC-Viet code to typesetting code for the Varityper photo typesetter.
It gave the newspaper staff quite a boost in productivity, to say the least! Before I got there, they were adding the tone marks by hand - a job that required two full-time staffers to go bonkers adding tone marks to large layouts of 10 point type... After my system was deployed, the two artists were freed up to do real artwork for a change. *They* sure liked my system!
It was quite an experience. Most of the staff had suffered far worse than I had in - and after Vietnam - more than half of the male staff - and some of the women - had spent time in VC prisons (for trying to escape Vietnam) or Re-education camps (based upon a perceived - and sometimes inaccurate - assumption that they were "American agents". They suffered so much, I suffered so much less that eventually, my own pain seemed minor and became irrelevant. Finally, it went away entirely.
But I still couldn't settle down. My Vietnamese friends called me "Anh Lang Tu"- "The Noble Vagabond" because of my lifestyle - traveling and doing good things where I could... But finally, I did begin to settle down and tried "serious relationship" #2 - with an old girlfriend from my Norton AFB days. That lasted two years, and then it, too went away...
I didn't really settle down until I got married at 53. That was two years ago, and although the vagabond bug bites now and then, I'm really happy to be settled down with Cathy and a home.
Maybe the war is finally over for me in a personal sense - although seeing those photos from the hootch last night encouraged me to bring out the bottle of Old Grand Dad and keep reading...
So, if my response last night was a bit "over the top", forgive me. But it's still something to see those photos and have those memories come alive...
Sometimes, its as though it never really happened - it was another life, long ago and far away.
In a few weeks, Jim Wade, Neil Brown and I will be meeting at the Wall for our own unofficial 'reunion'. I've seen Neil and I've seen Jim, but the three of us haven't been together since 1970... We'll be meeting at The Wall - at Web Layton's panel. Layton was one of our guys who was KIA at Budop in Dec, 1969.
Now I'll have to buck up a bit myself and make some phone calls to Neil, Jim and, of course, Dave.
Thanks again for everything. Your work does more good than you can imagine.
Alan Runfeldt
8th APS MOB, Vietnam, 1970
Frenchtown, NJ 2005
http://8thmob.org
http://Frenchtown.com
http://AlanR.com
Note; I didn't know Alan and I was never stationed in Viet-Nam. I thought you'd like hearing the stories and I'm sure many of you did know Alan, contact him.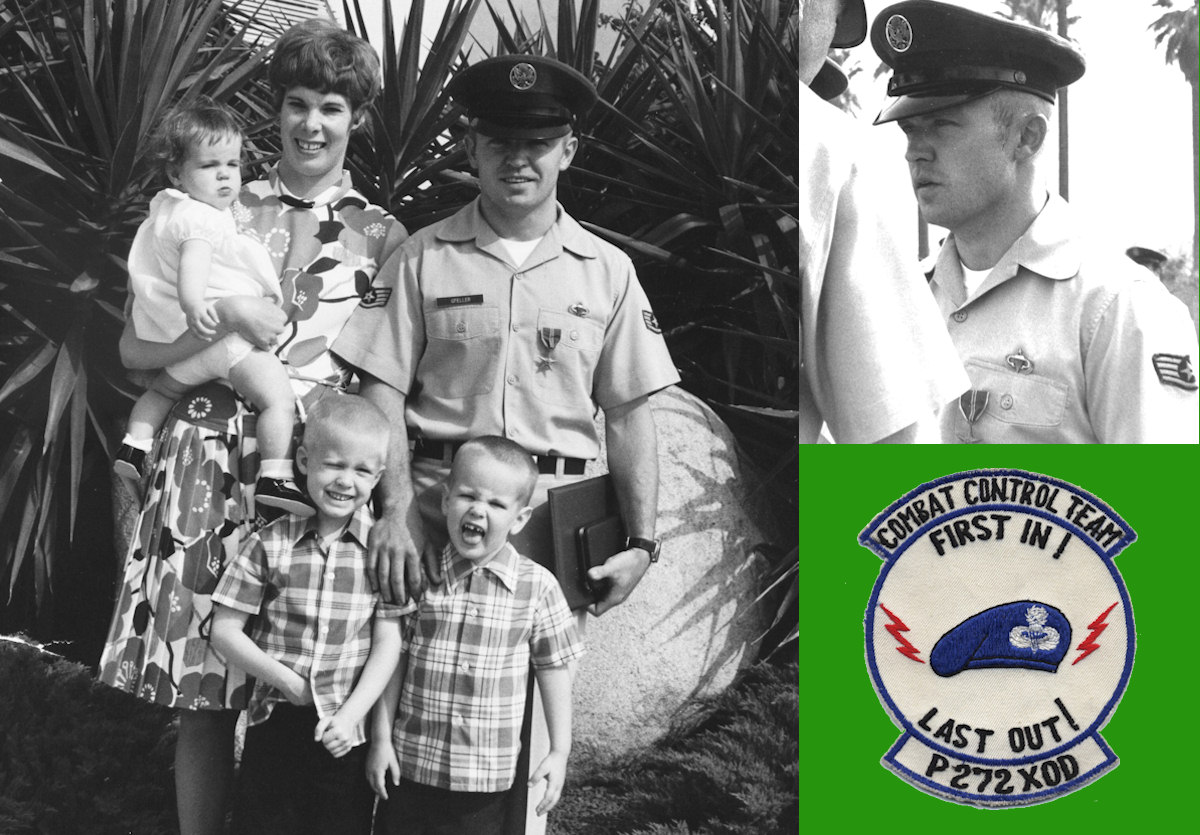 Davy returned to the states and was reunited with his family and received a medal for his service in Viet Nam. This next set of pictures is from Davy's assignment at Norton AFB.

Sometimes Trouble Just Follows You


7 July 1970 Tailpipe Tommy McHale and Dave Gfeller were in Djamap.



Pictured is Dave Gfeller sitting on a C-130 waiting for the fuel bladder to be filled with JP4 jet fuel.



After take off the aircraft got shot up and had to come in for a crash landing with 10,000 lbs of JP4.

Managing to get to a steel runway they came in hard and the landing gear came through the floor. Sparks were flying everywhere as the loadmaster opened up the ramp and everyone bailed.

Some how the bladders didn't rupture and death was cheated.... again!



Just another day in paradise!