Above; Norton AFB, 1970; Chuck Trimple, Bill Burr, Guy T. "Tom" Fagan, Dick Heins, "Ranger" Rex Evitts, John Drozdowski, Jesse F. Powell, Cesar A. "Tony" Urenda, Don Strobaugh, Dave Gfeller, Bob Ford, and Charlie McCarthy.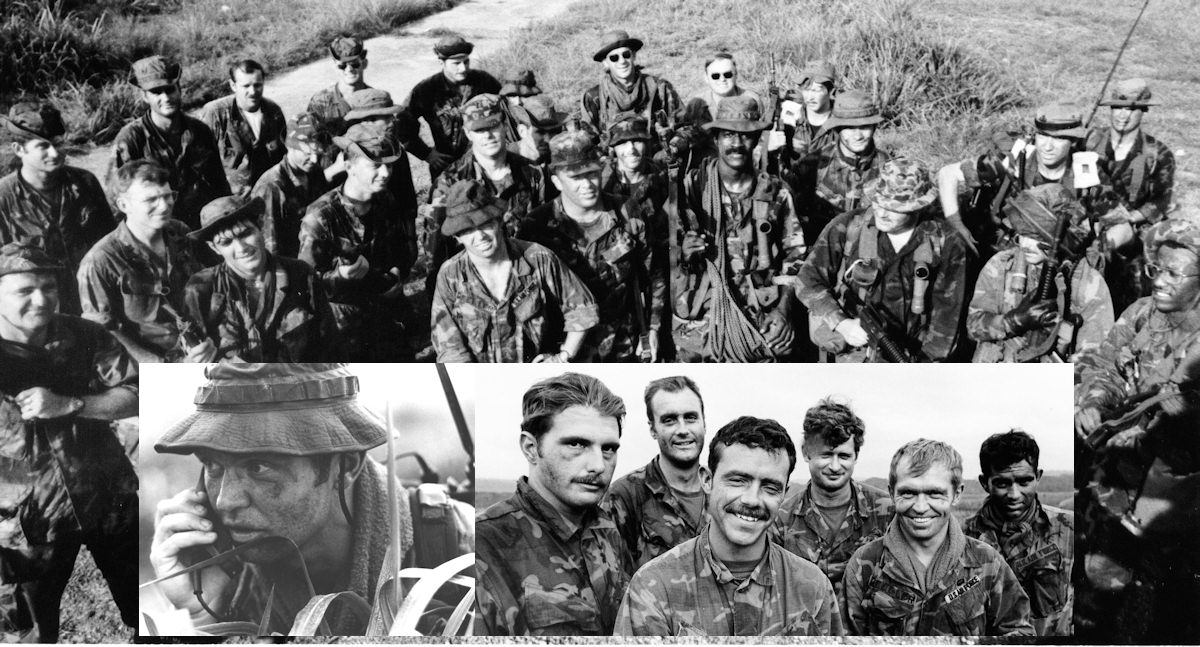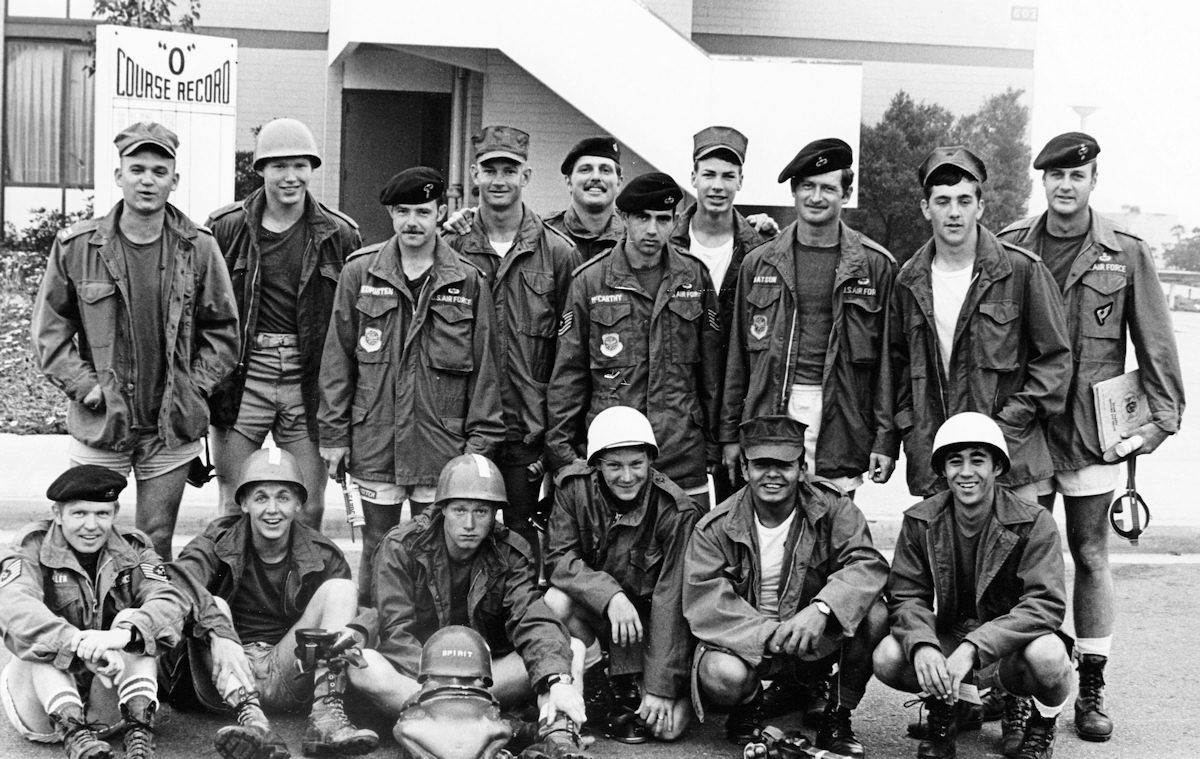 CCTers, L to R; Dave Gfeller, Bob Edminston, Bob Haverty, Charlie McCarthy, Tom Watson, and Dave Hughes along with some Marine RECON
This picture was taken at Coronado during BUD/S 3rd phase. The Norton Team joined the UDT/Seal trainees in Phase 3 in order to get Scuba qualified.
From Charlie McCarthy;
Above is a graduation picture from 3rd phase BUD/S (Scuba School for the Norton CCT) at Coronado. Circa 1973. The 3 guys in the dark helmets (stripes are Officers) are soon to be Seal Team/UDT. There were only 4 left in this class, 2 Officers and 2 Enlisted (one taking the picture), at this stage of their training – each was absolutely the "six-million dollar" man. The white helmets are Corpsmen assigned to the teams. The others are Recon Marines who were also getting their Scuba Training through this phase of the BUD/S course. In those days It was the final phase, I think that has changed.
The CCT are: Col. Dave Hughes (then Major), Davy Gfeller, Tom Watson, Bob Haverty, Lt. Bob Edmisten and Charlie McCarthy.
As you can see we had on field jackets, its cold in San Diego in February and March. And, we were training in San Diego Harbor and off Point Loma (cooold) without wet suits. It was during this training that my rather ample "tool" shrunk to a mere 8 inches!
A name that you will recognize, our class Proctor (Navy for Ass-Kicker) was a guy named Denahey (spelling?). I think he had a brother on 6 during our days on the hill.
The Young Officer running the program was a Lt. Richard. I believe he later was an Admiral. The picture sure brings back some old memories................ Charlie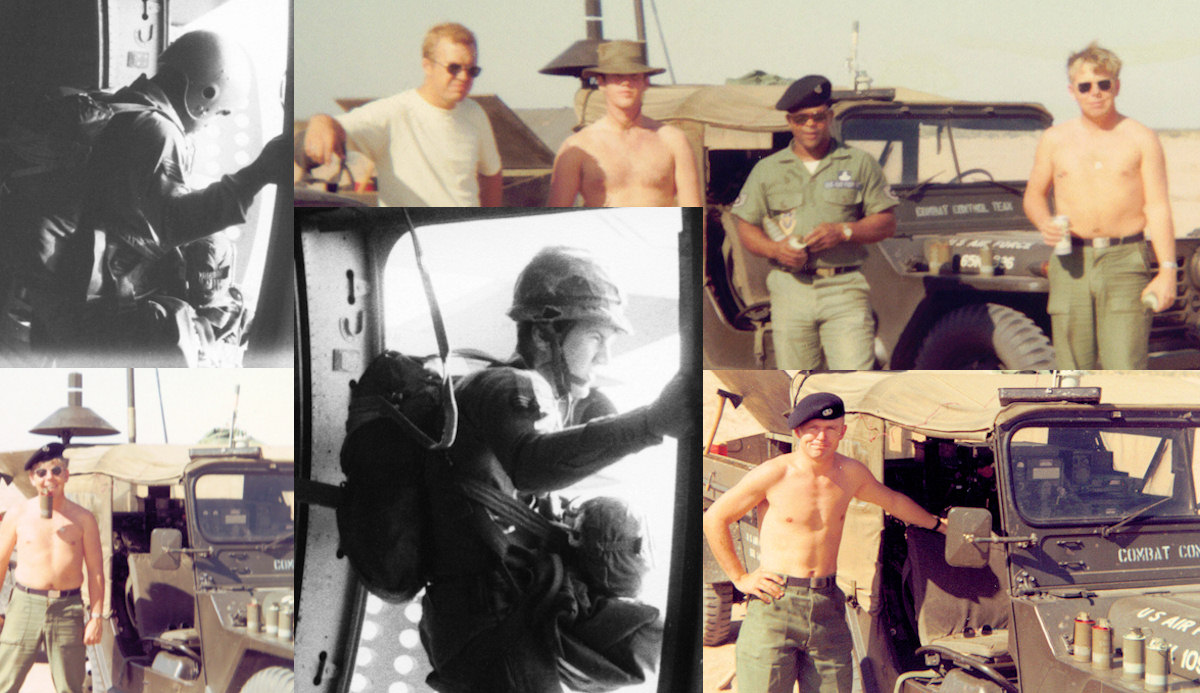 Special thanks to Dave for all the pictures in this gallery. Dave was an ATC guy looking for some excitement and was a natural for CCT. He cross trained in 1969 and was immediately sent to Viet Nam and later Norton. While at Norton Dave had a parachute malfunction suffering injuries which led to a medical retirement around 1978.
From Charlie McCarthy; I remember the accident like it was yesterday. We were jumping into Superstition DZ in El Centro. The routine in those days was to depart Norton late afternoon in a 3-5 ship formation (close) go low-level for a couple of hours up the Colorado river and then down over Yuma into the DZ(s) at the Parachute test range outside of El Centro. I don't remember exactly how many of us were jumping, probably 6-8, we would have been spread-out in different aircraft in the formation. Davy had a malfunction.
Drop altitude was standard at 1000'. It was a particularly dark desert night, so I couldn't see exactly what happened. Dave's main was garbage, it looked like his reserve got snagged on his PAE bag (bet you haven't heard that term in a long time) and did not fully deploy. Davy hit very hard near the PI. But as luck would have it, there was a very large sand mound next to the PI. Davie landed on the side of the sand mound, which probably saved his life. Davie was semi-conscious and in a lot of pain
We had a field ambulance on the DZ that we used to transport Dave into the Naval Air Station at El Centro. One of the C-141's landed and picked us up. We took-off headed for the AF Hospital at March AFB in Riverside. Dave was now unconscious and having trouble breathing, we were using walk-around bottles to assist his breathing. I was worried that he had a broken back. Enroute to March the crew was advised that the March Emergency Room Staff could not handle our situation due to an automobile accident, so we diverted to Norton. A base ambulance met our aircraft and we trans-loaded Davy into the ambulance. Since Norton only had a small clinic, a decision was made to take Dave to the University Medical Center at Loma Linda. The Gods were with us; the guy who pioneered the use the Herrington Rod, what was then cutting edge state-of-the-art for mending broken backs, was on-call at Loma Linda! So was a Nurse, Dave's wife Jan.
I went in the ambulance with Dave to the ER. Jan was on duty that night. I remember standing outside the ER with Jan, the Doctor telling her that he could not promise that Dave would make it. The good Doctor obviously didn't know Davy Gfeller. Of course he would make it. He is a Combat Controller. This was the guy that served with distinction in Viet Nam. This was the guy that went through the myriad of CCT Training. This was the guy that maxed-out all physical fitness events in the old MAC Airlift Competitions. This was the guy that went through 3rd Phase BUD/S at Coronado and then went on to pioneer night Air/Sea rendezvous capabilities for CCT. This guy was not a quitter; of course he would make it!
Note from Mike McReynolds. I had heard of Davy Gfeller, but had never met him. A few of his Viet Nam buds such as Waldoo heard he was here in Missouri and I found him taking care of his Dad near Kansas City. He later moved to Warrensburg and a few of us in the area would gather once in a while. Davy still has some medical problems due to his back and the VA helps him when needed. A few years ago Davy took off for California where he lives closer to his kids. Davy hasn't made the leap to the space age yet and doesn't know computer launguage. Phone him at; 909.907.1930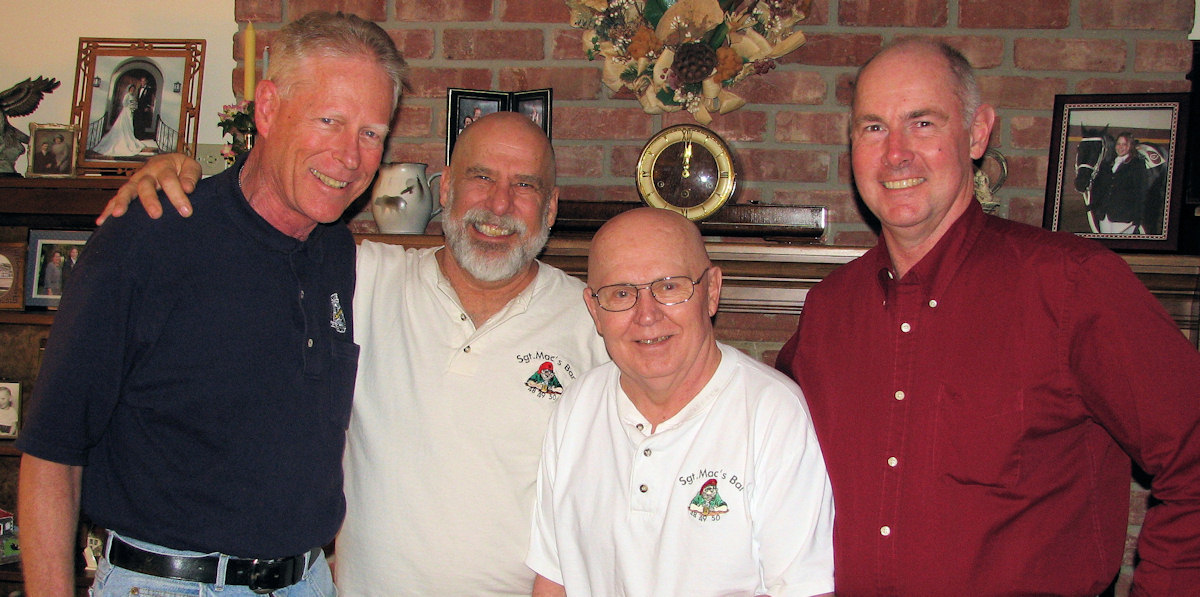 Warrensburg, Missouri, 2008; Bob Bieber, Mike McReynolds, Dave Gfeller, and Jim Aubele