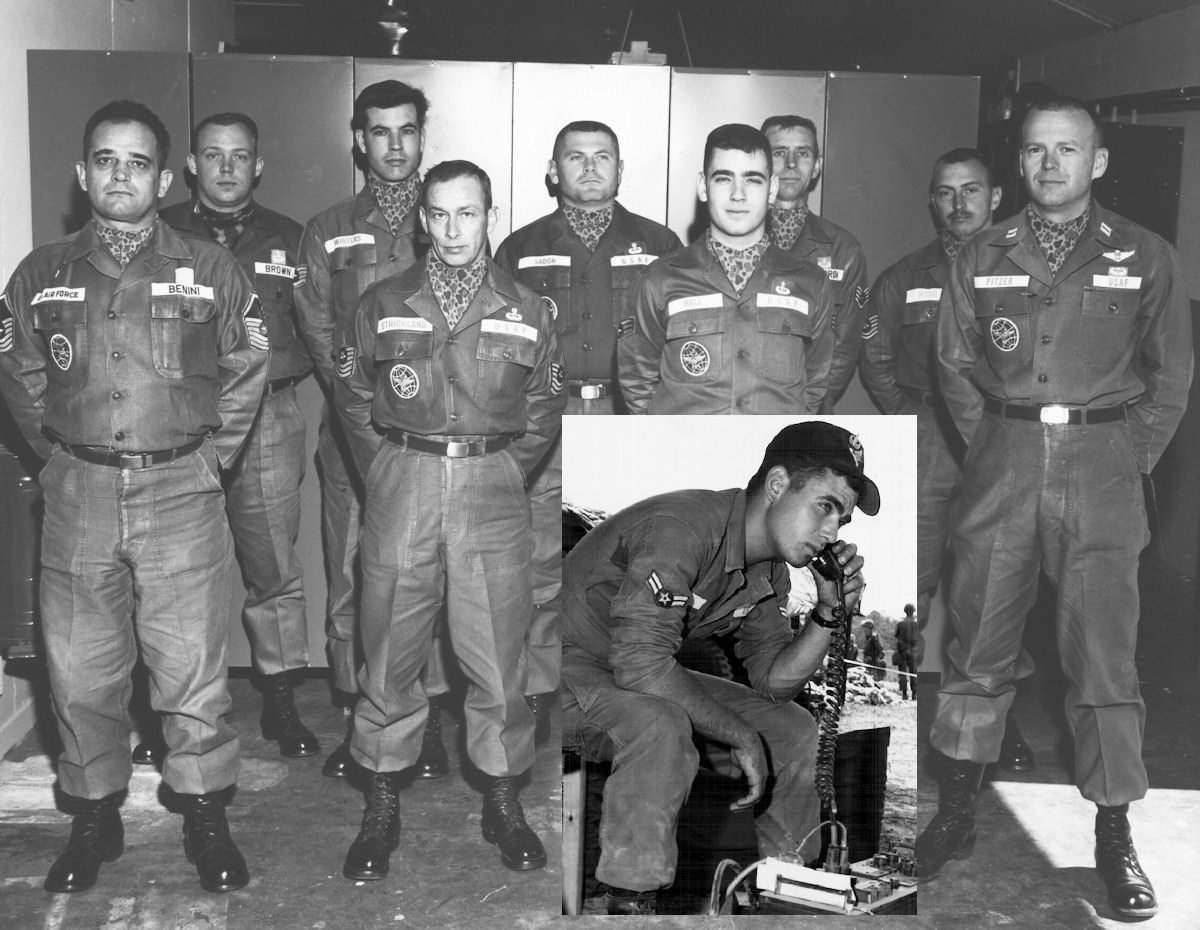 Alcide S. Benini, Charlie Brown, Bill Winters, Bill Strickland, John Sadon, Les Hall, Everett "Fish" Herron, Phillip Ward, and Lee Pitzer


Insert; Leslie L. Hall, (1963) during Operation Swift Strike



Above; Tom Watson, Ron Wilson, Ronnie Potts, George Godley, Jim Parsons, Walter Guyle, Jerry Chapman, and Mike Welding
The McChord Airlifter


Sent by Tom Watson, dated 5 Oct. 1973
SEVERAL YEARS AGO (1968 to be exact), this reporter was fortunate enough to accompany a C-141 heavy equipment drop supported by McChord's Combat Control Team at the "Little Joe" Drop Zone in Idaho.

Last week I accompanied the team on their last personnel drop as a part of the 62d Military Airlift Wing when they parachuted onto a drop zone at nearby Ft. Lewis That jump completed an estimated eight year stay in the Pacific Northwest for the team.

Five of the remaining 10 team members jumped from their C-141 platform while other team members manned the drop zone below.



Pictured Left; Sgt Carlos Brannon, silhouetted by an early morning sunrise at Ft. Lewis, takes his last wind direction reading to relay to the pilot of the C-141 bringing members of McChord's Combat Control Team to drop zone 20 Bravo to make their last parachute jumps as members of the 62nd Military Airlift Wing.
By the time you read this article, most of the 11 enlisted and two officer Combat Controllers will have departed here for new assignments in such places as Charleston AFB, S.C., Norton AFB. Calif., Germany and Air Force Recruiting duty.

Pictured Above; A smoke grenade shows wind direction and marks Drop Zone 20 Bravo to the C-141 carring the Combat Controllers as they make an initial pass over the Ft Lewis drop zone.

Pictured Left; MSgt Walt Guyle braces himself in the door of a C-141 as it approaches a drop zone at Ft. Lewis. Momentarrily a green light on Sergeant Guyle's left will blink on, and he will hurtle himself out the door.



THE, TWO MEN who are going into recruiting. TSgt. Steve Weger and MSgt. Nick Genes, feel that not only did they make their last jump here, but they also have made their last military parachute jump.

Two other members of the team, Capt. Ronald G. Wilson and MSgt. Walt Guyle have gone to the Naval Air Station in Lakehurst, N.J., where they are attending the Navy Free-fall Parachutist School.
While stationed here with the 62d MAW the team participated in exercises such as FOCUS RETINA in Korea in 1969, where they were the first Air Force Combat Control Team to parachute in; ACID TEST in Alaska in 1970; DEEP FURROW in Europe in 1970 and 71; and FREEDOM VAULT in Korea in 1972, when they "dropped" the Army's 82d Airborne Division.
WHEN NOT FLYING around the world in support of exercises, the team, during peak periods, supported some 120 heavy equipment drops per month as a part of training wing aircrews in aerial delivery at such places as Moses Lake in eastern Washington and the aforementioned Idaho location.
This was in addition to personnel drops and the dropping of regular training bundles. Anyone who has flown or supported these missions in some other way knows that this involves a lot of flying time and a lot of hours of preparation and recovery.
The Military Airlift Command, according to team commander Captain Wilson, has reduced the mission of four of it's six "drop" bases and consolidated it into two bases - one on the east coast and one on the west coast.
MAC has also activated one new Combat Control Team at Altus AFB, Okla., according to Captain Wilson.

He said that team will conduct initial C-141 drop qualifications for new aircrew members.
Above; SSgt. Dick Brawley, left, and Capt. Ronald G. Wilson talk with SMSgt. W.V. Mendes of McChord's Aircraft Standardization Evaluation section as they wait their turn to parachute onto a drop zone at Ft. Lewis
Above; A last equipment check before jumping out of a low flying C-141 is always a good idea. Here, SSgt. Dick Brawley, right checks the parachute worn by Capt. Ronald G. Wilson prior to their last jup as part of McChord's Combat Control Team.

Above; GREEN LIGHT - GO!


SSgt. Dick Brawley takes the green light signal and propels himself out and away from the aircraft as he makes his last jump as part of McChord's Combat Control Team.
MCCHORD WILL RETAIN four crew members in each crew position qualified to support aerial delivery missions. Their proficiency training will now be done at Norton AFB, according to Captain Wilson.
Combat Control Teams are required to parachute out of a C-141 aircraft once a month as part of MAC directed training.

They are also required to make one "pay" jump per quarter.

Biannually the entire team is required to deploy for two day and one night missions in which they must perform their entire mission - such as "securing" and setting up a drop zone and making heavy equipment and personnel drops.
ACCORDING TO CAPTAIN WILSON, "An Air Force Combat Controller knows the entire operation of a personnel drop. He knows the ground end of it as well as the aircraft end of it. He is also a qualified parachute packer. Combat Controllers are very professional in their approach to jumping.

Those men who jumped their last jump here last week have tallied more than 1,500 jumps between them during their careers. They are all master parachutist, and all agreed that their last jump "was a good one – it was up and out." That in layman's language means that the mission was short and sweet.

Pictured Left; TSgt. Steve Weger fights his parachute after a perfect landing at a Ft. Lewis drop zone. Sergeant Weger believes he not only made his last jump here as a member of the 62nd Military Airlift Wing's Combat Control Team, but that he made his last military jump, period. He plans on becoming an Air Force recruiter.
AND SO A CHAPTER in McChord's history comes to an end. The blue-bereted men of the Combat Control Team have scattered to the four winds. Special thanks to Tom Watson for supplying this artical and pictures.
U.S. Air Force photos by TSgt. Dave Small and SSgt. Michael Storey
Capt. Ron Wilson and SSgt Dick Brawley


"First There, Last Out!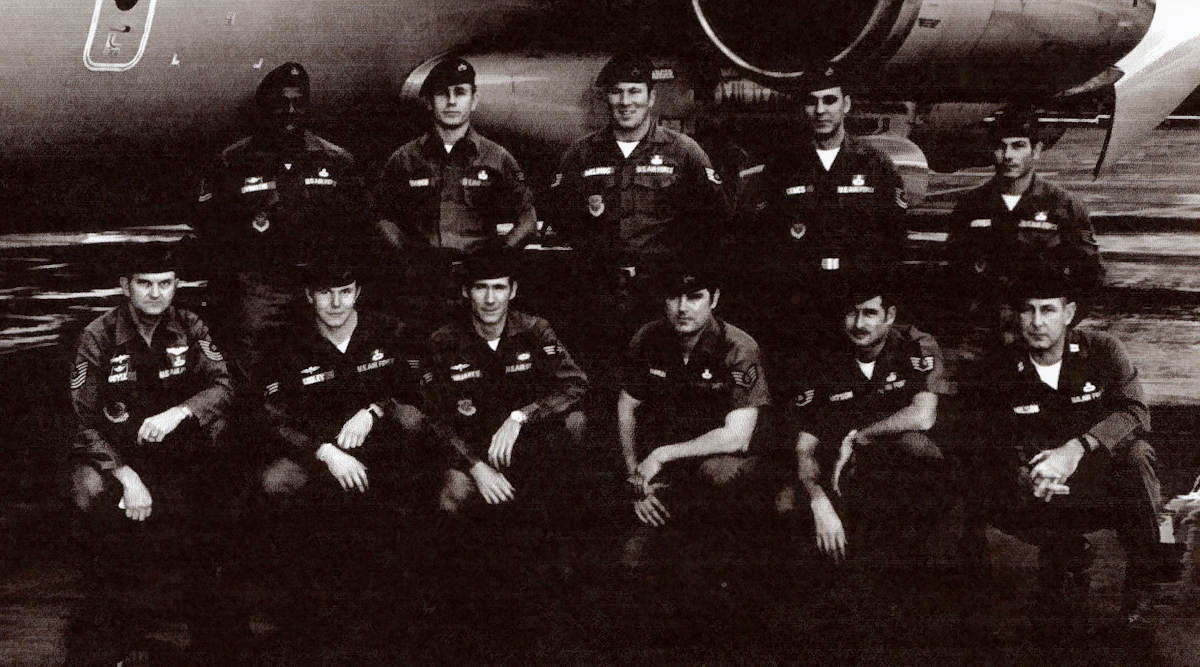 Above, 1973; Ernie Livingston, Carlos Brannon, Mike Welding, Nick Genes, Gene Hoover.
Front Row; Walter Guyle, George Godley, Tom McBriarty, Dick Brawley, Tom Watson, and Ron Wilson.



We're Back, Can't keep a good thing away.......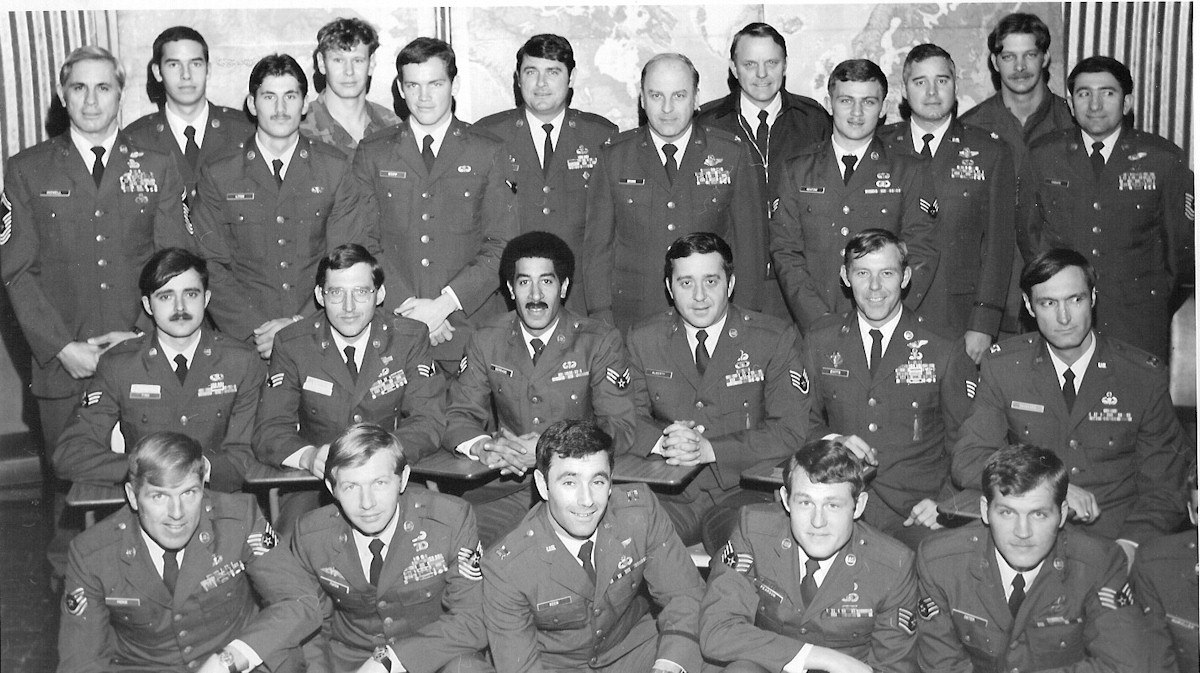 Back Row; James Howell, Dave Barton, Carl Lynn, Wayne "Dink" Dalton, Steve Stipp, Dick Brawley, Donald E. Brown; 62 MAW/CC, Major General Kellim, ?, Jimmie Jay; Wing DO, Gus Rhinehart, and Larry Choate ***** Center Row; Tony Tino, Dale Anderson, John Serano, Clark Alberty, Rex Evitts, and Tom Fagerson ***** Front Row; Skip Pierce, Wayne Fuiten, Jim "Peachie" Keen, Dave Pearson, Fran Oster, and the ear next to Fran belongs to One Striper, Jack McMullen


Ray Heath, Clark Alberty, Dale Anderson, Bud Gonzalez, Rex Evitts, Scott Winneker, Dave Pearson, Donald "Mike" Callahan, Wayne "Dink" Dalton, Dick Brawley, Rick Quigley, Tony Tino, Mike "Mouse" Lisk, Derek Lyske, and Wayne "Spook" Fuiten
Dink with M-79
Insert; Mike Callahan, Mike McReynolds (TDY), and Derek Lyske; take me for a skydive, Mount Rainier in the background. We did a three way and then Derek pulled me in and gave me a big ole sloppy kiss, then spun me away; I bought the beer that night. R.I.P. my brothers!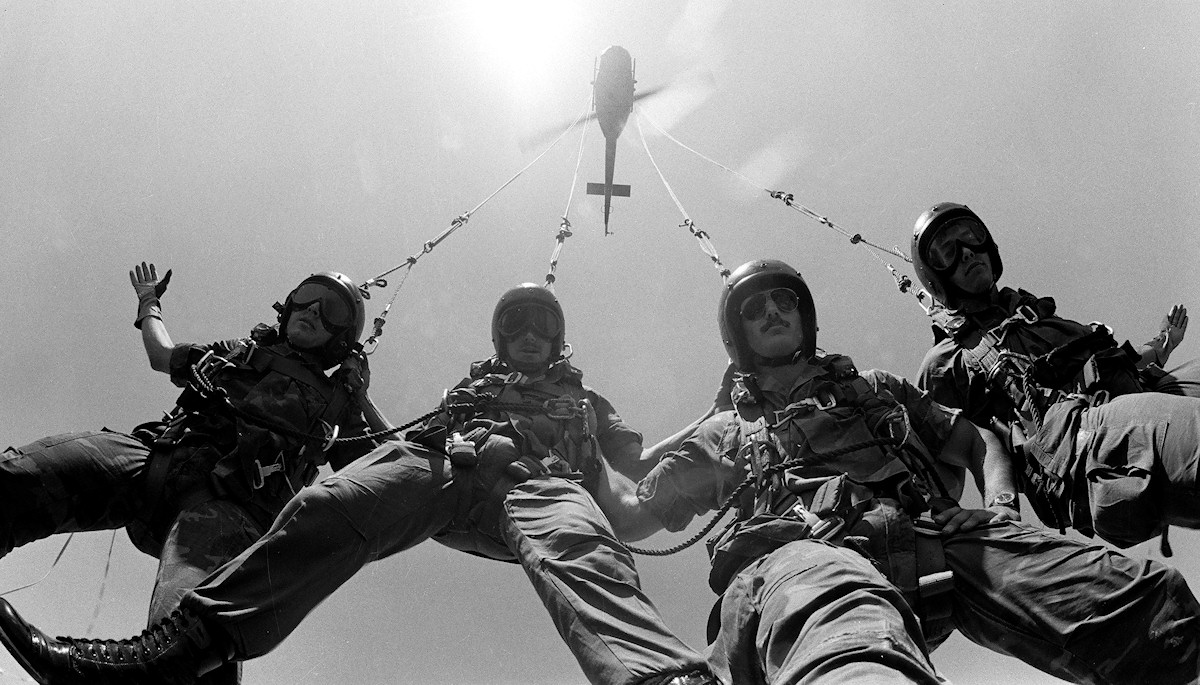 McChord Combat Control Photographer, Gene Johnson (pictured below) shoots; Ken Ford, Dale Anderson, Carl Lynn, and Dave Barton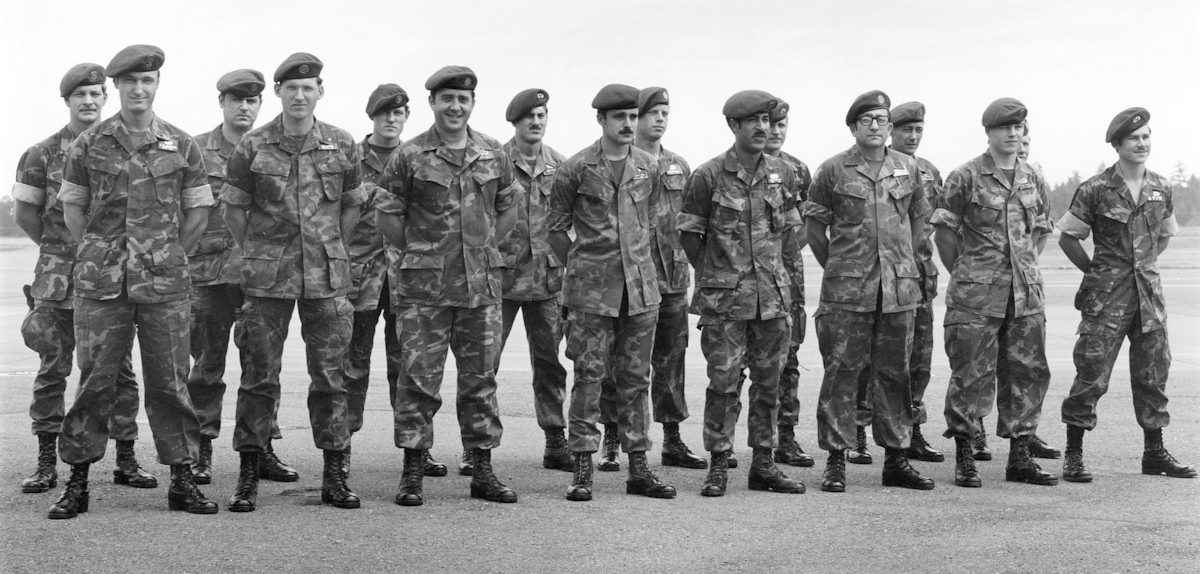 Gus Rhinehart, Tom Fagerson, Dick Brawley, Dale Anderson, Dave Pearson, Clark Alberty, Carl Lynn, Tony Tino, Rich Quigley, John Serrano, Fran Oster, Larry Choate, Lou Brabham, Jack McMullen, Wayne "Spook" Fuiten, and Ken Ford
A little about Spook; Served 3 tours in SEA while with the Commando Weather Team and did some work for HUMINT so Clyde Howard gave me the name "Spook". Instructor at CCS when it was at Little Rock 72-73 before cross training to CCT.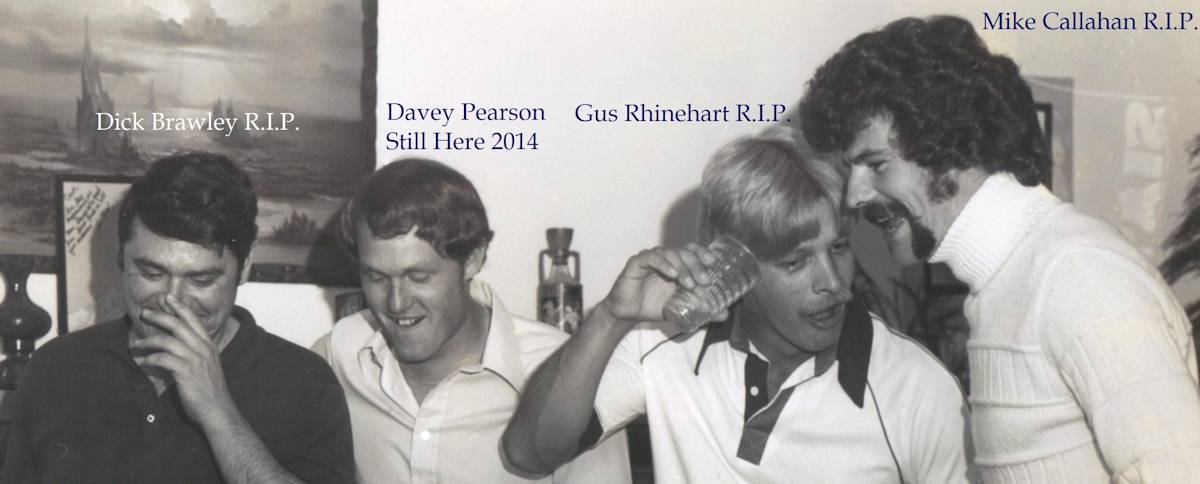 Above 1978, Davey's Separation Party; Dick Brawley, Davey Pearson, Gus Rhinehart, and Mike Callahan
Below; McChord AFB CCT make Total Solar Eclipse Jump, 26th Feb 1979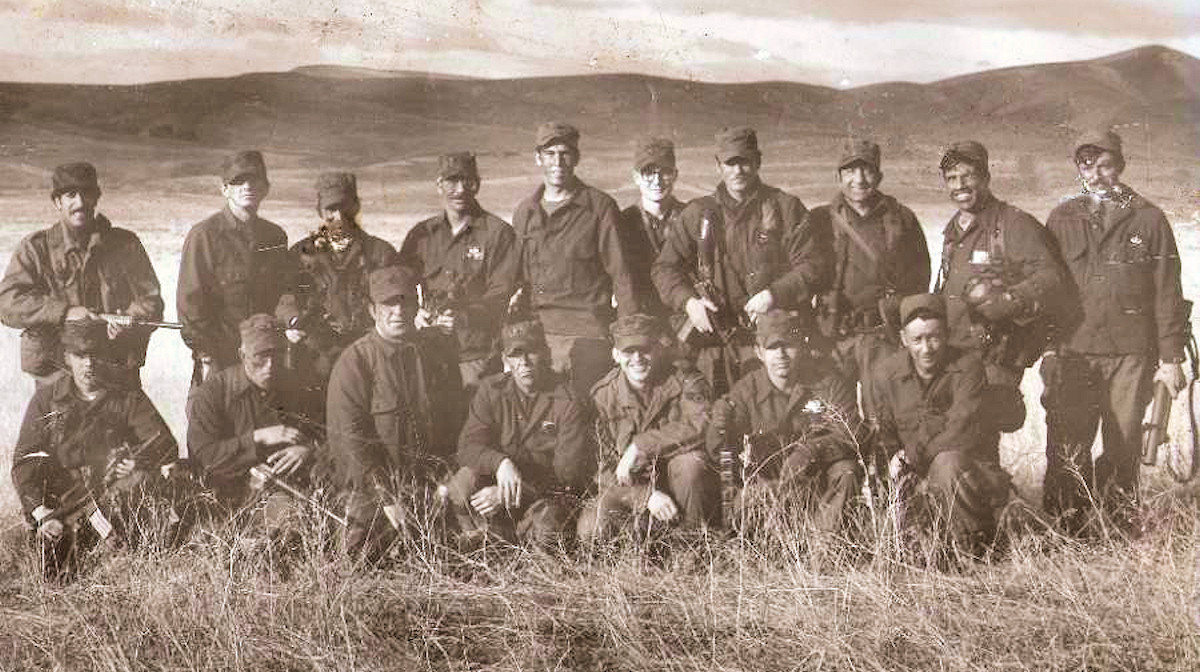 McChord AFB CCT make Total Solar Eclipse Jump, 26th Feb 1979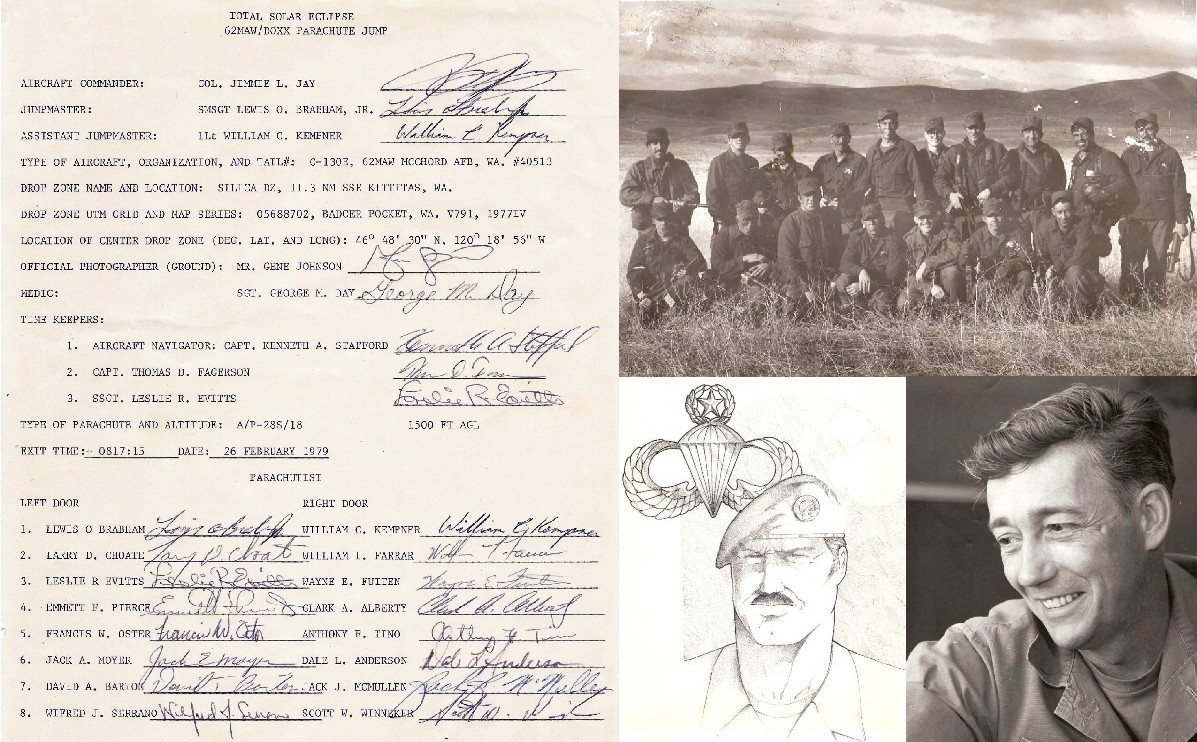 Lewis O. Brabham, Larry D. Choate, Leslie R. Evitts, Emmett F. Pierce, Francis W. Oster, Jack A. Moyer, David A. Barton, Wilfred J. Serrano, William C. Kemper, William L. Farrar III, Wayne E. Fuiten, Clark A. Alberty, Anthony F. Tino, Dale L. Anderson, Jack J. McMullen, and Scott W. Winneker.