Airman's Portrait; Presenting a member of Air Force's worldwide family each month.





"Combat Controllers are the first people to employ into an assault zone — ahead of the main strike force.

Once there, they have

absolute air traffic control responsibility

for all aircraft flying into or through the zone.

The challenges and responsibilities

are enormous — and rewarding."

TSgt Dave Libby

Instructor,
Combat Control/Pararescue
Indoctrination Course
Lackland AFB,Texas

Born: Aug. 6, 1955, Santa Monica, Calif.
Enlisted: June 29, 1979, Ventura, Calif.
Career: Master parachutist,
HALO (exits high altitude but opens chute low)
jump master,
scuba dive supervisor,
air traffic controller;
qualified in demolition.
Tours at Norton AFB, Calif. (1980-82), and
Howard AB, Panama (1982-87).
Journey to Isikveren Hot. Dusty. Desolate. And in the midst of desolation, a hubbub of frantic activity.

This is how Dyarbakir, Turkey, appears to the Airman team as we arrive by C-130 from Incirlik AB at a tent city erected to sustain Operation Provide Comfort. Comfort, perhaps, for the Kurdish refugees the operation supports, But scant comfort for the soldiers, sailors, airmen and Marines gathered here. Or for the dozens of multi-national military and civilian aircrews whose planes crowd the airstrip. It's not a place where one lingers.


And so after a restless night' s sleep in a tent not 100 feet from the runway — and frequently swept with a thick, clinging, brown dust from the backwash of C-130 props— we continue our journey.
The way out of Dyarbakir. if you're traveling southeast to the sprawling Kurdish refugee camp at Isikveren, is by road or air. We choose air — an MH-53J Pave Low helicopter of the Air Force Special Operations Detachment Deployed.
The unit is part of a conglomeration of special ops components temporarily headquartered at Incirlik AB: 39th Special Operations Wing, Rhein-Main AB, Germany; 21st Special Operations Squadron, RAF Woodbridge, England; 20th Special Operations Squadron, Hurlburt Field, Fla.; and the 1550th Combat Crew Training Wing, Kirtland AFB. N.M.
Special Operations has been involved in Provide Comfort from the operation's earliest hours. In fact, a 39th SOW MC-13Q, based at Incirlik, made the first air drop of food for Kurdish refugees.
Used to flying classified missions, the MH-53J aircrews at Dyarbakir enjoy the more relaxed nature of their current taskings. Assignments include low weather reconnaissance, scouting established refugee camps in Turkey and potential relocation sites in Iraq, air-dropping food and water, and moving troops to and from the camps.
The troops they carry are mainly members of Special Forces Assessment Teams. Each team has some 60 members, including soldiers; Air Force pararescuers from Detachment 1. 1723rd Special Tactics Squadron, RAF Woodbridge; and Combat Control teams from Rhein-Main. Pave Low choppers are their only link to civilization — or Dyarbakir, the nearest thing to it. And our only link to them.
As the MH-53J slips down a river valley, we pass ancient ruins and modern villages that appear almost as ancient. From a few hundred feet up. south-em Turkey looks like much of the American southwest. A parched, hostile land.
But from the treacherous Turkish mountainsides come not the forked, darting tongues of rattlesnakes. Instead, the lamenting wails of sick, hungry, exhausted Kurds. Not the pincers of scorpions, but the outstretched hands of refugees, craving food and water, medical aid, and friendship.
On an unfriendly slope at the Turkey-Iraq border, American forces of war have come in peace. The Americans bring relief to these uprooted, weary and frightened people. The cause is humane, the effort herculean.


Combat Controller SSgt. Stacey Poland vectors the MH-53J to a soft, dusty landing at Isikveren — within eyesight of Iraq. He watches as we rush down the ramp, our bags, cameras and tape recorder in hand. He's all business as he grabs one of our bags and says, "Follow me."

"There's a German 'Huey' you can probably ride to the refugee camp." he tells us. Within minutes, we're on the small chopper, being whisked to the largest refugee camp in Turkey.




"Organization was the biggest problem when we arrived here," Sergeant Poland says. "There were so many Kurds and so few of us, we were having trouble distributing food and water to them."

With the help of interpreters, the quick reaction force learned there were 17 Kurdish tribes in the camp. They began distributing food to tribes according to their numbers. The upper landing zone became a supermarket of sorts, and the American forces dubbed it "Piggly Wiggly."

Right; A single tent provides shelter for six women and children.

What remained after they licked the food problem was a much deadlier menace: sanitation. "At first, dozens of people died every day." Sergeant Poland says. (During the 24 hours Airman spends at Isikveren. there are two burials.)

MSgt. Emilio Jaso high-fives a youngster as he strides purposefully along a twisted trail through a maze of tents, cooking pits and the ever-present throng of children. The senior Air Force representative at Isikveren, he works closely with special forces troops — "SF's" — manning a medical aid station, while Combat Controllers and SF's control food and water distribution.





"I know we've turned the corner on first aid, because we're getting people who want treatment for old ailments and minor aches and pains." Sergeant Jaso says. "But there's still a lot of dysentery and diarrhea, because the people don't properly wash their pans and utensils.


Suddenly, we're in a different — and alien — world. The stench of smoke, food, rotting flesh, human and animal excrement assaults our nostrils. The din of thousands of voices and scores of trucks, jeeps, motorcycles and helicopters rings in our ears. The braying of donkeys rises above the cacophony and seems oddly out of sync.

Smoke from cooking fires (left) casts an eerie pall over the 60,000 temporary residents of Isikveren.

We feel crushed — physically, by the relentless push of children begging for a handout or handshake ("Mister, take picture. Mister, cigarette?") — emotionally, by the staring eyes of old men. the coquettish looks of young women, the eager smiles of children.

So many children. They latch on to the Americans. "Hello. Hello. Hello. Mister, take picture?" While their parents, grandparents and older siblings ask for food, water and medical aid. And wait.

A man and his father (right), suffering etched on their faces, quietly spend another day at the camp.
We're trying to teach them proper sanitation, and those we've taught are staying reasonably healthy."
Sergeant Jaso's Kurdish interpreter, Maged, recruits Kurdish doctors and nurses to help staff the aid station and dispense medicine.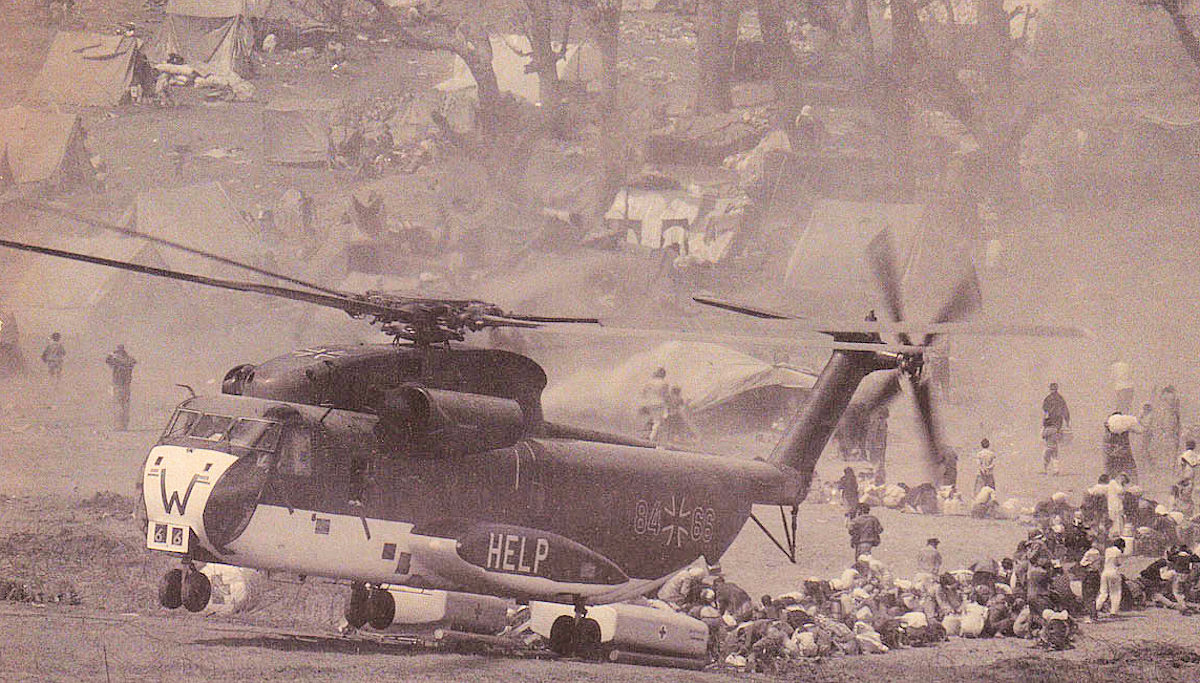 As time passes, more and more civilian agencies around the world pour in: CARE. Doctors Without Boundries, Red Cross and its Islamic counterpart. Red Cresent, UNICEF and others. But more than half the the medical supplies and medicines come from U.S. military stocks.

The Turkish government provides truckloads of bottled water, while every 45 minutes, a German helicopter delivers a huge bladder of water that its crew pumps into galvanized tanks.

Distributing the bottled water is hazardous duty. Kurds mob the trucks and are sometimes injured in the melee.

A German helicopter (above) brings water to the camp. Refugees toting containers line up for fresh water.
Typically, SF's move in to break up the crowds and attempt to establish order. Strong-arming the clamoring men, the SF's force the mob back, then attempt an orderly distribution.
Observing such a scene, pararescuer TSgt. Rod Alne shakes his head. "I don't know why they still rush the trucks," he says. "Everyone in the camp is getting enough food and water. I think it's become a game to them."

Or a way to break the monotonous cycle of days since they crossed the snow-crested mountain to escape persecution and death. Each morning at dawn, a smoky shrouds the camp as women and children prepare breakfast of unleavened bread. By 8 a.m., the same women and children are lined up at the galvanized tanks with cans, jugs and bottles. At 10, men representing each tribe begin gathering for the 11 o'clock food distribution.



Kurdish women (right) bake bread — perhaps the only meal their family will eat that day.

Donkeys and people walk the dusty trail (left) that snakes its way through the huge camp.

The remainder of the day is activity and lulling about puncl medical emergencies, crying children and funerals. Those needing medical form a line at the American aid station and at other medical tents springing up staffed by medical teams from a host of nations.

Sergeant Jaso is constantly sought. "We need medicine," pleads a German doctor. "This woman will have to be taken to a hospital," determines a Kurdish physician." To each, Sergeant Jaso and other team members respond quickly and positively.

Meantime, Combat Controllers handle a steady flow of chopper traffic to and from the LZ. With each arrival, the Kurds gather hopefully. Each time, they are stung by flying grit and pebbles as the chopper's whirling blades whip the air.

And then it's dusk, and the acrid smell and haze of cooking fires return. As the Americans head downhill on motorcycles and trucks, thousands of Kurds line the twisting din road seeking high-fives and shouting "Hello. Hello. Mister, take picture?" grime from their faces and hands and prepare meals. A few sit alone on cots, trying to shrug off a day of images that years will not erase.

Maj. David Bissell thinks the Isikveren camp won't need his team much longer. "Our job was to establish an organized camp to provide fair and equitabte distribution of food and water," says the commander of A Company, 1st Battalion, 10th Special Forces Group. "We've done that.

"Now, we'll send 250 Kurdish men each day back to Zakhu, the Iraqi city where the majority of these people came from. Military coordinators are there, and once they say the camp is ready, we'll begin sending families back." (At press time, the relocation process had begun.)


MSgt. Emilio Jaso (left), pararcscueman, delivers medical supplies to an aid station he helped establish at the refugee camp.

Sergeant Emilio Jaso examines an eye infection (right). The Kurds call him, other pararescuemen and special forces members "Doctor" because they dispense tionprescription medicine and first aid.

The major says civilian relief agencies are poised to take over full operation of the Isikveren camp. When this happens, his team also will move to Zakhu to oversee the resettlement of the Kurdish refugees.


Next day, Sgt. Brian Hall mans the field phone at the upper landing zone, controlling inbound helicopters. At mid-morning, several open-bed trucks depart the LZ. laden with the first 250 Kurds returning to Iraq. An SF rides shotgun on the roof of each truck cab.
As soon as the last truck leaves the LZ, two SF's pull a coil of concertina wire across the gate, barring refugees from rushing the orderly stacks of boxes containing food supplies for the morning's distribution.

Just before the food distribution begins. Sergeant Hall takes a call from an inbound MH-53J. "You got two guys from Airman magazine looking for a ride?" the pilot asks. "Sure do," he responds.





Right; a Kurdish youngster finds temporary joy posing for a picture.

In minutes, the chopper's huge blades again whip up grit and tiny stones, forcing the handful of GIs and thousands of refugees in and around the LZ to turn their backs and protect their faces from the shower of flying debris.

Quickly, we're on the bird and circling for one last look, high above the be-tented and trash-strewn mountainside. From above — beyond the reach of children's clinging hands and the myriad odors of the living and dying — the camp seems surrealistic-ally peaceful, almost still.

Then we're over the next valley and the terrain is again empty of human habitation. In an hour, we're back at Dyar-bakir and within two hours, we're on a C-130 bound for Incirlik AB, 90 minutes away.

With us on this final leg of our journey to Isikveren: the casketed body of a U.S. Marine, killed in an accident while providing refugee relief. Words come to mind: 'He died that others might live." Mean-ngful and true.

Briefly, I mourn for my fallen comrade. Silently I thank him.



Special thanks to J.C. Cummings for sending this article