SSgt Johnnie O. Yellock II lived in San Antonio, TX when his Mom & Dad were on active duty in the Air Force; Mother Reagan, Combat Camera Lackland AFB and Father JOY Sr, HQ ATC/XPRL-Randolph AFB, circa late 1980s. JOY II attended Churchill High School in San Antonio, then graduated from Keller High School (DFW Metroplex). JOY II matriculated at Tarleton State University, graduating in 2006 with a BS degree in Manufacturing Engineering. He applied for OTS and UPT; however, the USAF 'queue' was full, so JOY II enlisted, top of his class @ BMTS. JOY II applied for a Combat Controller Team training slot and was accepted. He completed the three-year course uninjured, and at the top of the class, recognized as the "John Chapman Award" recipient.
Multiple tours-of-duty downrange in the AOR …bringing Justice (fire-and-steel) down on Islamic radicals who would threaten US citizens living in the CONUS and abroad. He well understood that if the enemy was in-range …then he and his SOF mates are also in-range; some of which have been WIA & KIA. JOY II was WIA himself, along w/ his Combat Controller teammate in Afghanistan 6 July 2011 aboard a Oshkosh® MRAP All-Terrain Vehicle hit by an IED.
JOY II represents "the very best" in this new remarkable generation of highly focused and motivated American warriors. If you have not known a combatant Airman downrange, then may I suggest you follow the story of JOY II (a.k.a. JOY Jr., Johnnie Otis Yellock II, etc.) on his long Ὀδύσσεια from eastern Afghanistan [AfPac AOR] the 'SSG Heathe N. Craig' Joint Theater Hospital, Bagram Airfield; to Landstuhl Regional Medical Center, GE; Andrews AFB, MD & RON-Walter Reed Army Medical Center; and final destination of Lackland AFB and San Antonio Military Medical Center-Ft Sam Houston, TX. Given JOY II's focus, drive, and self-motivation, I predict a remarkably rapid and successful recovery regimen. Bob Laymon, CMSgt, USAF (Ret.) Yellock family friend & mentor - Scatback Scribe -
Click here to visit my facebook page for JOY II.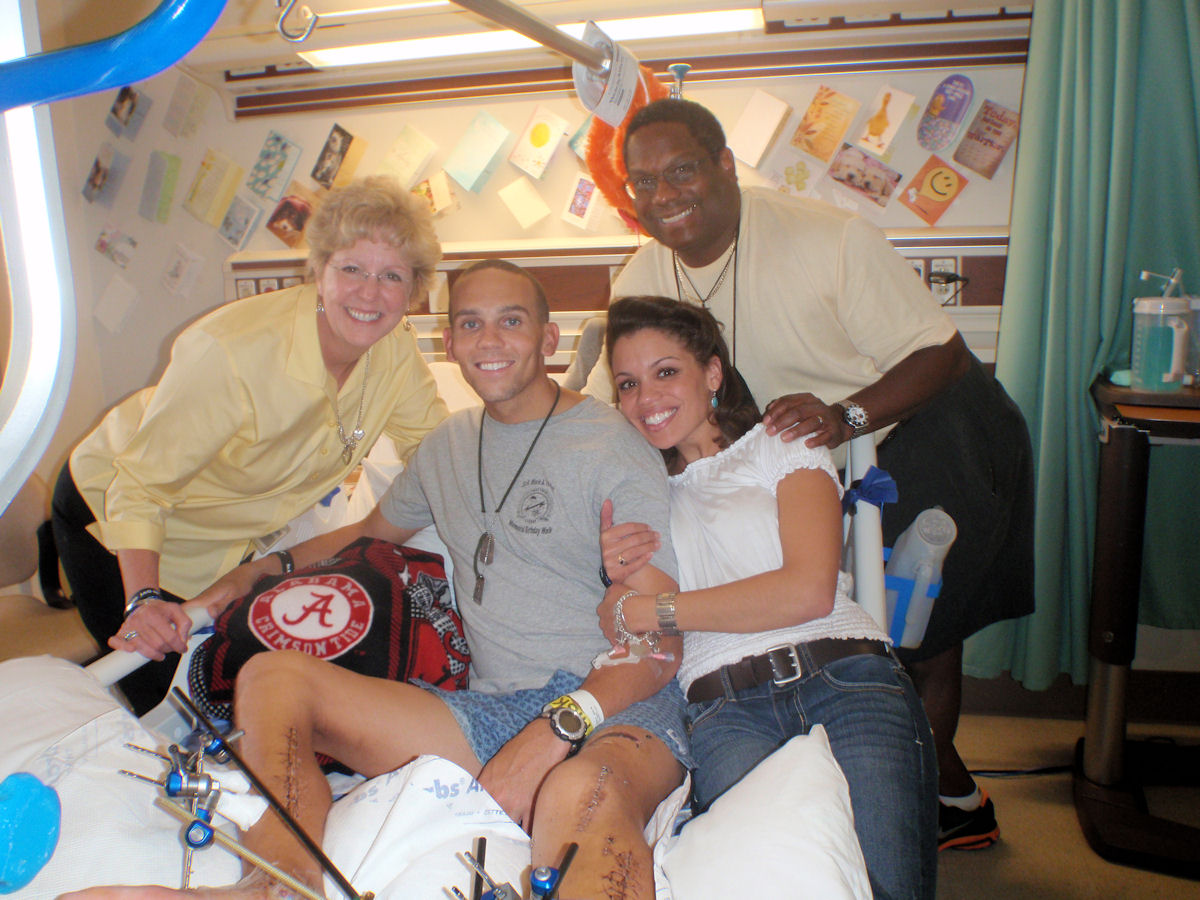 Above; Reagan, Johnnie II, Johnnie Sr., and Brandi Yellock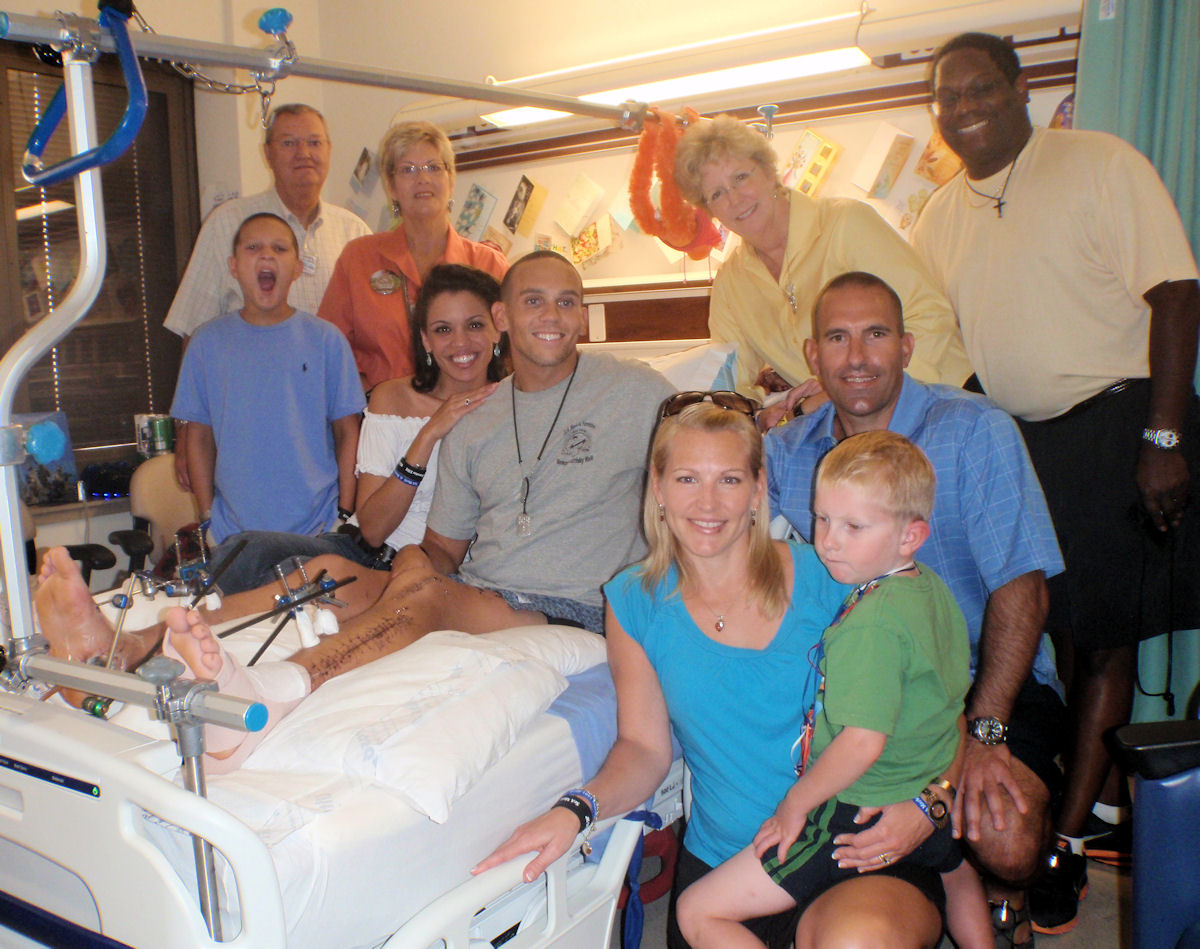 Above; Ray and Pat Forester with grandson, Brandi and JOY II, Reagan and JOY Sr., and The Frank Latt Family; LtCol Latt was the USMC F/A-18 Sqd Commander, last person to talk to JOY II's teammate SrA Mark Forester who was KIA in Afghanistan Sept 29 2010. LtCol Latt, SSgt Bobby Bonnello (CCT), and Johnnie were in the Lifetime Channel's Coming Home episode 4 which aired this past May.

Note; LtCol Latt will be the guest speaker at the CCS Graduation on December 8th, 2011.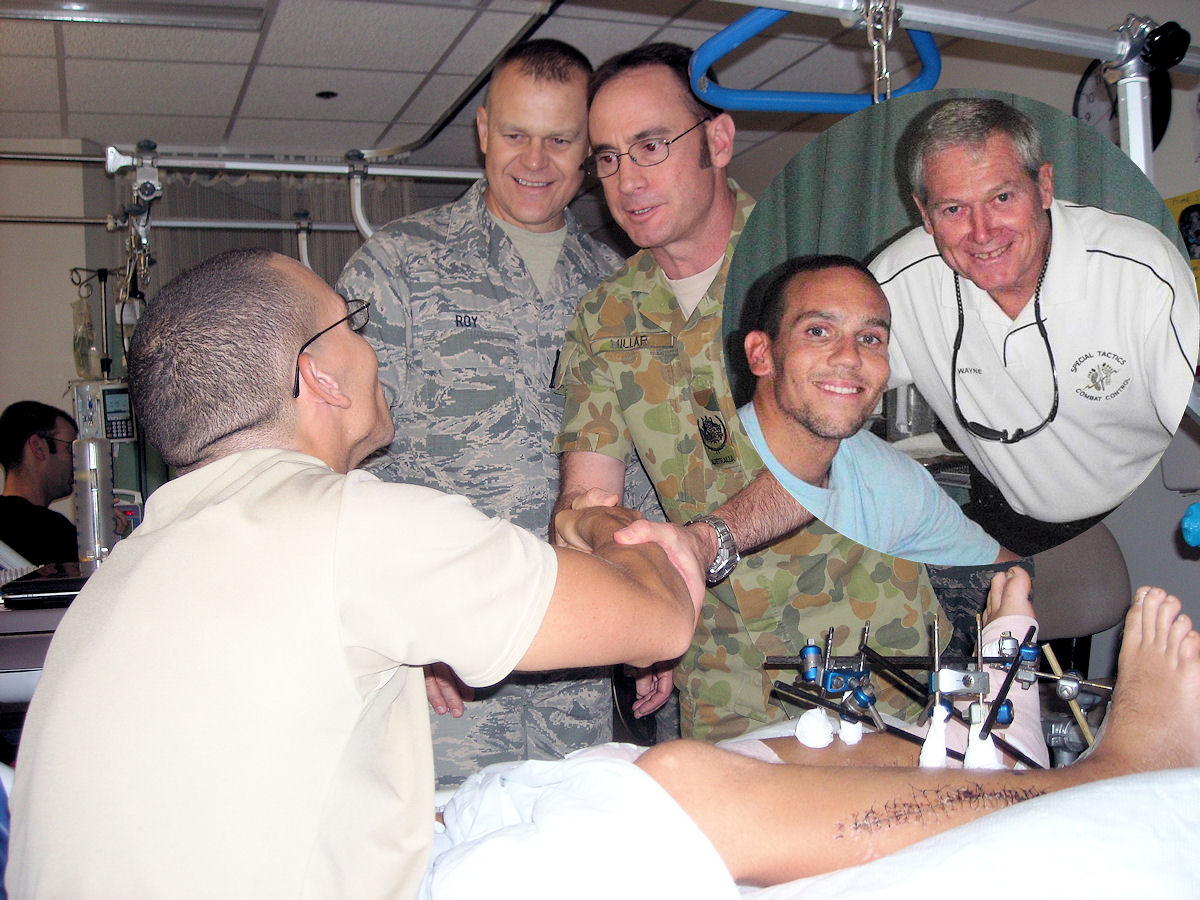 Above;
CMSAF Roy, Royal Australian CMSAF Millar, and President of the
Combat Control Association;
Wayne Norrad
visit with JOY II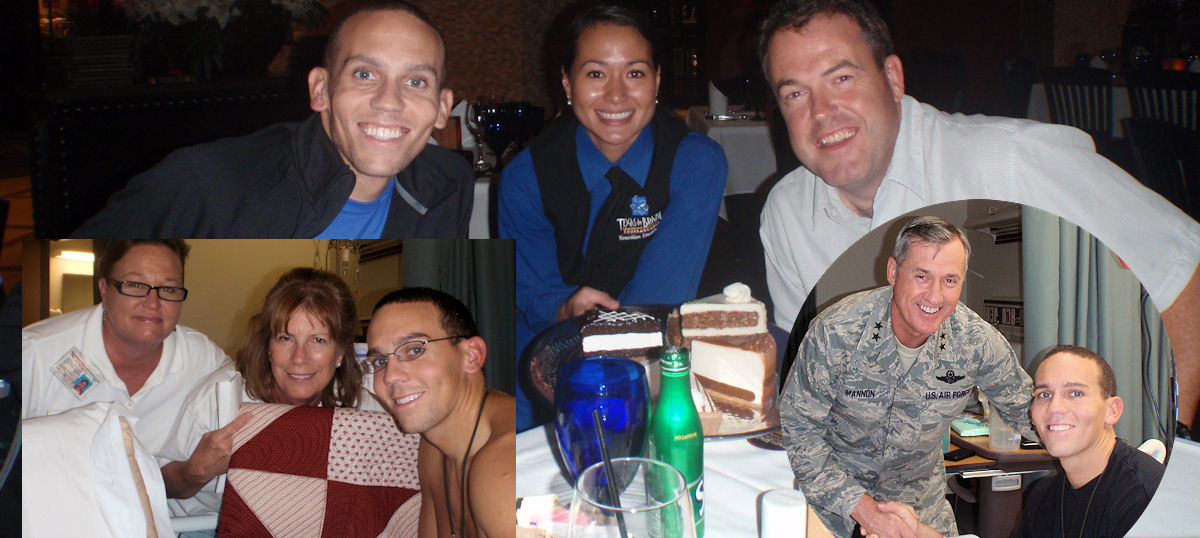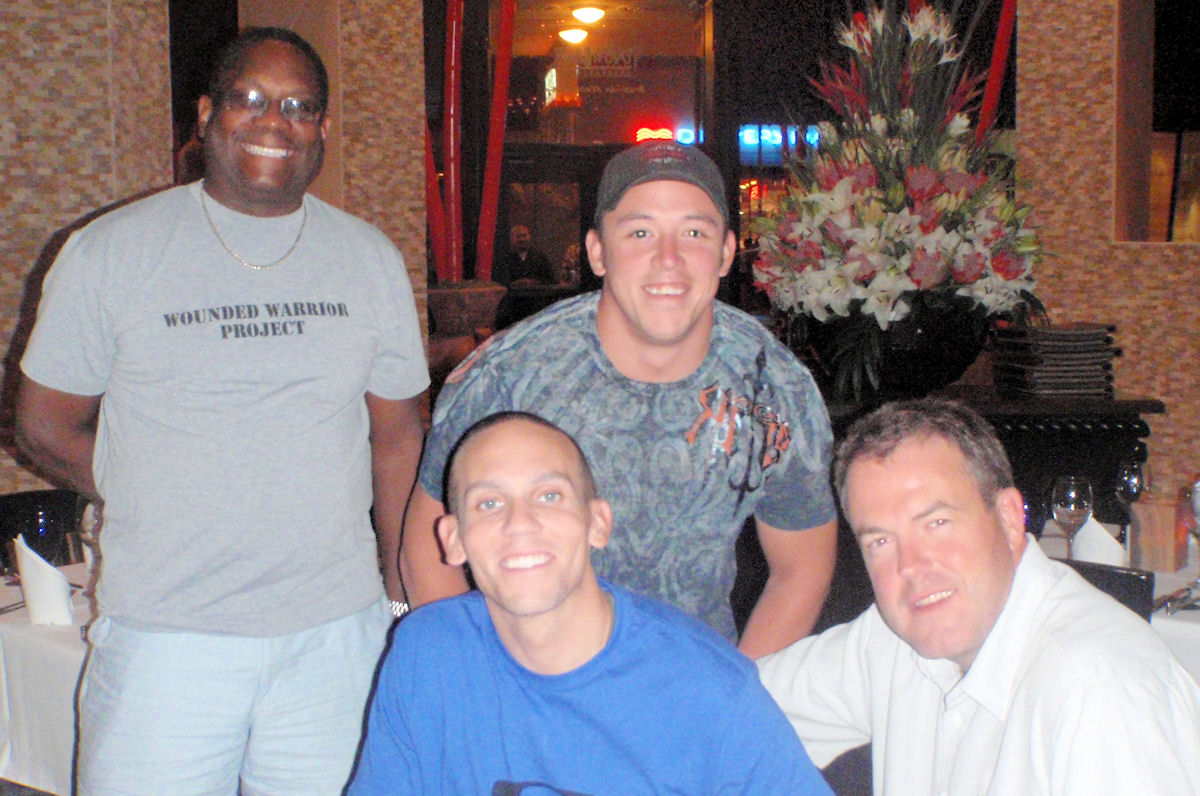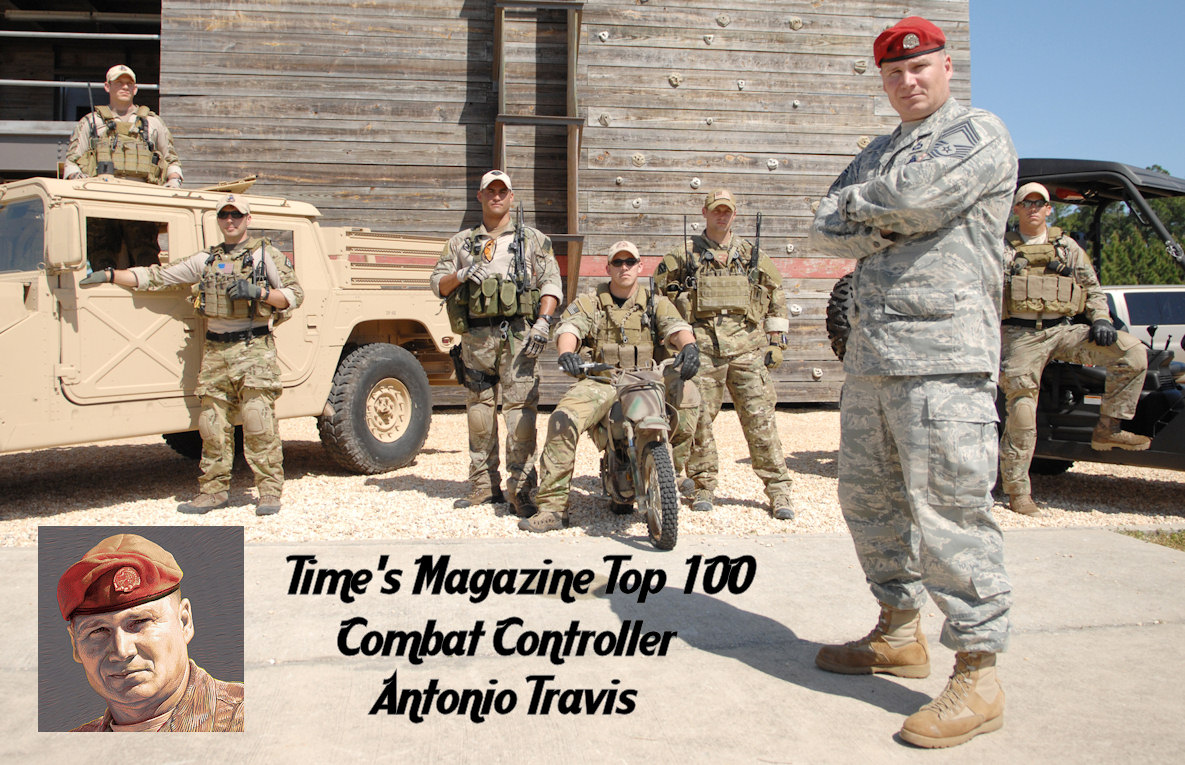 27 October 2011... JOYII WALKS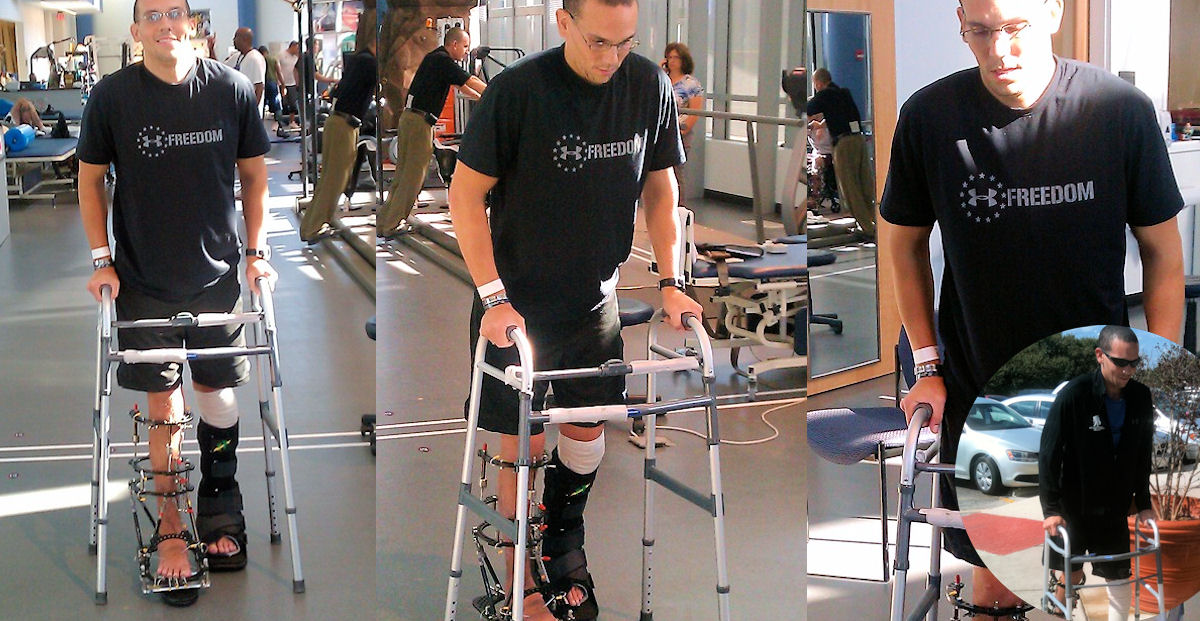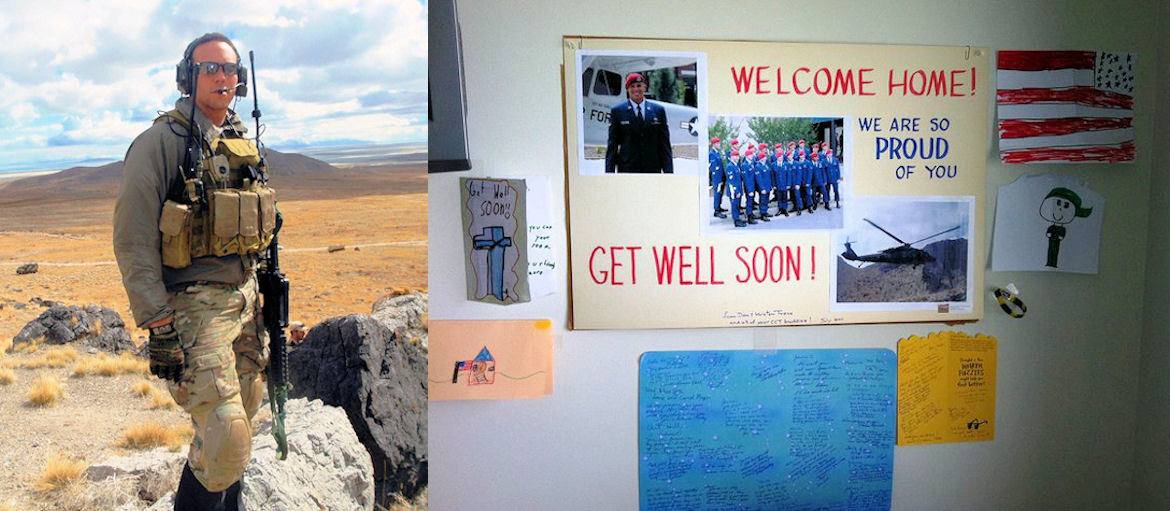 Below; 6 July 2012; With the assistance of a "Zero Gravity" Treadmill, Johnnie was able to walk yesterday. The ZG treadmill enable the doctors to accurately control the amount weight "loaded" on the lower body. Johnnie walked with 25% of his weight!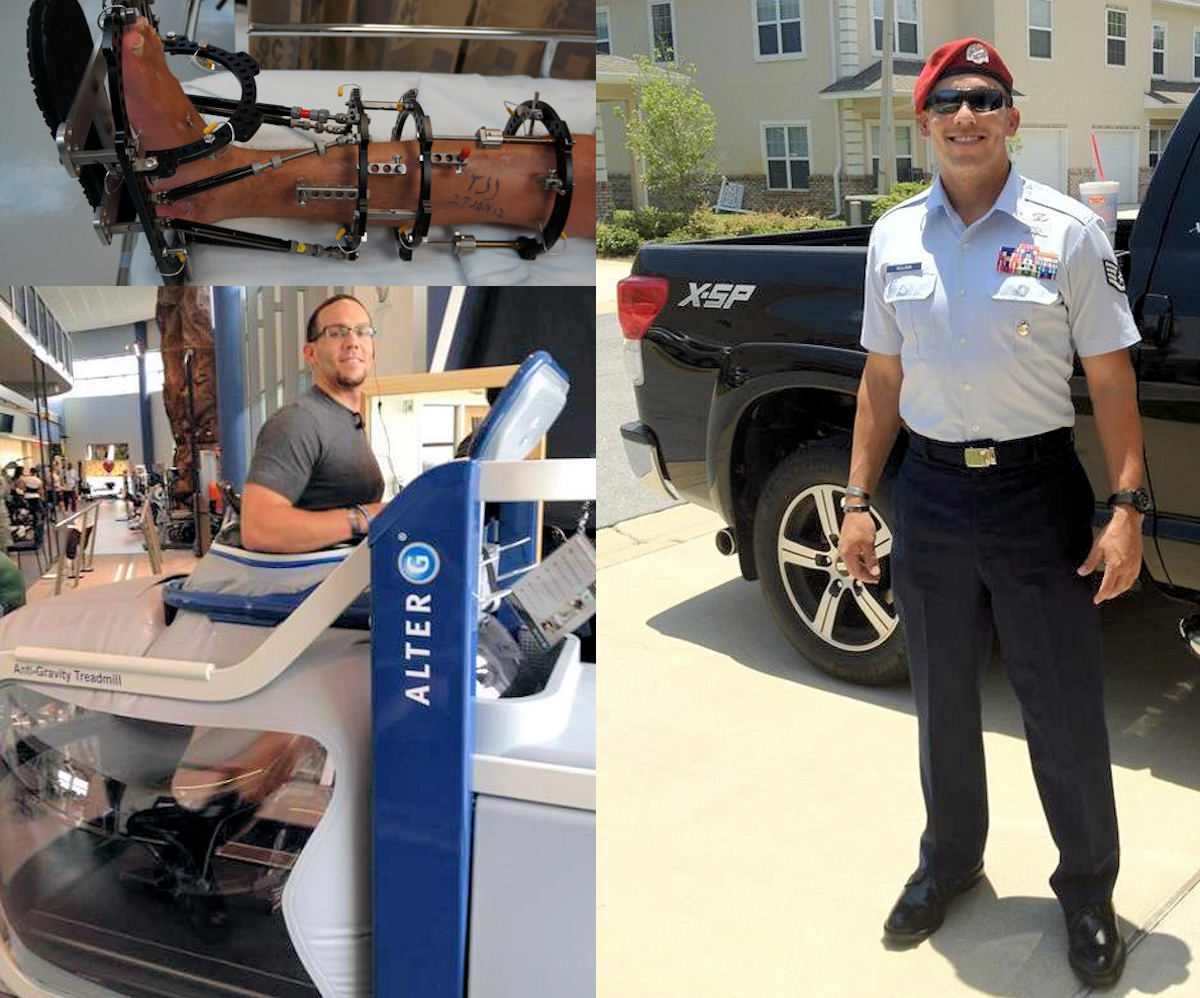 Above; First time Johnnie has been in uniform since being WIA in Afghanistan, 6 July 2011. The occasion was SrA Mark A. Forester KIA Afghanistan, 29 Sept 2010, (Johnnie's best friend, and as JOY II puts it "my conscience") was awarded The Silver Star (Posthumously) 15 June 2012, for combat actions in Afghanistan Sept 2010 at a ceremony @ Hurlburt AFB, Florida.
Below; A smiling father, JOY the 1st and Chris Larkin present JOY II with a Bronze Star and and Air Medal.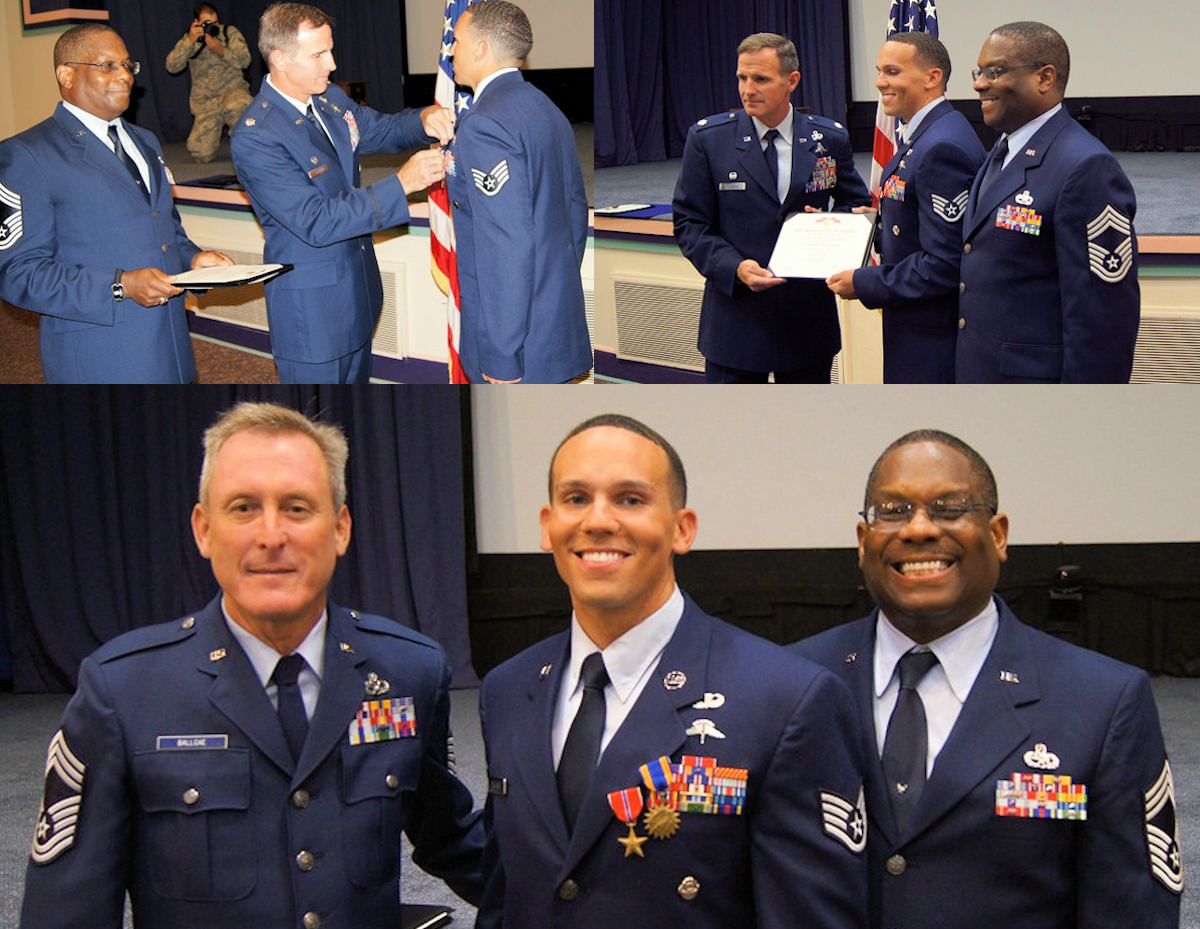 HURLBURT FIELD, FL – Walking on the same feet that were shattered in an improvised explosive device attack less than a year ago, an Airman from Air Force Special Operations Command marched to the front of the base theater, executed a facing movement and stood at attention to receive the Bronze Star Medal June 26, 2012 at Hurlburt Field, Fla.
With his mother and father (two retired Air Force Airmen), various family, friends, and teammates in attendance, Staff Sgt. Johnnie Yellock Jr., a Combat Controller with the 23rd Special Tactics Squadron here and a recent Purple Heart recipient, was presented the Bronze Star Medal for accomplishments during his 2011 deployment to Afghanistan, in support of Operation Enduring Freedom.
During Yellock's deployment, he executed six missions as a joint terminal attack controller, attached to an Army Special Forces team. Specifically, his duties centered on controlling unmanned intelligence, surveillance and reconnaissance aircraft to reduce IED emplacements along routes of travel. This ensured Coalition freedom of movement, according to his Bronze Star Medal citation.
The task Yellock accomplished while deployed were significant and trying, but no mission would be tougher than his current battle -- recovering from an IED explosion.
While out on a mission in Afghanistan, Yellock was riding in the exposed gunner's position of a mine resistant, ambush protected vehicle when it struck an IED, destroying the vehicle and wounding him seriously. Thrown clear of the wreckage, his injuries were severe, including two badly shattered feet and a wound to his heel that would not stop bleeding. Reacting instinctively, he applied two tourniquets to his left leg and assisted the team medic in applying a third to his right leg. Despite his wound, Yellock went on to instruct the team leader how to select and mark a helicopter landing zone, advising him how to properly control the inbound aircraft.
"To me, the most amazing thing is just less than a year ago, both of his legs were shattered," said Lt. Col. Chris Larkin, 23rd STS commander. "He's standing here today, in front of us, walking down the aisle on his own two feet. It gives me great pride to present these medals to Johnnie - they mean a lot to me."
With the help of the special tactics community, Yellock is thankful for support he and his family have received during the past year, as he recovers from his injuries.
"For this community to envelop my family with the amount of love and support is just amazing," said Yellock, native of Texas. "There's no amount of words I can say to express how I feel. Its been an amazing year. The best part was that I was able to walk down here, though I won't be able to sneak up on anybody. My progress keeps getting better. I'm doing better than they said I'd do."
After spending some time in the area, Yellock will be returning to the Center for the Intrepid, Brooke Army Medical Center, Texas, to continue his recovery from his leg injuries.
Yellock was also presented the Air Medal, first oak leaf cluster, for aerial achievement during a previous deployment in 2010 to Afghanistan.
Johnnie, Brandi, Reagan, and I want you to know, your thoughts are lifting us up, and your prayers are being answered. Thank you, and God Bless......
Johnnie