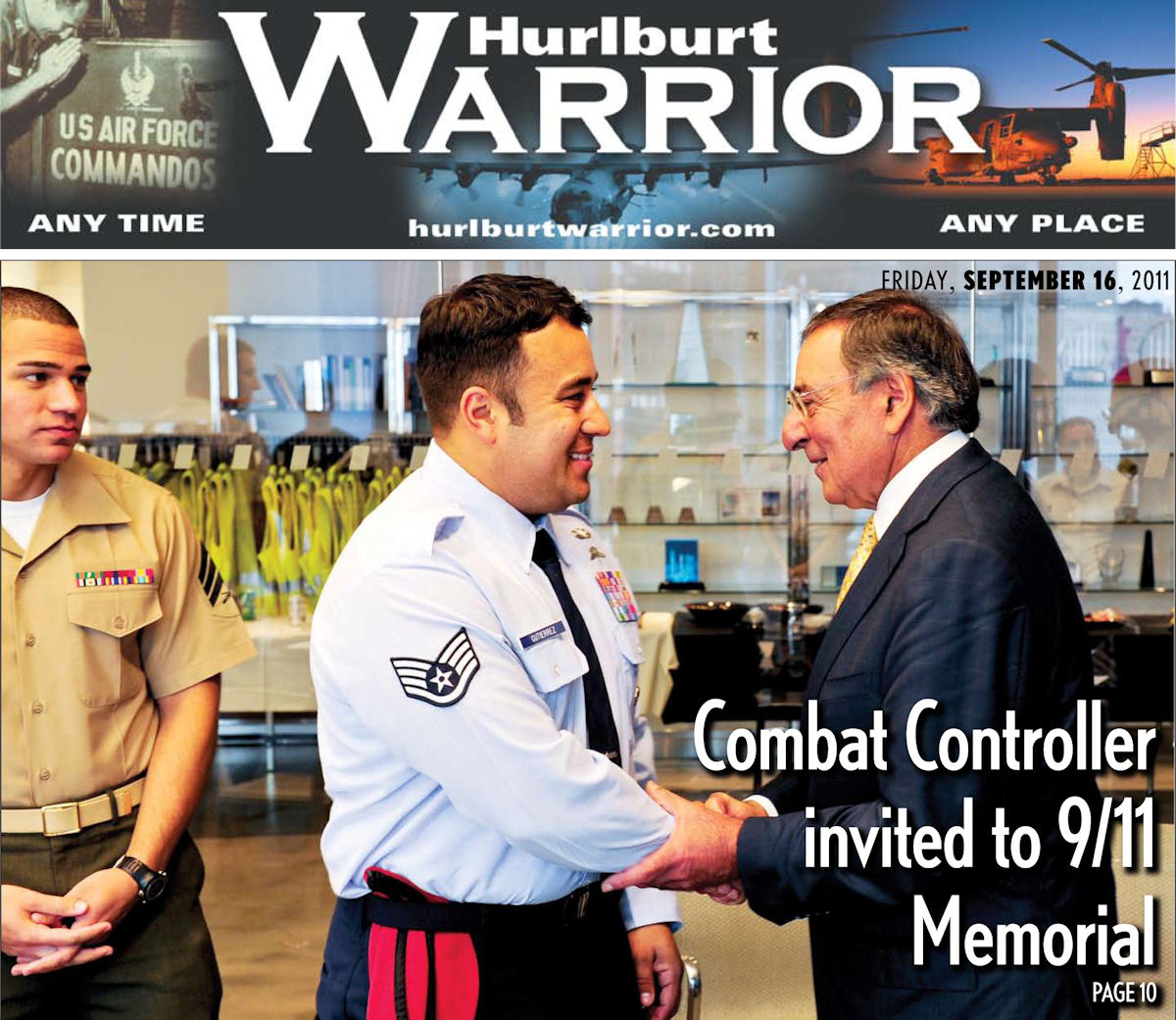 EDITOR'S NOTE: Air Force Special Operations Command Combat Controller, Staff Sgt. Robert Gutierrez Jr., was invited to join the Secretary of Defense during a 9/11 remembrance tour in New York. Gutierrez enlisted in 2002 following graduation from Southwestern Community College. He deployed to Africa in support of Marine and Navy special operations elements, and twice to Afghanistan, where he was responsible for directing airstrikes in support of Army Special Forces. Gutierrez received the Bronze Star Medal with Valor and was selected as one of the Air Force's 12 Outstanding Airmen of the Year in 2010. He was wounded by enemy fire on his second deployment. He is from Chula Vista, Calif, and currently is an instructor assigned to the Air Force Special Operations Training Center.
Gutierrez told reporters the visit to ground zero "reminded me why I enlisted."
Gutierrez said he tried to enlist the day after the attacks, but the recruiting stations were dosed. When they reopened, a waiting list quickly formed because of the rush of people wanting to sign up for the military, he said, and his own enlistment was final about six months after the attacks.
America's greatest strength is highlighted by its service members, Panetta said. And the young people in uniform traveling with him today, he added, represent the service they and their fellow soldiers, sailors, airmen, Marines and Coast Guardsmen have given to the nation.
"Since 9/11, we have achieved significant success going after al-Qaida and... Bts] leadership," Panetta said, adding that, nevertheless, it's critical to maintain pressure on the terrorist organization.
AIR FORCE MAGAZINE - Once More Unto the Breach


SSgt. Robert Gutierrez stuck with the mission despite taking

a bullet, his lung collapsing, busted eardrums, and losing more

than five pints of blood. By Amy McCullough

SSgt. Robert Gutierrez, a joint terminal attack controller assigned to Hurlburt Field, Fla., has been nominated for the Air Force Cross—the service's second highest award for valor. As of Sept. 2, 2011, the award was still pending the signature of Air Force Secretary Michael Donley. Here, Gutierrez poses for a photo, less than two months before the Afghanistan operation on Oct. 5, 2009, for which he has been nominated.





The target was a "brutal" man living outside Herat city in a "highly sympathetic village" in the western portion of Afghanistan, said Gutierrez. The Taliban forces were well aware they were being hunted and were well protected. Armed insurgents manned the rooftops inside their compound, surrounded by a 20-foot wall. The narrow, improvised explosive device-laden roads made it almost impossible to enter the village by vehicle, forcing the US team and about a dozen Afghan soldiers to finish the last two-and-a-half miles on foot.





The team moved fast, "because speed in the night is what favors you there," said Gutierrez, the lone joint terminal attack controller on the ground that day. At the time, he was assigned to the 21st Special Tactics Squadron at Pope AFB, N.C. Two F-16s and an MQ-1 Predator remotely piloted aircraft orbited the area high above, giving those on the ground a heads up on the insurgents' locations.





The two teams started taking fire almost immediately after the initial breach of the wall surrounding the target compound. The first team pushed through. Gutierrez, who was in the second stack, paused to take out a group of insurgents who were laying down heavy fire from behind an adjacent alley before he took cover inside the targeted building. Once inside, he radioed the aircraft to let them know they were in contact with the enemy. The team leader already had been shot in the calf and was having trouble walking, and the medics were busy tending to other members of the team struck by fragmentation.




He's Hit





As the battle raged inside the compound, an additional support team was moving in from the west, but insurgents unleashed more heavy fire on them before they could breach the wall, rendering their own firepower useless. The additional support team was forced to break contact, leaving those inside to rely on airpower to keep them from being overrun—a real possibility considering they were outnumbered and some of the Afghan national forces had already fled.

Gutierrez hovered in a doorway dodging bullets and returning fire when the soldier next to him had his gun jam, then was struck by fragmentation. Gutierrez called a medic and took over his buddy's position, where he had a better line of sight on two insurgents shooting at them from the rooftop next door.

Just as one of the insurgents fell, Gutierrez was hit.

"I knew something was wrong, but you don't really have time to sit there and think about things," Gutierrez told Air Force Magazine during a July interview from Hurlburt Field, Fla., where he is stationed now. "You just do what you need to do. You return fire and eliminate the threat."

He did return fire until the pain in his side and arms overwhelmed him. Gutierrez fell to the ground gasping for air, realizing for the first time that he had been shot. "I know I'm wounded [and] I'm trying to think of how severe it is," he said.

"Time has virtually stopped. ... I'm on my hands and knees ... trying to talk, but every time I tried to talk, I had blood coming out of my mouth and out of my nose, so I knew that I had been wounded pretty bad." Gutierrez was an experienced air commando and he had seen similar wounds before. He knew he was probably going to die, but he was determined not to let his guys down.

He needed to get back on the radio, so he called for the medic. Gutierrez had no idea where the bullet entered his body.

Although he was suffering from a sucking chest wound, he tried to shout commands to his comrades to cover the door and attempted to connect with the aircraft overhead to tell them he had been shot. But as the medic stripped off his gear, Gutierrez was quickly losing his breath, making that impossible. The round had entered through his upper shoulder, traveled down his scapula, pierced his lung, and then exited out his back. "The whole trajectory of it and the way it came through just ripped apart everything all the way down," he said. Gutierrez would later acknowledge just how lucky he was, because the bullet took a "weird" turn and narrowly missed his heart.




No Time For the Pain





High above, the pilots assumed Gutierrez had been injured when they couldn't get him on the radio. They weren't sure how bad it was so they continued to relay insurgent locations and requested permission to strike. "I couldn't talk. I could hear it, but it was so unfortunate [because] I couldn't talk," he said. The enemy was no more than 50 feet away, and air support was debating whether the aircraft should fire a Hellfire missile.

"I had to get back on the net, call it off, abort the pass," recalled Gutierrez. The sheer power of the Hellfire would probably have killed them all, he said.

But he still couldn't breathe. The medic held up a needle—"a good seven inches long," Gutierrez recalled—and told him his lung had collapsed. He needed to jam the needle into Gutierrez's chest to relieve the pressure in his chest cavity so his lungs could inflate. It was going to hurt, but "GZ" just nodded. He wanted to get it over with so he could get back to his job. He didn't have time to focus on pain.

Gutierrez said he was "in the middle of the fight and we are starting to take heavy grenades. … An RPG has gone off on the side of the wall, and he gives me the needle decompression."

Seconds later, he was back on the radio. He called off the Hellfire strike and requested that the F-16s conduct a show of force.






The deafening roar of the jet fighters as they passed by partially caused the buildings to crumble, yet the insurgents kept firing. Gutierrez requested another flyby, this time with flares. The insurgents didn't back down, and now the F-16s were running low on fuel.

By the time Capt. Ethan Sabin, an A-10 pilot based at Kandahar Airfield, arrived the situation was grim. Gutierrez was wounded and Sabin said he "could hear the severity of the situation in his voice." However, Sabin said Gutierrez' words remained crystal clear.






"He saved the lives of all of his men," Sabin said. "As dire as the situation was, had he not been there to talk me on to the target and provide controls for strikes, the team would have likely suffered more casualties."

Lt. Col. Parks Hughes, at the time Gutierrez's commander, called his performance on the battlefield that day "extraordinary," but said "his actions were completely consistent with his character as warrior and an airman."

When Sabin arrived, only the Predator and one F-16 remained on the scene; the other fighter had run out of fuel and had flown back. Sabin sent his wingman to fetch the tanker, which was roughly 170 miles away. He didn't want to leave the guys stranded and no one knew how long the battle would last. It was critical for aircraft to get back into the fight as quickly as possible.

Sabin descended below the Predator's altitude and asked the F-16 pilot to mark the target with the laser on his targeting pod. This enabled him to "instantly get eyes and sensors on the target," said Sabin, who now serves as the chief of weapons and tactics with the 354th Fighter Squadron from Davis-Monthan AFB, Ariz.

Down below, Gutierrez and his team leader, both suffering from gunshot wounds, discussed their options. The shows of force had not worked, and the insurgents had them covered on three sides. They needed a gun run, even if it was "danger close."

Gutierrez requested the first strafing shortly after the Hogs arrived, while the medics were still packing his side with combat gauze and trying to stitch up his wounds. Sabin said he had some reservations about strafing less than 65 feet from friendly forces, but his attack proved to be "spot on." The attack was so close, Gutierrez's right eardrum burst and his left eardrum was severely damaged from the noise.

"Perhaps [what is] most impressive was the exceptionally high degree of technical proficiency with which he directed the air strikes, despite such dire circumstances and great physical pain," said Hughes, the former commander of the 21st STS. "Ultimately, his actions helped to suppress the enemy force and enabled his team to escape the kill zone with no additional casualties." In fact, despite the intensity of the close-quarters battle, there were no US fatalities in the engagement.

The shooting halted for a short time, then picked back up again. Gutierrez called in another strafing run.

"It came through, was on target, also danger close," he said. Time was running out. Buildings were catching fire and the soldiers were standing inside a ticking time bomb. The target building was filled with a "high amount of ammonium nitrate," a highly flammable fertilizer used to make improvised explosive devices, he said.




Bleeding Out





| | |
| --- | --- |
| Over the next day-and-a-half he would be treated at Herat Airfield, at the Craig Joint Theater Hospital at Bagram Airfield—both in Afghanistan—then Landstuhl Regional Medical Center in Germany, before finally arriving at Walter Reed Army Medical Center in Washington, D.C. | |


"We decided that we were combat air effective," and the high-value target was dead, so "we were going to use one more pass as a cover for us to exit," Gutierrez said. "I put my kit back on, put my helmet back on, ... [and] gave instructions to the A-10 pilot. He fully obliged [and] came back through. As [he] struck, we pushed out and left the compound."

Determined not to be a burden on his team, Gutierrez got to his feet, with the medic holding his bag and supporting his shoulder.

"Since my ears were out, my balance was completely off. I couldn't really stand up straight," he said. "I kind of would veer off everywhere." Gutierrez called in a medical evacuation for himself, the captain, and two other wounded troops, but he was initially denied. It was too dangerous; they had to leave the area, he was told.

Sporadic gunfire followed them as they stumbled away from the village. After struggling for about two miles, Gutierrez's lung collapsed for a second time. The medic did another needle decompression by the side of a four-way intersection as the A-10s continued to provide close air support and ISR assets fed them vital information from above. When he got his breath back, Gutierrez requested an immediate medevac.

The troops found a muddy, square vegetation field, roughly 300 feet by 300 feet, which had just enough room for one helicopter to land. They secured the site and waited for the medevac, a joint Spanish and Italian team from Herat Airfield, to arrive.

Wet and weak from the loss of blood, Gutierrez waited for an hour-and-a-half. His uniform became soaked and stuck to his arm. At first he thought it was sweat from the difficult trek to the landing zone, or maybe muddy water from the canal he stumbled in as they pushed out.

He had no idea he had lost five-and-a-half pints of blood.

"You just go. I don't have time to be a hindrance," he said. "If I'm dead, I'm just dead weight. Everybody has their own push, their own internal fortitude, and I don't have time to let anyone down." When the medevac bird finally arrived, Gutierrez asked the pilot to follow the rest of the team as they hiked back to their vehicles, where an International Security Assistance Force convoy was waiting to escort them back. Then he passed out.

Over the next day-and-a-half he would be treated at Herat Airfield, at the Craig Joint Theater Hospital at Bagram Airfield—both in Afghanistan—then Landstuhl Regional Medical Center in Germany, before finally arriving at Walter Reed Army Medical Center in Washington, D.C.

It took him about 19 months to recover. Today Gutierrez is back on duty and now serves as an instructor at the Air Force Special Operations Training Center at Hurlburt. He is about 98 percent recovered, although he still has limited movement in his arm. That's "just the nature of the beast," said Gutierrez. "I probably won't get it back, but it's fine. I'm full up. I'm fully deployable. I'm good to go."




And, if a bullet wound, a collapsed lung, and busted eardrums didn't make him quit, a minor loss of mobility won't keep him from deploying again.



"Oh, I assure you I will," said Gutierrez with the same dogged determination that helped save his life and the lives of his team members two years ago.


RANDOLPH AIR FORCE BASE, Texas, (8/3/10) -- Air Force officials selected the 12 Outstanding Airmen of the Year for 2010.
An Air Force selection board at the Air Force Personnel Center here considered 36 nominees who represented major commands, direct reporting units, field operating agencies and the Air Staff. The board selected the 12 Airmen based on superior leadership, job performance and personal achievements.
The nominees are authorized to wear the Outstanding Airman of the Year ribbon, while the 12 winners will wear the bronze service star device on the ribbon. The winners will also wear the Outstanding Airman of the Year Badge for one year from the date of formal presentation.
SSgt Rob Gutierrez selected as Outstanding Airman of the Year, 2010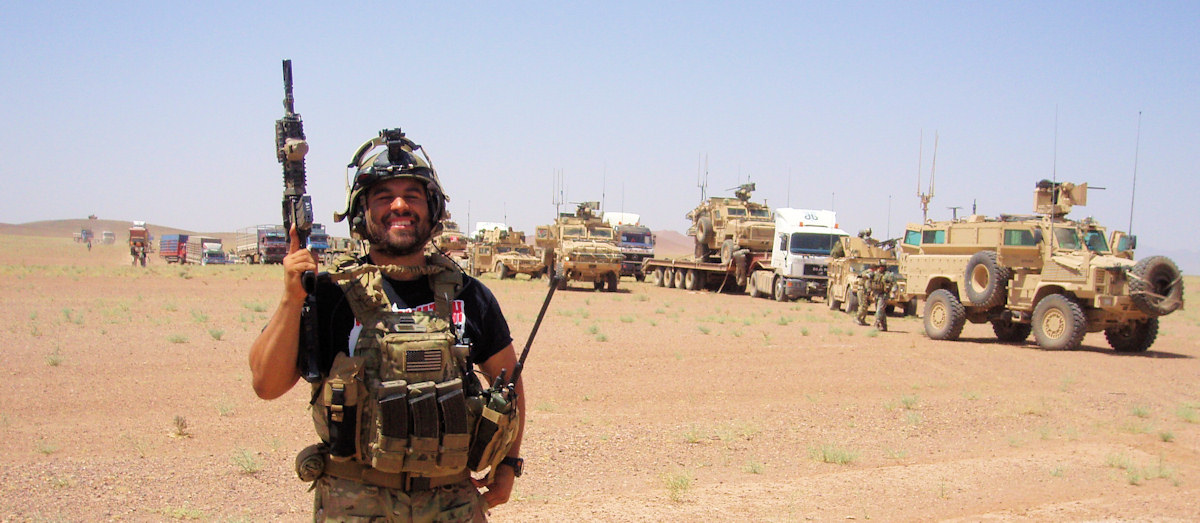 War Story: Combat Controller's actions epitomize the ethos of Special Tactics
12/2/2008 - RAF MILDENHALL, England -- Staff Sergeant Robert Gutierrez, Jr., an Air Force Special Tactics Combat Controller assigned to the 352nd Special Operations Group at RAF Mildenhall, deployed to Afghanistan in early January 2008.

During one of many missions, Sergeant Gutierrez was on patrol searching for a high-value target when his Special Forces Operational Detachment Alpha team was ambushed.

Traveling along a mountain road, his team's convoy took insurgent fire from the right of their position as they neared a bridge -- across from the compound they were to search.

Countering the small arms and machine-gun fire with the organic weapons in their convoy, Sergeant Gutierrez added lethal gun and bomb passes from F-15E and A-10 aircraft overhead. Once the initial contact seemed finished, all became quiet according to the Sergeant. "We then dismounted the convoy to conduct an assessment of the situation after the air strike," he said.

His ODA team crossed the bridge by foot to check houses in the compound, and once again came under intense enemy fire - this time from three sides of their position.
Cut off from the heavy weapons in their convoy and pinned down by insurgent fire, the situation grew worse with each passing moment. The team leader was incapacitated within minutes and another team member was wounded and stranded in the enemy "kill zone." With the enemy pressing for advantage, Sergeant Gutierrez went to work.
He directly engaged and killed four insurgents with his M-4 Carbine and orchestrated eight strafing runs from A-10 aircraft onto multiple targets threatening to overrun their location.
The A-10 passes gave him and a team member the opportunity to run in and out of the "kill box" to retrieve their critically wounded teammate.
Consolidating the team's position, Sergeant Gutierrez then directed more than 70 close air support strikes over the next five plus hours while repelling numerous attempts by insurgents to overrun their position. His focus and technical battlefield expertise were deciding factors to the team's survival - a fact born out by the operation's final numbers.
"I determined the enemy's positions as fast as I could," he said. As he continuously directed A-10 Thunderbolts, F-15 Strike Eagles and AH-64 Apache helicopters onto multiple targets surrounding their position, often with the enemy just meters away.
Afterward, he used both A-10s and UAVs, to keep the enemy at bay and gain information on enemy positions, maintaining a protective fire suppression blanket for his team from the air.
After the battle subsided and the area was secure, he called in two medical evacuation flights for his wounded and fallen teammates.

During the engagement, Sergeant Gutierrez synchronized airstrikes, utilized UAVs, and his team's organic firepower to effectively incapacitate more than 240 insurgent enemy fighters, including the "high-value target," the objective of the entire mission.

A senior leader from his unit said, "Sergeant Gutierrez's actions that day epitomized the ethos of special tactics. He willingly risked his life to save a teammate. He maintained his composure in the darkest of circumstances and aggressively pursued the enemy using every asset at his disposal. Sergeant Gutierrez is a warrior in every sense of the word."

Incidentally, Staff Sergeant Robert Gutierrez Jr. reenlisted in the United States Air Force during his deployment to Operation Enduring Freedom;

pictured right




SSgt Robert Gutierrez Jr. reenlisting in Afghanistan.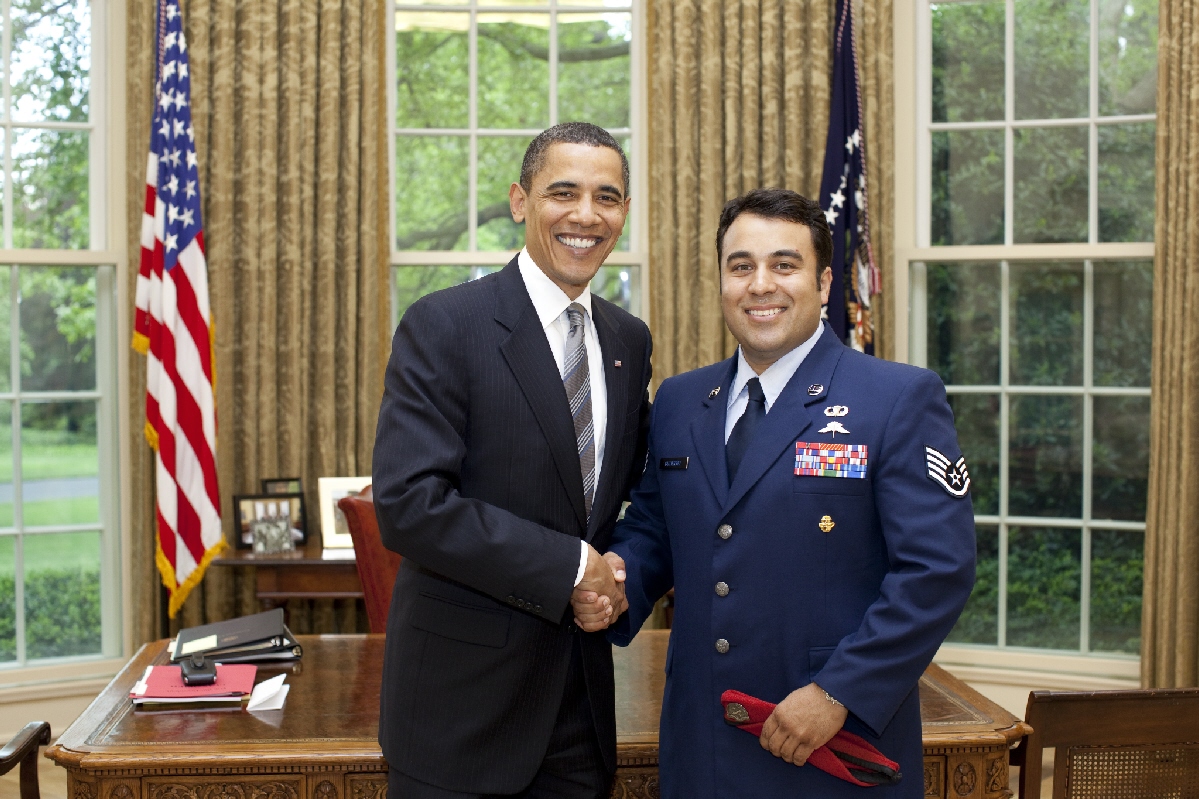 Mr. President, as I mentioned earlier, it was our privilege to honor these heroic Green Berets, who were joined at the lunch by SSG Robert Gutierrez, Jr., an Air Force special tactics Combat Controller who targeted airstrikes during the mission. For his actions, he was awarded the Bronze Star Medal with ``V'' device for valor, a Purple Heart, and an Air Force Combat Action Medal.
Citation To Accompany the Award of the Bronze Star Medal (With Valor) to Robert Gutierrez, Jr.

Staff Sergeant Robert Gutierrez, Jr., distinguished himself by heroism as a Special Tactics Combat Controller, 21st Expeditionary Special Tactics Squadron, Combined Joint Special Operations Air Component while engaged in ground combat against an enemy of the United States in Afghanistan on 6 April 2008. On that day, Sergeant Gutierrez was attached to Army Special Forces Operational Detachment-Alpha 3312 as a Joint Terminal Attack Controller, in support of Operation COMMANDO WRATH. He provided critical Airmanship skills during a violent 6 and a half hour battle against heavily armed and entrenched enemy fighters. While approaching the objective, while climbing near-vertical terrain, the assault force was ambushed by anti-Coalition forces which pinned down the lead team on a 60-foot high rock cliff and produced several friendly casualties. Sergeant Gutierrez coordinated with the engaged element and directed lethal gun, missile, and bomb attacks from AH-64s and F-15Es. Despite these strikes, the attack intensified onto his team's position. Despite being struck twice by 7.62 millimeter bullets in the helmet, Sergeant Gutierrez maintained his calm demeanor and continued to prosecute targets. As the fight continued, the insurgents shifted their efforts toward arriving helicopters and engaged them with heavy fire. Sergeant Gutierrez coordinated with the ground force commander to delay friendly force extraction until the enemy positions could be suppressed. Enabled his systematic control of air power during the fight, all 17 friendly casualties were safely evacuated and 40 enemy fighters were killed. By his heroic actions and unselfish dedication to duty, Sergeant Gutierrez has reflected great credit upon himself and the United States Air Force.

Sergeant Gutierrez earned the medals for two separate deployments to Afghanistan. His Bronze Star Medal was awarded for his actions under intense enemy fire in Afghanistan winter 2008. His Purple Heart was awarded for injuries sustained in late 2009.

10 Green Berets To Receive Silver Star for Afghan Battle
After jumping out of helicopters at daybreak onto jagged, ice-covered rocks and into water at an altitude of 10,000 feet, the 12-man Special Forces team scrambled up the steep mountainside toward its target--an insurgent stronghold in northeast Afghanistan.
``Our plan,'' Capt. Kyle M. Walton recalled in an interview, ``was to fight downhill.''
But as the soldiers maneuvered toward a cluster of thick-walled mud buildings constructed layer upon layer about 1,000 feet farther up the mountain, insurgents quickly manned fighting positions, readying a barrage of fire for the exposed Green Berets.
A harrowing, nearly seven-hour battle unfolded on that mountainside in Afghanistan's Nuristan province on April 6, as Walton, his team and a few dozen Afghan commandos they had trained took fire from all directions. Outnumbered, the Green Berets fought on even after half of them were wounded--four critically--and managed to subdue an estimated 150 to 200 insurgents, according to interviews with several team members and official citations.
Today, Walton and nine of his teammates from Operational Detachment Alpha 3336 of the 3rd Special Forces Group will receive the Silver Star for their heroism in that battle--the highest number of such awards given to the elite troops for a single engagement since the Vietnam War.
That chilly morning, Walton's mind was on his team's mission: to capture or kill several members of the Hezb-e-Islami Gulbuddin (HIG) militant group in their stronghold, a village perched in Nuristan's Shok Valley that was accessible only by pack mule and so remote that Walton said he believed that no U.S. troops, or Soviet ones before them, had ever been there.
But as the soldiers, each carrying 60 to 80 pounds of gear, scaled the mountain, they could already spot insurgents running to and fro, they said. As the soldiers drew closer, they saw that many of the mud buildings had holes in the foot-thick walls for snipers. The U.S. troops had maintained an element of surprise until their helicopters turned into the valley, but by now the insurgent leaders entrenched above knew they were the targets, and had alerted their fighters to rally.
Staff Sgt. Luis Morales of Fredericksburg was the first to see an armed insurgent and opened fire, killing him. But at that moment, the insurgents began blasting away at the American and Afghan troops with machine guns, sniper rifles and rocket-propelled grenades--shooting down on each of the U.S. positions from virtually all sides.
``All elements were pinned down from extremely heavy fire from the get-go,'' Walton said. ``It was a coordinated attack.'' The insurgent Afghan fighters knew there was only one route up the valley and ``were able to wait until we were in the most vulnerable position to initiate the ambush,'' said Staff Sgt. Seth E. Howard, the team weapons sergeant.
Almost immediately, exposed U.S. and Afghan troops were hit. An Afghan interpreter was killed, and Staff Sgt. Dillon Behr was shot in the hip.
``We were pretty much in the open, there were no trees to hide behind,'' said Morales, who with Walton pulled Behr back to their position. Morales cut open Behr's fatigues and applied pressure to his bleeding hip, even though Morales himself had been shot in the right thigh. A minute later, Morales was hit again, in the ankle, leaving him struggling to treat himself and his comrade, he said. Absent any cover, Walton moved the body of the dead Afghan interpreter to shield the wounded.
Farther down the hill in the streambed, Master Sgt. Scott Ford, the team sergeant, was firing an M203 grenade launcher at the fighting positions, he recalled. An Afghan commando fired rocket-propelled grenades at the windows from which they were taking fire, while Howard shot rounds from a rocket launcher and recoilless rifle.
Ford, of Athens, Ohio, then moved up the mountain amid withering fire to aid Walton at his command position. The ferocity of the attack surprised him, as rounds ricocheted nearby every time he stuck his head out from behind a rock. ``Typically they run out of ammo or start to manage their ammo, but ..... they held a sustained rate of fire for about six hours,'' he said.
As Ford and Staff Sgt. John Wayne Walding returned fire, Walding was hit below his right knee. Ford turned and saw that the bullet ``basically amputated his right leg right there on the battlefield.''
Walding, of Groesbeck, Tex., recalled: ``I literally grabbed my boot and put it in my crotch, then got the boot laces and tied it to my thigh, so it would not flop around. There was about two inches of meat holding my leg on.'' He put on a tourniquet, watching the blood flow out the stump to see when it was tight enough.
Then Walding tried to inject himself with morphine but accidentally used the wrong tip of the syringe and put the needle in his thumb, he later recalled. ``My thumb felt great,'' he said wryly, noting that throughout the incident he never lost consciousness. ``My name is John Wayne,'' he said.
Soon afterward, a round hit Ford in the chest, knocking him back but not penetrating his body armor. A minute later, another bullet went through his left arm and shoulder, hitting the helmet of the medic, Staff Sgt. Ronald J. Shurer, who was behind him treating Behr. An insurgent sniper was zeroing in on them.
Bleeding heavily from the arm, Ford put together a plan to begin removing the wounded, knowing they could hold out only for so long without being overrun. By this time, Air Force jets had begun dropping dozens of munitions on enemy positions precariously close to the Green Berets, including 2,000-pound bombs that fell within 350 yards.
``I was completely covered in a cloud of black smoke from the explosion,'' said Howard, and Behr was wounded in the intestine by a piece of shrapnel.
The evacuation plan, Ford said, was that ``every time they dropped another bomb, we would move down another terrace until we basically leapfrogged down the mountain.'' Ford was able to move to lower ground after one bomb hit, but insurgent fire rained down again, pinning the soldiers left behind.
``If we went that way, we would have all died,'' said Howard, who was hiding behind 12-inch-high rocks with bullets bouncing off about every 10 seconds. Insurgents again nearly overran the U.S. position, firing down from 25 yards away--so near that the Americans said they could hear their voices. Another 2,000-pound bomb dropped ``danger close,'' Howard said, allowing the soldiers to get away.
Finally, after hours of fighting, the troops made their way down to the streambed, with those who could still walk carrying the wounded. A medical evacuation helicopter flew in, but the rotors were immediately hit by bullets, so the pilot hovered just long enough to allow the in-flight medic to jump off, then flew away.
A second helicopter came in but had to land in the middle of the icy, fast-moving stream. ``It took two to three guys to carry each casualty through the river,'' Ford said. ``It was a mad dash to the medevac.'' As they sat on the helicopter, it sustained several rounds of fire, and the pilot was grazed by a bullet.
By the time the battle ended, the Green Berets and the commandos had suffered 15 wounded and two killed, both Afghans, while an estimated 150 to 200 insurgents were dead, according to an official Army account of the battle. The Special Forces soldiers had nearly run out of ammunition, with each having one to two magazines left, Ford said.
``We should not have lived,'' said Walding, reflecting on the battle in a phone interview from Fort Bragg, N.C., where he and the nine others are to receive the Silver Stars today. Nine more Green Berets from the 3rd Special Forces Group will also receive Silver Stars for other battles. About 200 U.S. troops serving in Iraq and Afghanistan have received the Silver Star, the U.S. military's third-highest combat award.
Another War Story: Combat Controller's actions epitomize the ethos of Special Tactics
12/25/2008 - HURLBURT FIELD, Fla. (AFNS) -- An Air Force Special Operations Command Airman saved lives in Afghanistan April 6 during a lengthy battle by calling in airstrikes to protect his team.
Staff Sgt. Zachary Rhyner, a special tactics Combat Controller assigned to the 21st Special Tactics Squadron at Pope Air Force Base, N.C., was deployed to Operation Enduring Freedom as the primary joint terminal attack controller while attached to special forces team Operational Detachment Alpha 3336, 3rd Special Forces Group.
Then a senior airman, Sergeant Rhyner was part of a 130-man combined assault force whose mission was to enter Shok Valley and capture a high-value target who was funding the insurgency. Sergeant Rhyner is credited with saving his10-man team from being overrun twice in a 6.5-hour battle.
Capt. Stewart Parker, the detachment commander at Bagram Airfield, Afghanistan, was the command and control link to the JTACs on the ground as they went into Shok Valley.
"This was the first time U.S. special operations forces entered the territory," Captain Parker said. "These were extraordinary conditions and the situation was dynamic."
Shok Valley is located below 60-foot cliffs. The mission objective was at the top of the mountains surrounding the valley.
"Initial infiltration began that day with snow on the ground, jagged rocks, a fast-moving river and a cliff," Sergeant Rhyner said. "There was a 5-foot wall you had to pull yourself up. The ridgeline trail was out of control."
The expectation was to encounter fire from about 70 insurgents. One Air Force JTAC-qualified Combat Controller was attached to each team to call in airstrikes, if needed.
"We were caught off guard as 200 enemy fighters approached," said Staff Sgt. Rob Gutierrez, a Combat Controller with the second team in the fight. "Within 10 minutes, we were ambushed with heavy fire from 50 meters. The teams were split by a river 100 to 200 meters apart, north to south."
Sergeant Rhyner was in charge of coordinating the air assets.
"I have never seen a situation this bad," said Captain Parker, who was monitoring the situation back at the base. "The intel said the enemy was 40 feet away from Zach and his team at one point. It was dangerous."
Within the first 15 minutes of fire, Sergeant Rhyner was wounded along with three team members.
"I was pulling security when I got shot in the leg," he said. "The rounds hit my left thigh and went through my leg and hit another guy in the foot."
Sergeant Rhyner said he immediately felt pain and adrenalin.
"There was nowhere to go. I grabbed the wounded guys, but we were trapped by the enemy," he said. "I was calling in airstrikes and firing, while moving the wounded down (the cliff)."
Sergeant Gutierrez said he could see insurgent fire coming from the buildings on the hilltops above them and was trying to get across the river to meet up with Sergeant Rhyner.
"Zach and I were in constant radio contact," he said. "I could hear the ammunition, sniper fire and rocket-propelled grenades with multiple blasts. We tried to push to the north to collocate with Zach's team, but every time we pushed up river, it put us in an open line of fire."
"My team ran across the freezing river. The water came off the mountains, and we were 100 to 200 feet beneath the enemy, like fish in a barrel," Sergeant Gutierrez said.
As the enemy surrounded them, Sergeant Rhyner, who was being treated for his injuries by Capt. Kyle Walton, the special forces team leader, directed multiple rockets and gun runs from AH-64 Apache helicopters against enemy positions.
"Zach was coordinating tremendous amounts of fire on both villages simultaneously," Sergeant Gutierrez said. "Zach was in charge of the airstrikes, since he was closest to the fight and could see even what the F-15 (Eagle) pilots could not."
Forty-five minutes to an hour had gone by since the fight began.
"We were pinned down and I could see the enemy all over the hills running around," Sergeant Gutierrez said. There were no stable targets. I kept the Apaches and the Hellfire missiles pressed to the north."
Accurate sniper, machine gun and RPG fire poured down on the assault force in a complex ambush initiated simultaneously from all directions as Alpha Team 3336 ascended the near-vertical terrain. He called in more than 50 close airstrikes and strafing runs.
Three hours into the fight, Sergeant Gutierrez reached Sergeant Rhyner's position.
"Sergeant Gutierrez and I met on the cliff during the battle briefly. We shared a laugh, but it was a busy, bleak situation," Sergeant Rhyner said.
Sergeant Rhyner had been calling in airstrikes for three hours while he was injured; however, he still felt responsible for the others who had been hurt. With disregard for his own life, he tried to get the injured to safety, still in the open line of fire.
"I left injured personnel in a house and I had to get over there," he said. "I was frustrated being wounded. I tried to get the bombs there fast and talk to the pilots who didn't see what I saw on the ground."
Five or six hours into the fight, as it was getting dark, intelligence informed the JTACs that enemy reinforcements were 10 kilometers away carrying enemy rockets and missiles.
"We continued to fight our way up the hill and the (helicopters) came," Sergeant Gutierrez said. "Zach was talking to the helos and gave the coordinates to lay the bombs on the village, while I kept the A-10 (Thunderbolt IIs) and the Apaches out of the way."
Sergeant Rhyner called in a total of 4,570 rounds of cannon fire, nine Hellfire missiles, 162 rockets, 12 500-pound bombs and one 2,000-pound bomb, constantly engaging the enemy with his M-4 rifle to deter their advance.
"Zach acted fast and shut down the fighting," Sergeant Gutierrez said. "The wounded were taken out on medevac."
Back at command and control, Captain Parker heard that the helicopters were on the ground with the wounded but he could not move the helicopters due to the terrain and weather conditions.
"Radio transmissions would block the signal due to terrain and vertical cliffs," he said. "Helicopters were vulnerable and there was pressure to do everything we could to get the teams out quickly."
Fog then started rolling into the valley.
"At 8,000 feet, the helicopter couldn't fly (due to altitude) and the situation called for 'aggressive patience,'" Captain Parker said. "More than 50 percent of the U.S. forces were wounded, and it was pretty grave."
Toward the end of the fighting, 40 insurgents were killed and 100 wounded
Sergeant Rhyner was directly credited with the entire team's survival due to his skill and poise under intense fire.
"Sergeant Rhyner is out of training less than a year and is in one of the most difficult situations," Captain Parker said. "It is an absolute testament to his character and the training these guys take. It tells me we are doing something right."
"If it wasn't for Zach, I wouldn't be here," Sergeant Gutierrez said.
An Airman's Tale; He was shorter than I expected. Rounder, too. In most of the photos I'd seen he'd worn the downrange beard, thick as otter fur, that marks a Special Operator. It lent him a kind of Santa Claus's badass nephew mien. But when I met him last week at Hurlburt Field, home to the USAF's Special Operations Command, he was clean-shaven, with a ready smile and a jaunt to his gait that belied the wounds he bore.
For your consideration: the tale of Staff Sergeant Robert Gutierrez Jr., Forward Combat Controller extraordinaire.
It was October, 2009. Early October. Herat Province, Afghanistan. Gutierrez was attached to a team of 30 Army Special Forces and Afghan National Army commandos tracking what the Pentagon refers to as "high-priority targets." (Most warfighters in the field just go with "bad mofos.") The combined team had entered a nondescript village where the target was said to be hiding. All hell broke loose. Ambush. They were waiting for them.
For over four hours rifle and RPG fire from the adjacent rooftops ripped into the American position. Surrounded, outgunned, and outmanned, Guterrez emptied clip after clip of his M4 carbine. Then he felt the sting. Armor piercing round. It entered through his left shoulder and corkscrewed into his torso, lodging finally in his chest after breaking two ribs and his scapula. His lungs collapsed, and he was bleeding out from a softball-sized hole in his back.
"I've seen those types of injuries," he said. "Time isn't your friend. I thought, 'I have three minutes before I'm going to die.'"
This posed a problem not only for Gutierrez, but for the entire SF Team. For "The Goot" was the only radio operator in communication with the F-16s and A-10s vectoring overhead on strafing and bombing runs. Yet despite believing he was about to die, Gutierrez refused to allow the two Army medics to remove his kit and armor in order to treat him. His radio, you see, was attached to his kit. And without Gutierrez on the hand-held, the gunships providing close air support would have no "eyes on the ground."
One of the A-10 pilots remembers Gutierrez's voice throughout the ordeal, calm and cool as an FM deejay's. It was only after returning to base that the pilot learned that the Combat Controller had been delivering coordinates and instructions as the life oozed out of him.
After the third strafing run, after the air power had decimated the insurgents to the point where the Army SF Team could make a run for it, Gutierrez finally allowed the medics to remove his battle rattle and insert a needle-nosed decompression tube into his lungs. Then he put the armor back on and continued calling in fire. When it came time to Di Di Mau (showing my age), Gutierrez, the tube still planted in his chest, ran about a mile with the rest of the team to the exfil LZ. Along the way he continued to guide the gunships as well as call in his own medevac.
Gutierrez obviously lived. From Walter Reed Hospital he transferred to Hurlburt, where he is still recuperating. Which is where I found him last week, attending a small graduation ceremony for another generation of Combat Controllers. He doesn't like to talk much about the firefight. "Tell you the truth, I really don't remember all that much about it," he said. "Except for, at one point, thinking. 'Okay, I'm gonna die. But unless I stay on this radio we're all gonna die, not just me. And I'm not gonna let that happen.' Plus, my wife was pregnant with our first at the time, and I was sad that I'd never get to see my baby."
Gutierrez was there when his wife gave birth to a girl that December. The couple has since added a baby brother to the brood. And as we compared notes on our kids I thought once again of the wonder of ordinary men thrust into extraordinary circumstances. For his valor and courage Gutierrez was awarded the Air Force Cross, the service's highest honor and the country second-highest military award, second only to the Congressional Medal of Honor.
Gutierrez and I made more small talk for while before shaking hands goodbye. I lingered to watch him walk out the door into the bright Florida sunlight, don his Combat Controller's scarlet beret, and head for another round of physical therapy. He was still shorter than I expected. Rounder, too.
My 14-year-old was in Stateside from Europe for the Holidays. Tells me when he grows up he wants to be a diplomat. (Of all things! What ever happened to a fireman or a cowboy?) Yet on one of our long, see-the-Mercun-cousins road trips my son and I got to talking about military service. He asked me if, should he go in that direction, which Special Forces would I recommend. Air Force, I answered without hesitation. They've got the coolest berets.