The USAF Academy honors grads with memorial dedication
by Staff Sgt. Tim Jenkins
Academy Public Affairs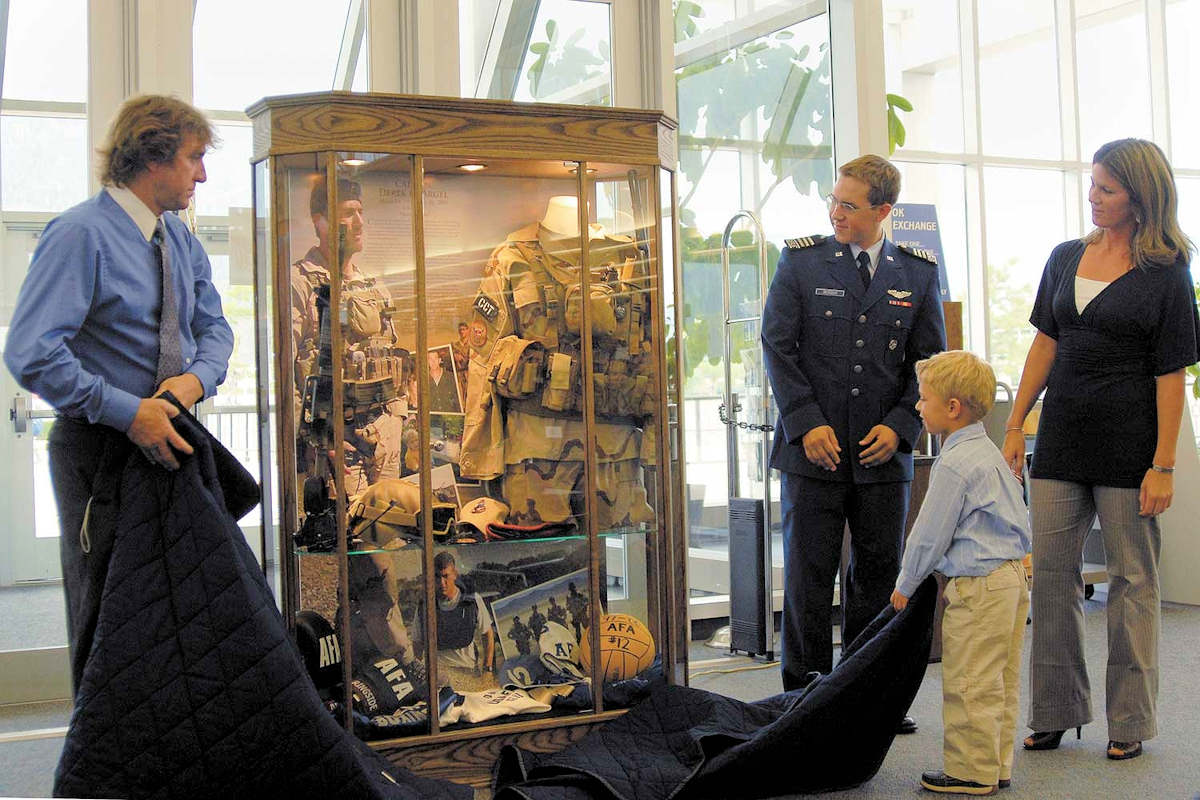 Photo by Rachel Boettcher The memorial display case for Captain Derek Argel is unveiled. The case will be permanently displayed in Cadet Squadron 2, the squadron Captain Argel was assigned to as a cadet. Capt. Jeremy Fresques' display will be in CS-29. L to R; Todd Bastian, Cadet Tuinstra, Logan Argel, and Wendy Argel.
9/12/2008 - U.S. Air Force Academy -- The Academy honored two 2001 graduates with the dedication of memorial display cases Friday in the McDermott Library.
Academy staff, cadets, members of the 23rd Special Tactics Squadron and Air Force Special Operations Command, and family and friends honored Capt. Derek Argel and Capt. Jeremy Fresques with display cases containing items from their days as cadets and their time as special tactics officers. The two were killed in plane crash while deployed to Afghanistan and Iraq in 2005.
"These cases will serve as reminders to all who view them, not only of those who came before, but also the service, sacrifice and the very real cost of war," said Cadet 1st Class Jared Tuinstra, the master of ceremonies for the dedication.
Captain Argel and Captain Fresques were assigned as special tactics officers to the 23rd Special Tactics Squadron at Hurlburt Field, Fla. In 2005, Captain Argel and Captain Fresques were deployed to Afghanistan and Iraq, and on Memorial Day that year, Captain Argel and Captain Fresques, Maj. William Downs, Staff Sgt. Casey Crate and Iraqi Air Force Capt. Ali Abass died when the Iraqi reconnaissance aircraft they were in crashed in the eastern Diyala Province, Iraq.
Debbie Argel-Bastian, mother of Captain Argel, spoke at the ceremony.



Watch video to the left





"Derek was an absolutely remarkable person. He was 6 foot 6 and everyone said that if he shook your hand you had a friend for life," she said. He made a decision in the 5th grade that he would attend a service academy and become the best officer he could. He loved what he was doing, and at one time he said to me, 'Mom, I'm not going out behind a desk. I'm going out on a mission.'"

Todd Allison, also a 2001 Academy graduate and former roommate of Captain Fresques, spoke at the ceremony, remembering Captain Fresques as fierce and competitive with unmatched loyalty, courage, integrity and passion. He said the dedication of the memorial displays will help him and the Fresques family with the healing process.

"It's healing I think for the both of us. For me, losing a best friend --a brother, and for (the Fresques family) losing a son, it's a good therapy," he said.
Lt. Col. Eric Ray, 720th Special Tactics Group deputy commander, also spoke at the dedication and reflected on the importance of the memorial displays and of remembering the sacrifices made by Captains Argel and Fresques.
"This memorial serves as a reminder of the ultimate sacrifice made by these two men," he said. "As time passes, memories fade and details forgotten, these memorials remain to serve as a compass for future leaders and warriors. A guide to the values we embrace: integrity, selflessness, excellence and courage. This will serve as an inspiration to other young men and women willing to dedicate their lives to this country, their service and their team."
Following Colonel Ray's remarks and the unveiling of the memorial displays, Senior Master Sgt. Tony Travis from the 23rd STS lead ceremony attendees in memorial pushups on the Terrazzo.
The memorial display cases will be located in the captains' former cadet squadrons: Cadet Squadron 2 for Captain Argel, and CS-29 for Captain Fresques.
"The cases are absolutely beautiful, so our hope is that all of the cadets who come through here are able to take a look at them, read about Derek and Jeremy and see what their lives were like," said Mrs. Argel-Bastian.