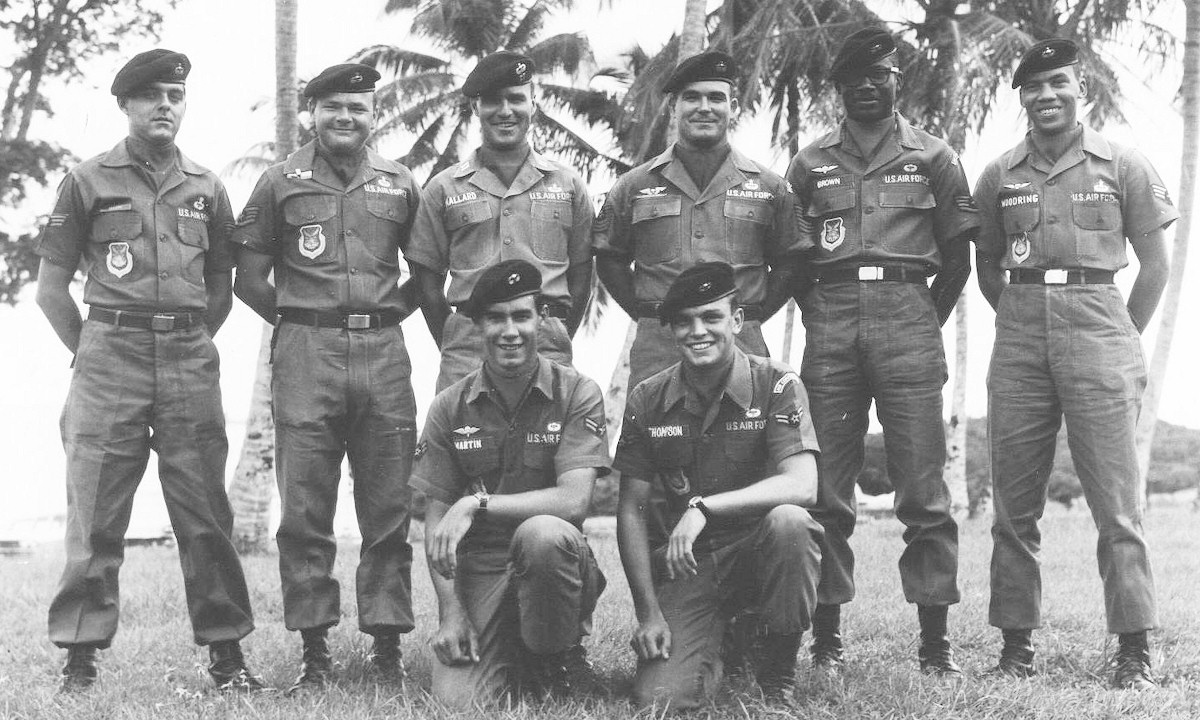 Standing; Alexander J. Joseph, Sydney R. Kidwell, Jon Mallard, Dion Daugherty, John Brown, and Frank Woodring

Kneeling; ? Martin, and Dave Thompson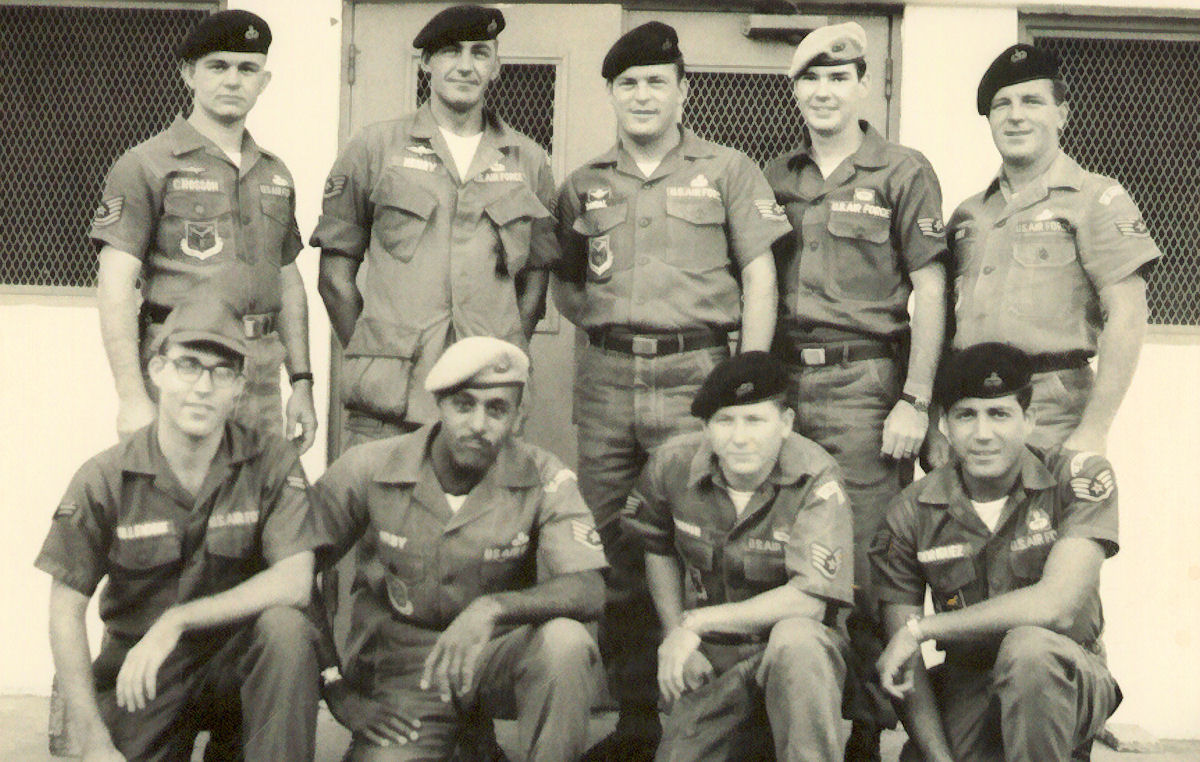 Above; Don Crosson, Dave Henry, Gary Samdal, Denny Davis (CWT), George Higby, Support, Chuck Irby (CWT), Don Hindman, and Juan Rodriguez.

Below; Terry Buquet, the guy with the sunglasses is Don Horn the guy with him is Don West and the last one is Terry Highland


Below; Everitt "Robbie" Robbins JM Checks Patrick Aguilar, Marlyn Strickland in brown, and Don West, Don Horn, Marlyn Strickland, and Terry Buquet.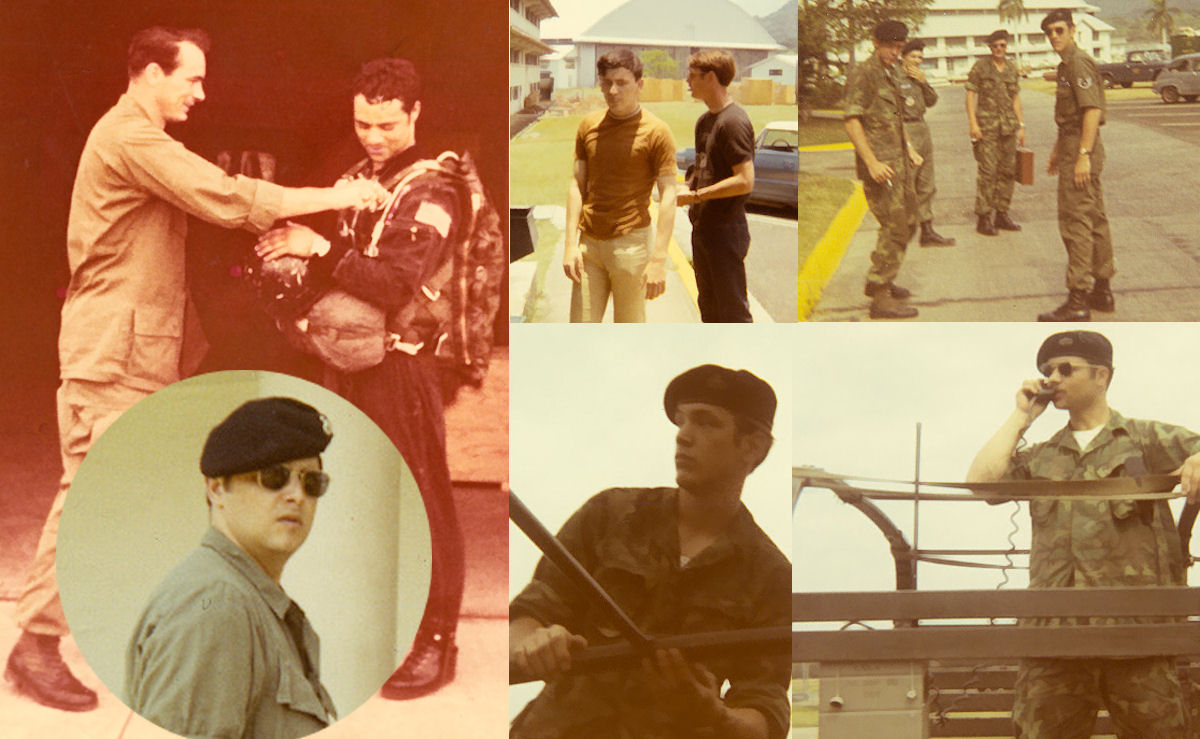 Above; Terry Highland, Terry Buquet, and Patrick Aguilar controlling Gatun DZ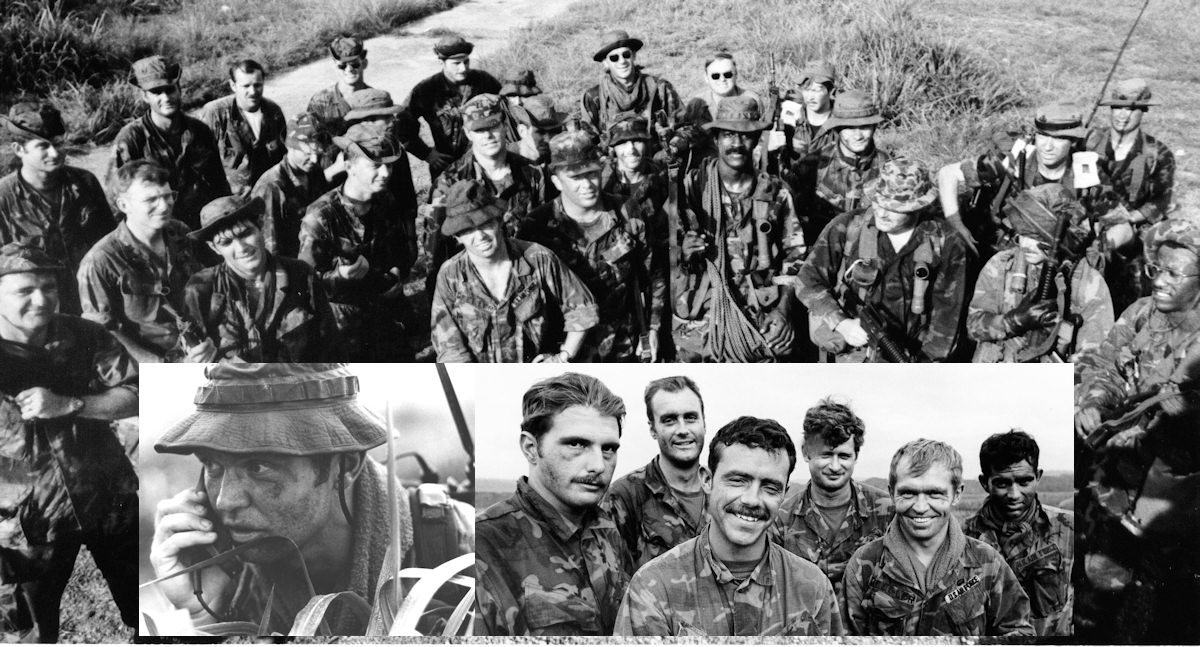 Tom Watson, Dave Hughes, 3, 4, Chuck Trimple (?), 6, Bob Haverty, 8, Charlie McCarthy, John Drozdowski (Ski), 11, 12, Walt Guyle, 14, 15, 16, Dave Gfeller, George Godley (?), Mike Welding, 20, 21, Dick Heinz, Dick Brawley, Bob Edmonson, Peter D. Holt, 26, and 27............
Insert; Dave Gfeller on radio and the Norton Dive Team; Bob Haverty, Dave Hughes, Bob Edmonston, Tom Watson, Dave "Deep Diver" Gfeller, and Charlie McCarthy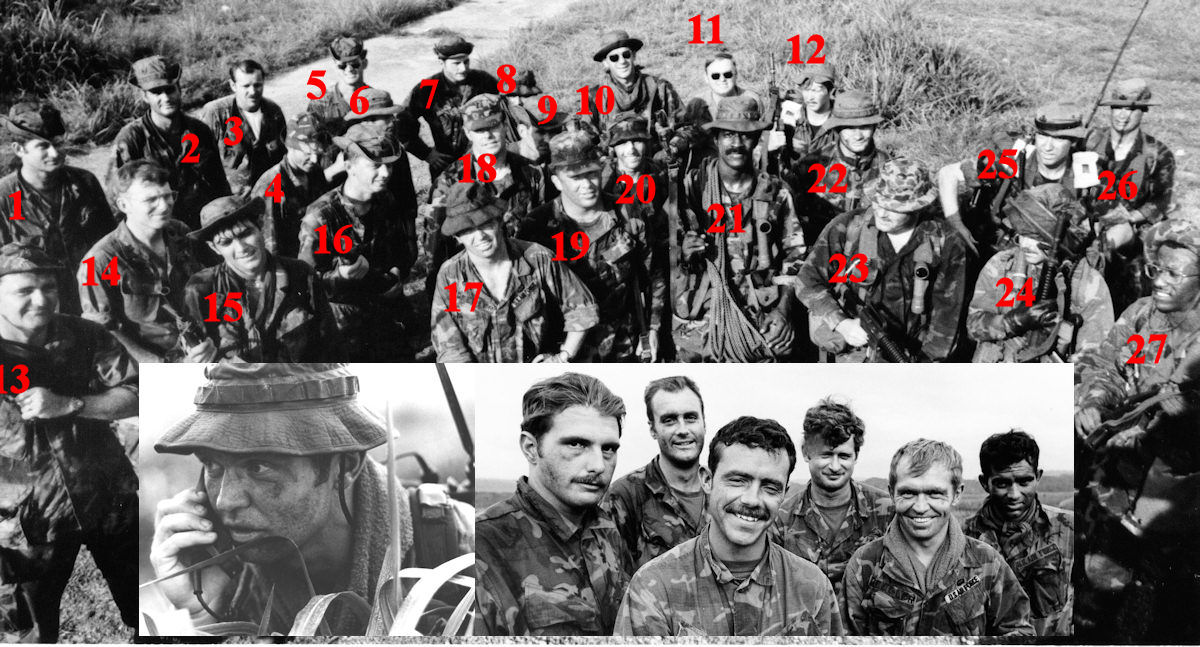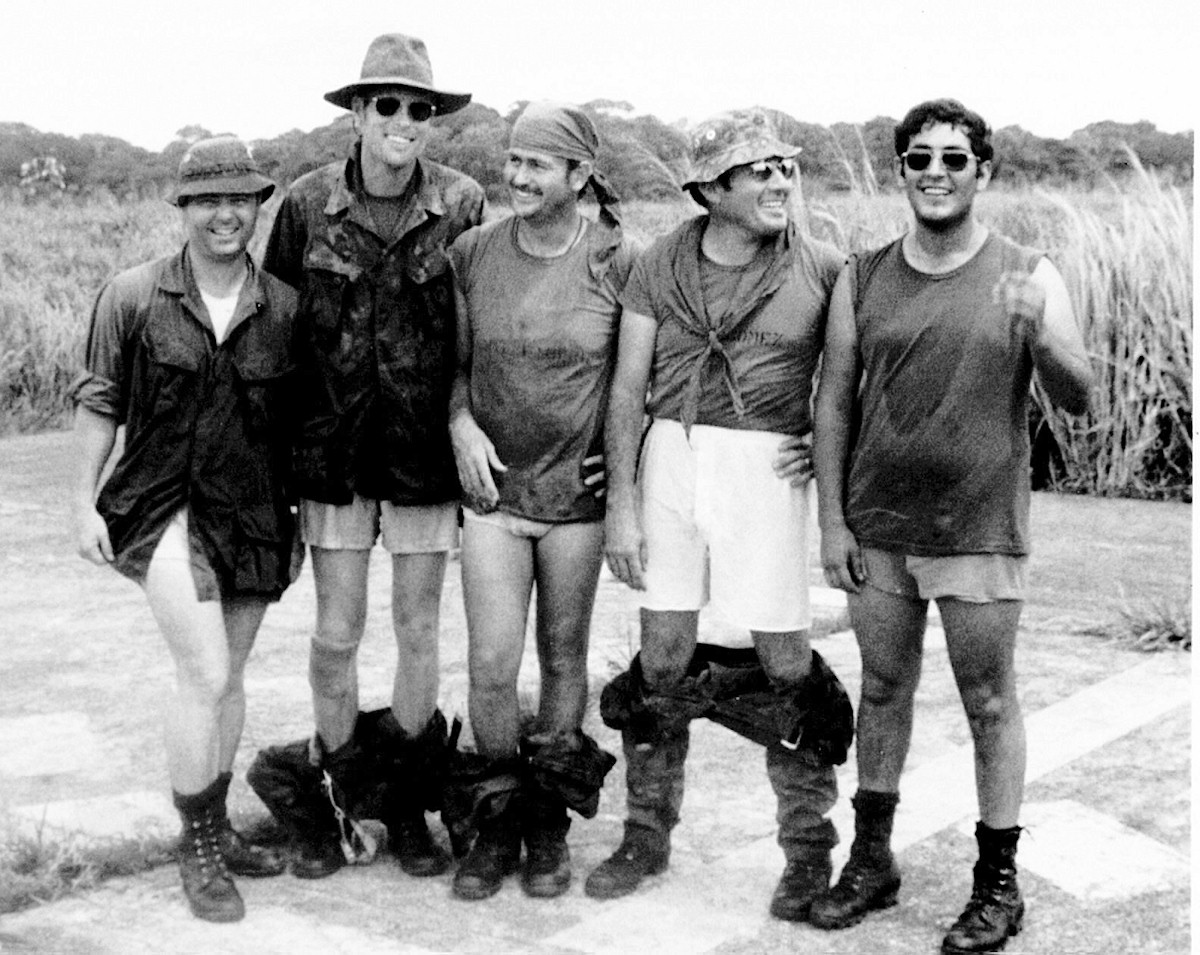 Major Williams, TACOPS OIC; Long John, Bob Bieber; Snake Eye, Bill Frankenberger; The Dream, Ernie Gomez; and El Stallion, Jimmy Gomez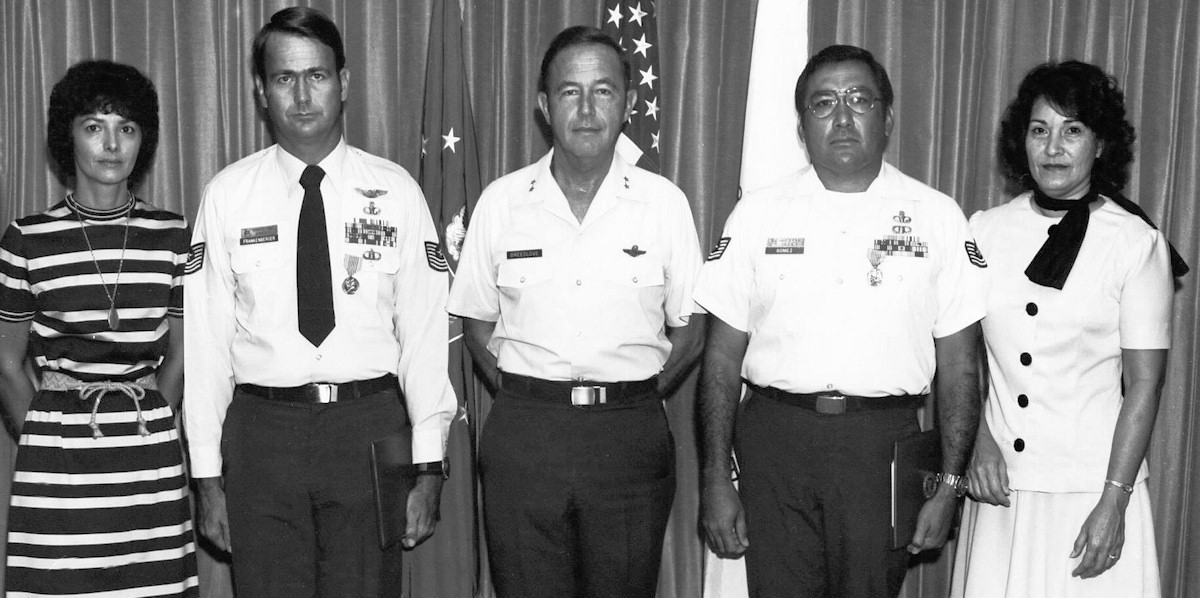 Lucky Linda Lou and Snake Eye The General The Dream and The Elegant Eleanor

The real story, as told by Snake Eye; Ernie, Dave Henry, Jimmy Gomez and I were on the first C-130 into Guatemala City, after the March 77, 7.6 earthquake hit. Within 12 hours of being alerted, we hit the ground running. The tower at the International Airport had been destroyed and there was no ATC to bring in the relief flights. We landed on the damaged airport blind. We began ATC operations on portables and with our MK. The MAG commander requested that I take a man and go to the northern part of Guatemala and establish an LZ.for light volunteer civil aircraft and the shit hooks that were to arrive in a week from Fort Hood. I grabbed Ernie and left Dave in charge of the ATC operation. The Northern operation area had no suitable location for an LZ, so we commandeered 6,000 feet of the Pan-american highway and the Guatemala Civil aero-club began flying their Cessnas and Pipers loaded with relief supplies. A week later Dave joined us in time for the Hood aircraft and took over ATC operations with his guys. Once again the MAG commander asked us to volunteer for a rescue and recovery operation in the highlands. We were accompanied by a CARE worker who spoke the Mayan dialect. We walked into the mountains and began bringing in slicks to evacuate the wounded. All went well for the first couple of days until one night we bivouacked just out side a village where Che Guevara had spread his hate of all things American. Long story short, our CARE guy went into the village to get some kindling for a fire. The Indian's were keening for their dead, doped up and drunk. The Utah boy became a target and they took his face off with a machete. We had been refused weapons by the Ambassador,so except for K-Bars we were unarmed. Ernie immediately rushed into the village with me following. Ernie was the real hero. I just followed him in moment of what the fuck is he doing, and I hope I don't get whacked. He was the calm action guy. I just followed. In sort of a bar room stand off we moved Neal back to our bivouac, gave him first aid, and called for a dust off. It was a long night, two unarmed guys with a man down, and a village of pissed off people who blamed the government for the earthquake. At day break we got the Huey in and evacuated our guy. MAG thought we should pull out, but at the same time told us that a lot of injured needed help. Ernie and I elected to stay and work the rescue and recovery.
Ernie and I received the Airman's Medal for Valor and the Joint Services Commendation. Dave got the Joint Services Commendation. In addition, I was awarded the Meritorious Service Medal.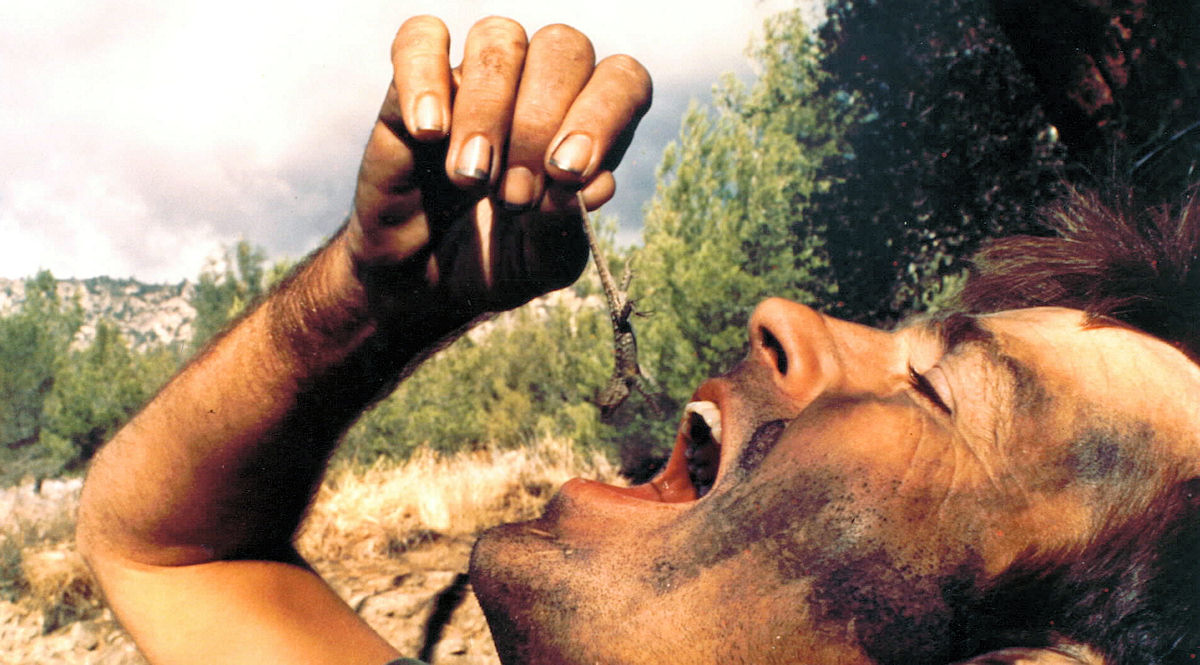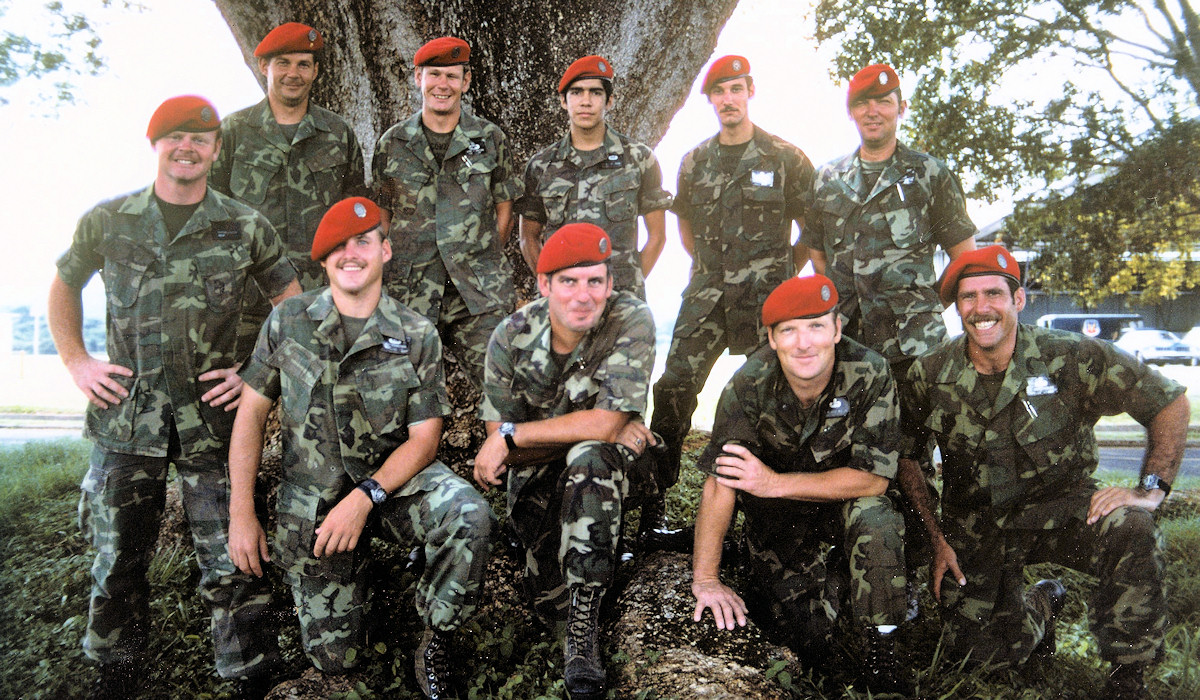 Randy Cook, Major "Disaster" Tom Regal, Wayne "Dink" Dalton, Larry Perez, Steve "Bones" Jones, Al "Chief Hud" Huddleston, Ray Bricker, Guy T. "Filthy" Fagan, Leonard Whitten, and Mike "Malfunction Mac" McReynolds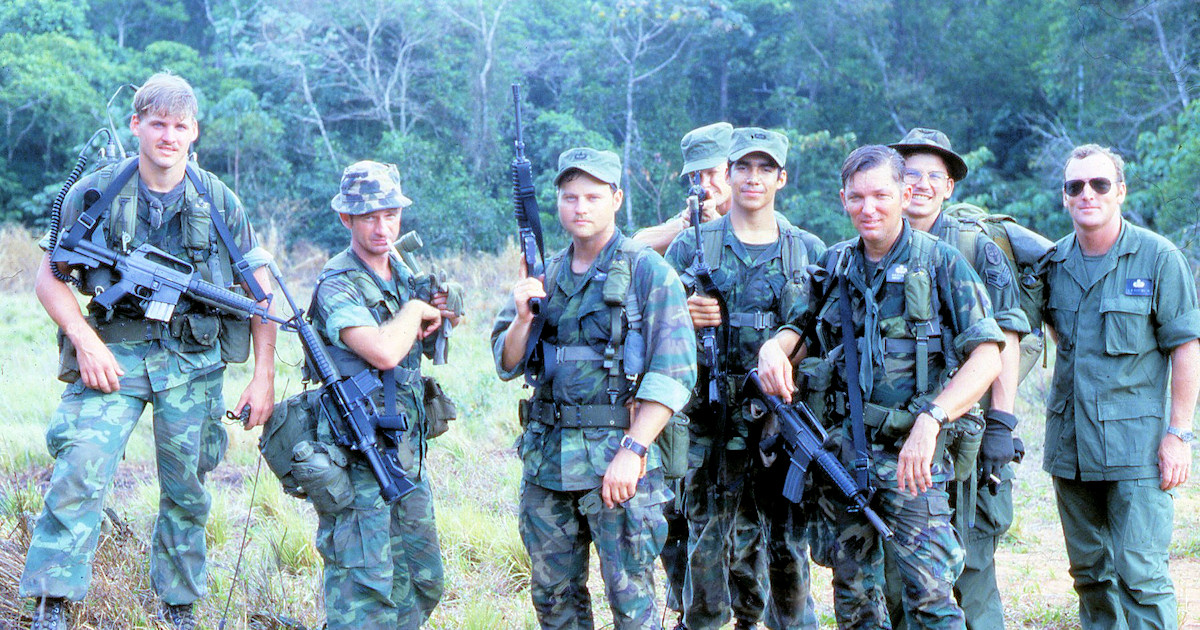 Above; Ray Bricker, Tom Allen, Dave Netterville, Dink Dalton, Larry Perez, Al Huddleston, Wild Bill "Combat Medic" Nunez, & Leonard Whitten
John Gibson




David Libby




Steve Jones




Edward Gange, Support





Jose Feliu




Michael Head




Wayne Dalton




Ron Newstrom




Cecil Griffen




David Mullins





John Glowacki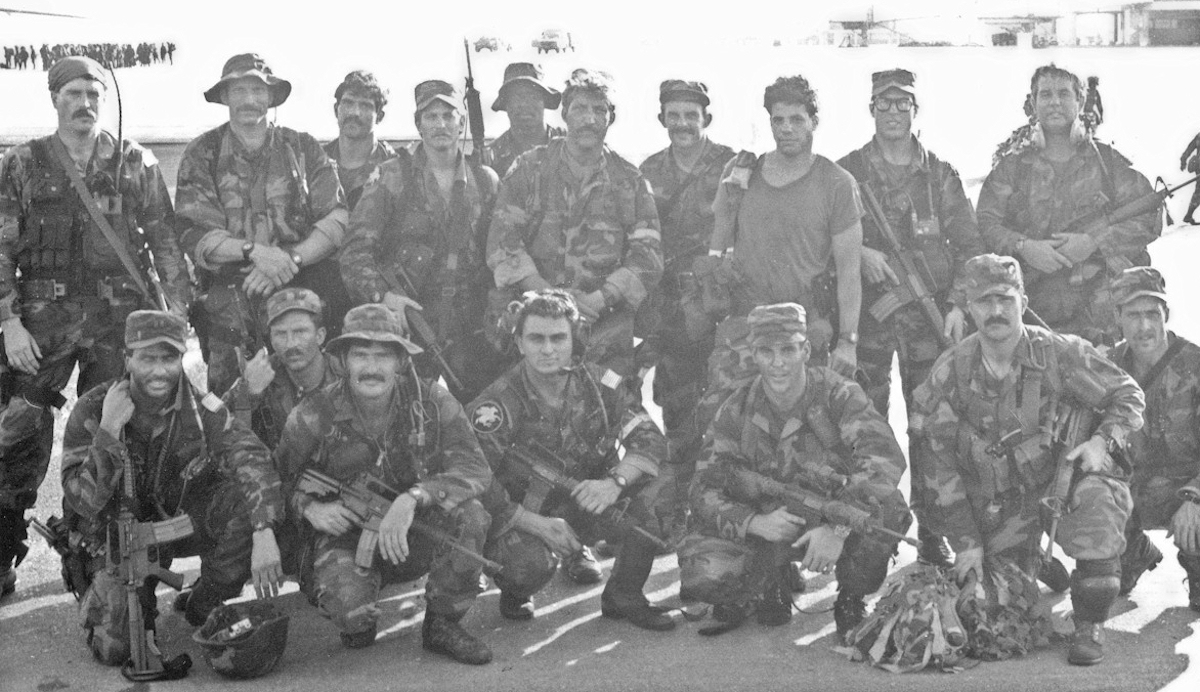 Stan Braxton, Jim Lyons, Steve Cast (pj), Joel Getzug, Harvey Perriott, Tim Brown, Dave Holcomb, Dan Rivera, Brett Hibbard, & Rick Caffee Front L-R: John Koren, Ray Cooper (pj), Lucky Cook, Fred Wullf, Duane Stanton (pj), Scott Fales (pj), Steve Borbee

CCT Strike Force to take Panama and capture it's dictator, Manual Noriaga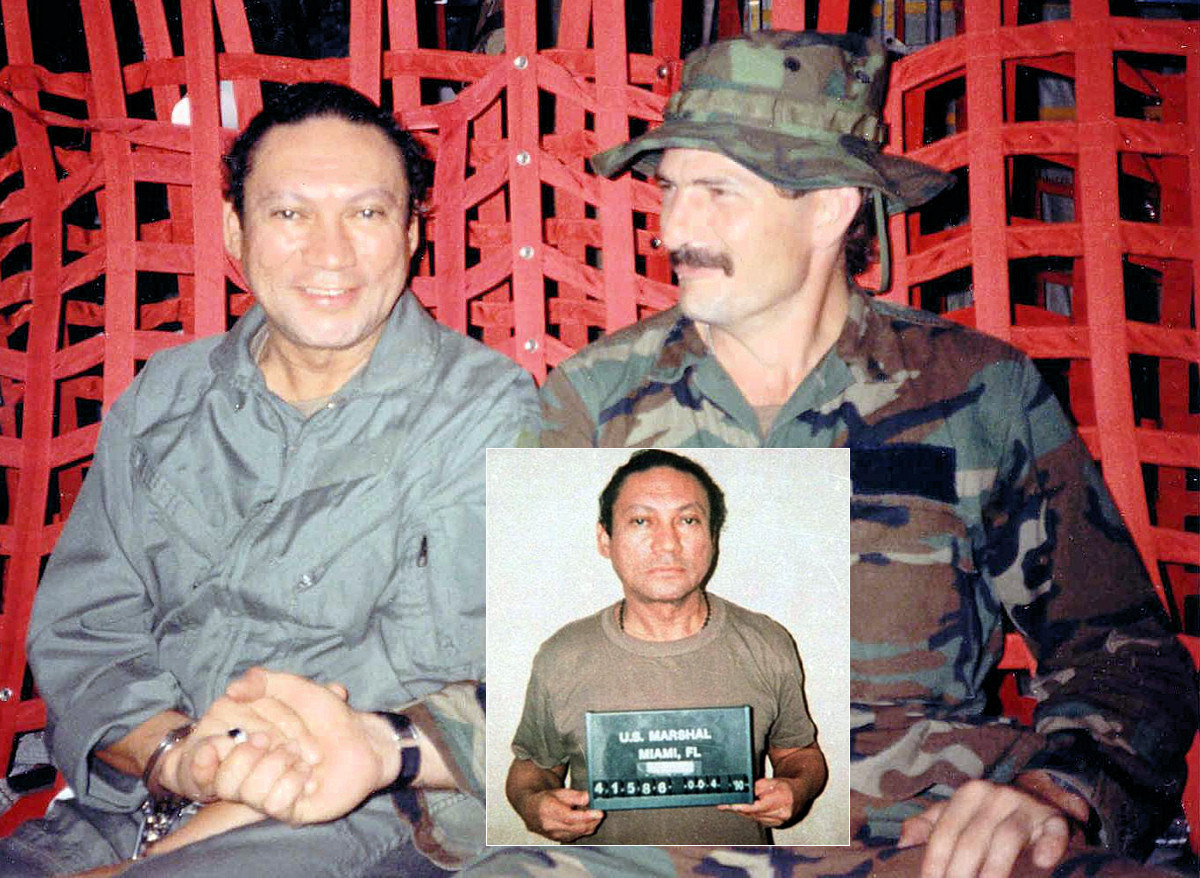 Lucky Cook takes charge of Manual and makes a deal to have all of Panama's riches deposited to his bank account. Lucky bought a few islands and retired soon afterwards, rumored to be Johnny Pantages' "Money Man"!