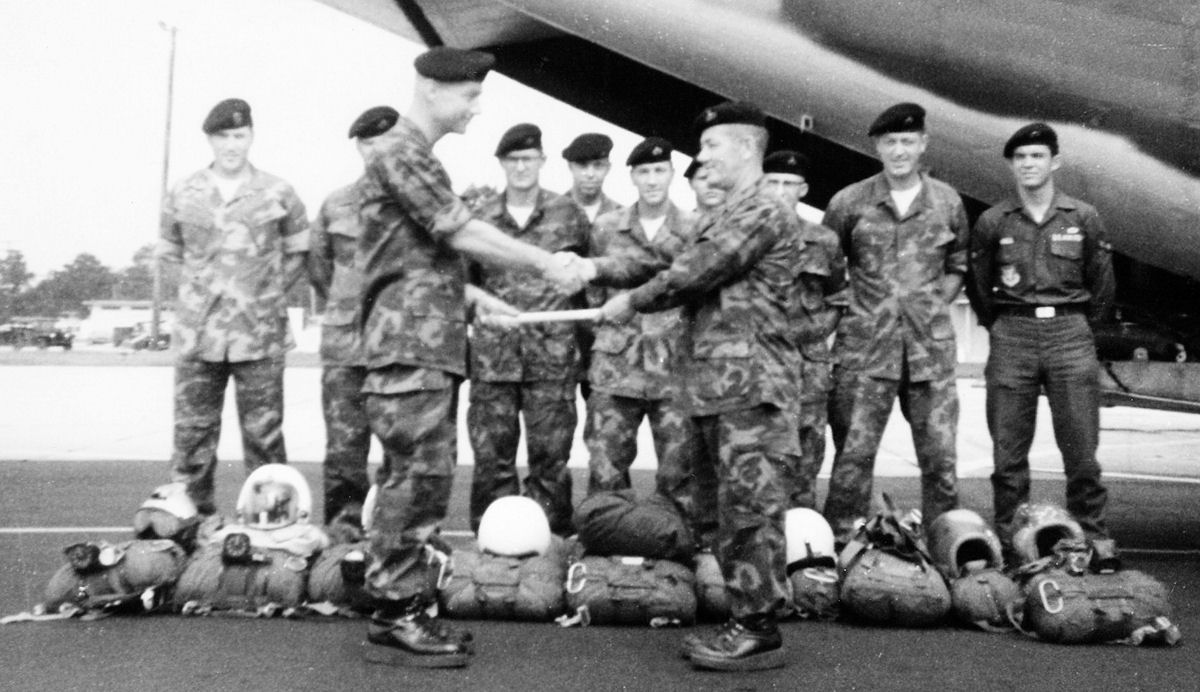 Capt. Denny Sears presents retirement papers to SMSgt George Jones just prior to his last jump. Gordon Swazey, Beverly McRae, J. C. Bradshaw, Peter N. Smith, Carl Roberts, George Hunt, Ernest C. Shervey, Roger Klair, and Willie T. Hall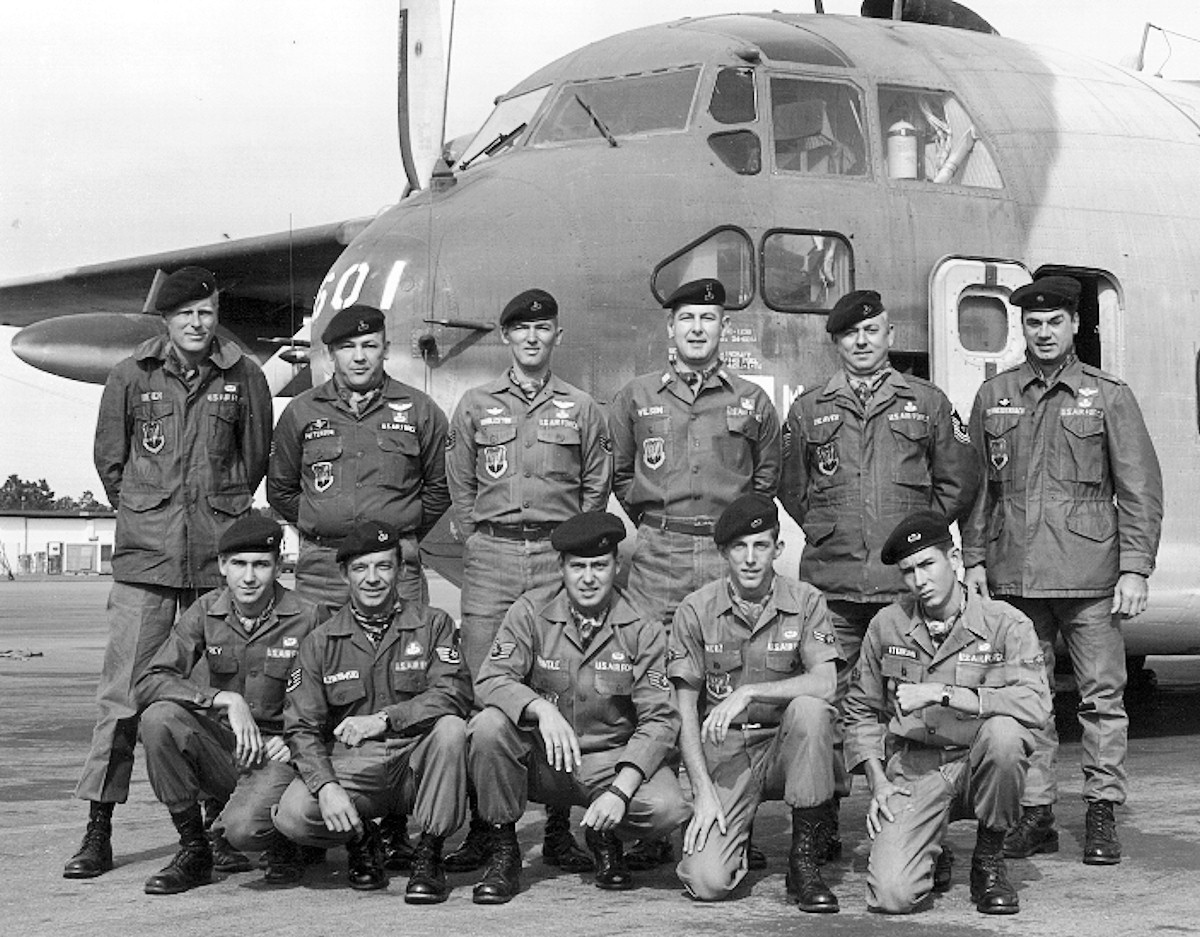 Bob Bieber, Ed Patterson, Al Huddleston, Ron Wilson, Kellis Deaver, Bob Schneidenbach, Joe Frey, Dennis Mazikowski, Don Prindle, Larry Merz, Danny Atkinson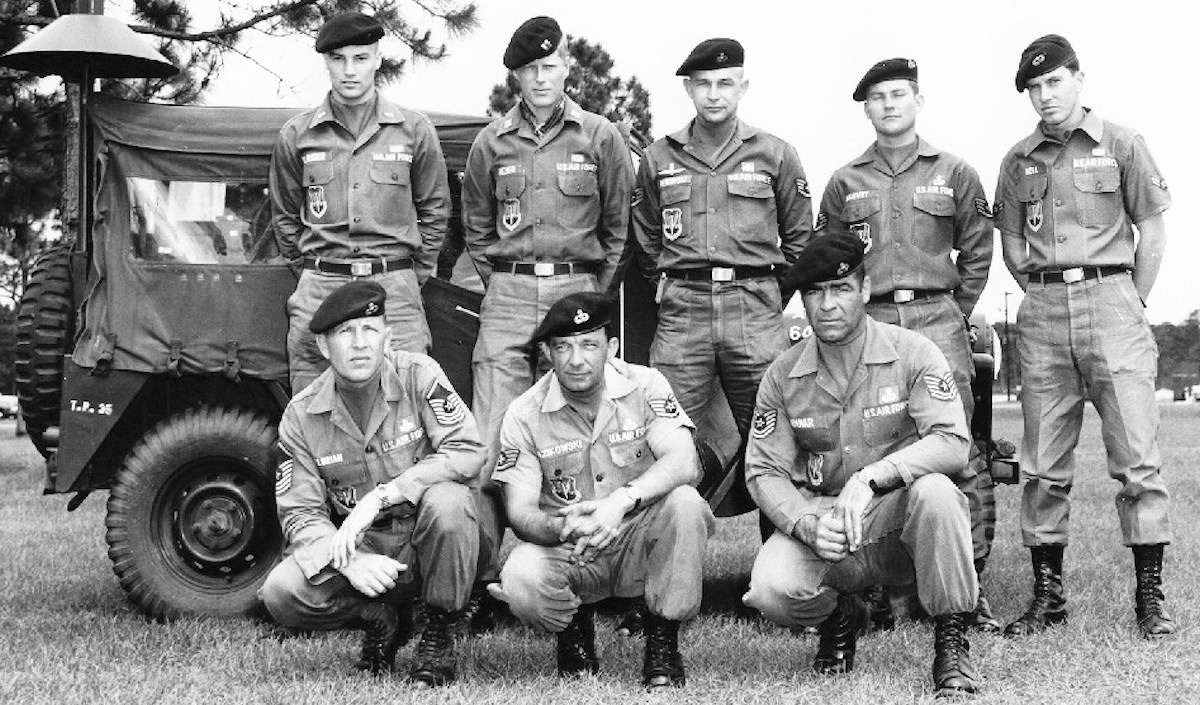 1st Lt. Joseph Klauser, Capt. Robert Bieber (OIC), SSgt David Reikofski, SSgt Lauren Harvey, and SSgt Mickey Bell
SMSgt Calvin "Commando Cal" Florian (NCOIC),
SSgt Dennis Mazikowski, and TSgt Patrick Aguilar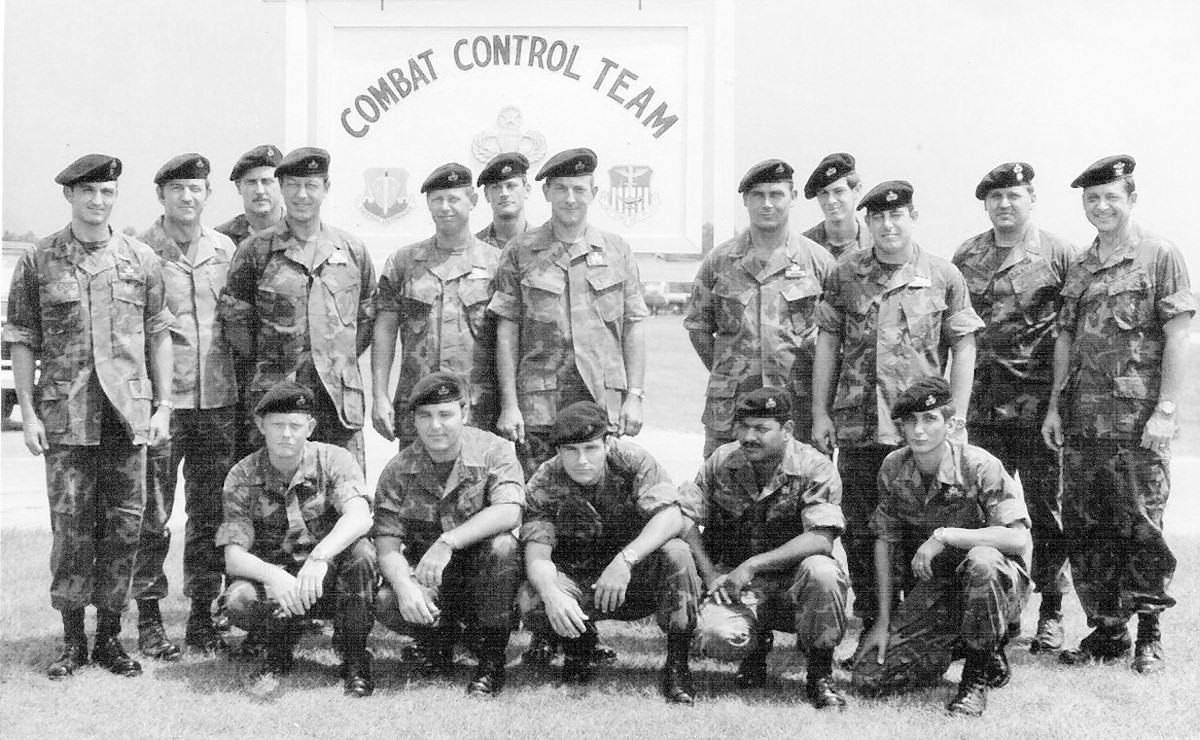 Roger Wildermuth, Don Hammond, Louis May, Roger Klair, Don Carlisle, Wesley Turner, Ronny T. Potts, Richard Carmen, Mike Greene, Chesley E. "Buddy" Bowden, David Larson, and Harland Hume, 1st SOW DO ***** Wayne Gardner, Rick Vassar, Steve Joel, Mario Castro, Mike Carbone.
Below; Ship of Fools? Which way did they go????????????? Sent by Wayne Gardner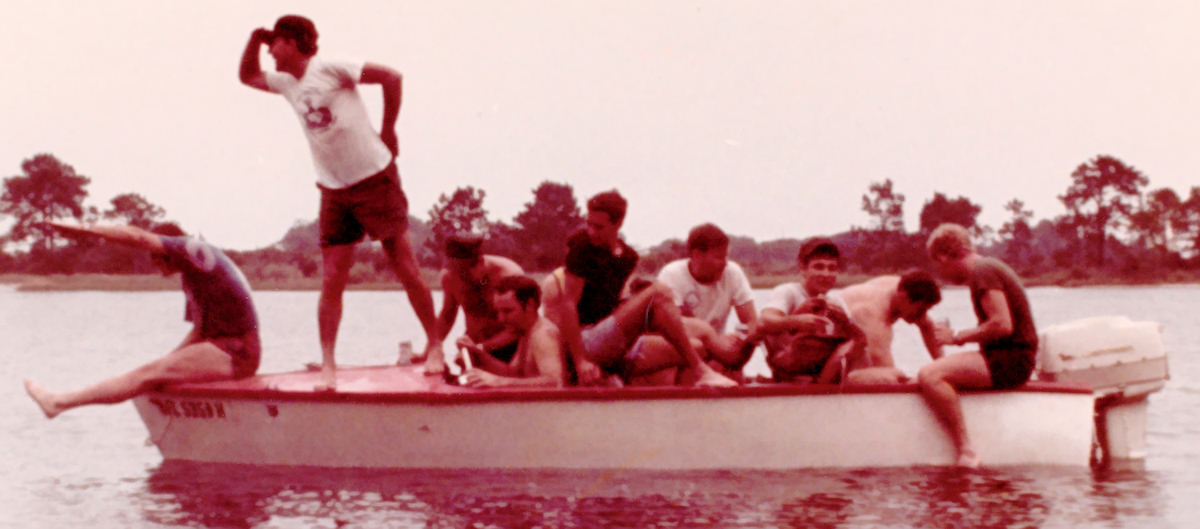 From Buddy Bowden; In 1977 we had an EDRE in California with Rangers back in the days when those moves were oh so classified. For some reason an old EC 121-Super Connie was sent to Hurlburt and the 1st Special Ops Wing Staff for EDRE was loaded. Hume was on this aircraft as well as Col. Grimes - pioneer for Combat Weather and many officers and NCOs we knew well.
They departed Albuquerque and did not get over the mountains. Hume was the briefing officer and I his assistant (And only enlisted person to witness this meeting) to USAF Chief of Staff David Jones and all USAF Major Commanders on SOW ability to pull off Entebbe Raid. However the meeting was to determine the world wide actions of all commands to accomplish such a Raid.


Rick Vassar and I took General Jones on a dive in the Gulf during this time as well. The California EDRE at time of EC 121 loss was such a practice for something like Entebbe.
Hume was a great supporter of SOCCT. And all at that time was so classified we could not communicate it to our MAC Brothers........ Buddy
Hurlburt Air Park; Combat Control Team , late 1970's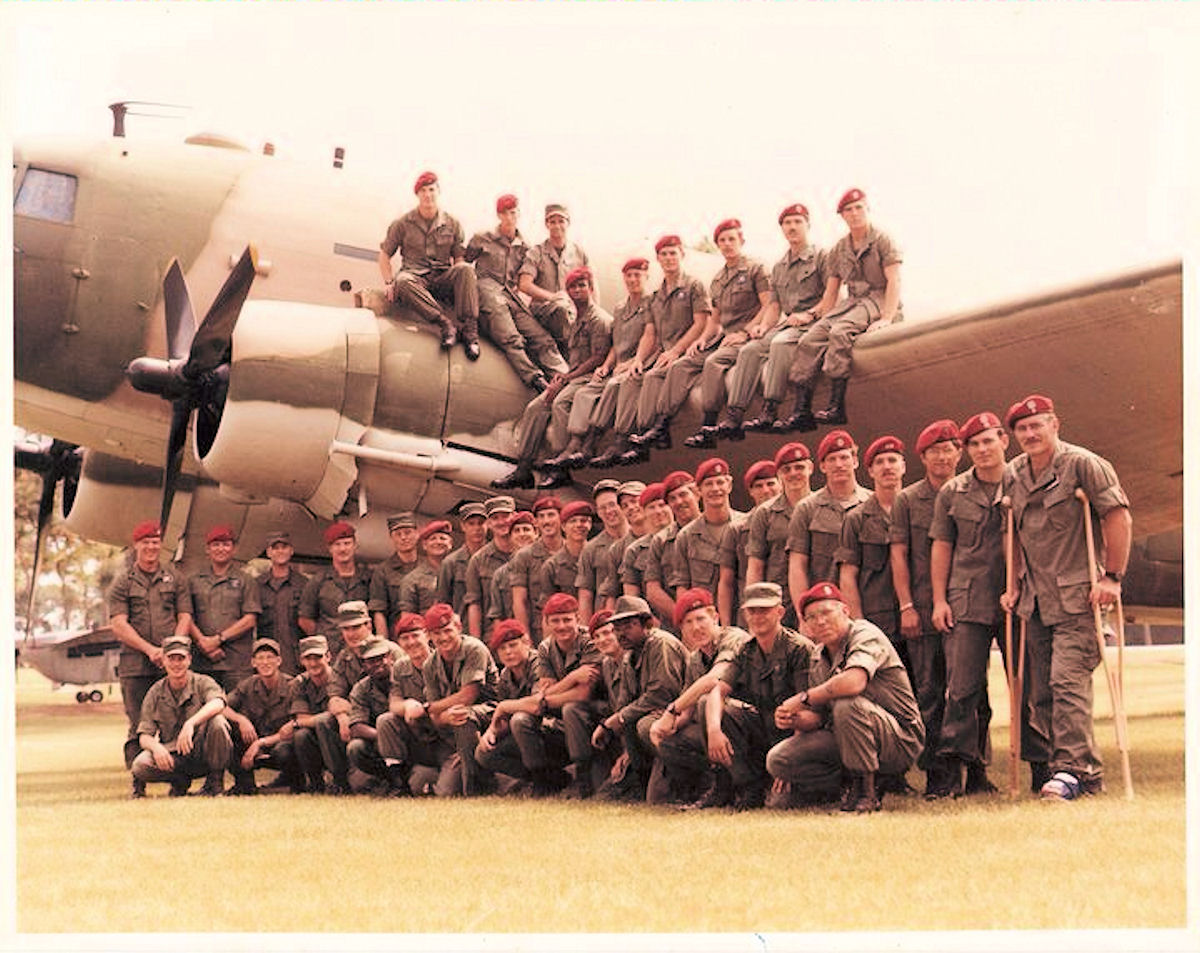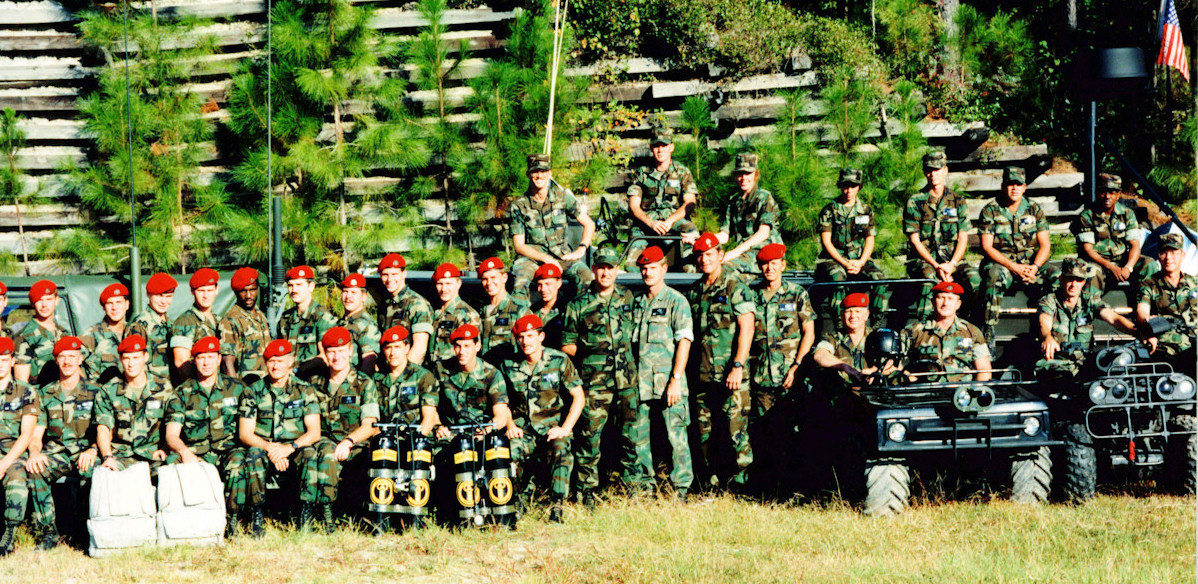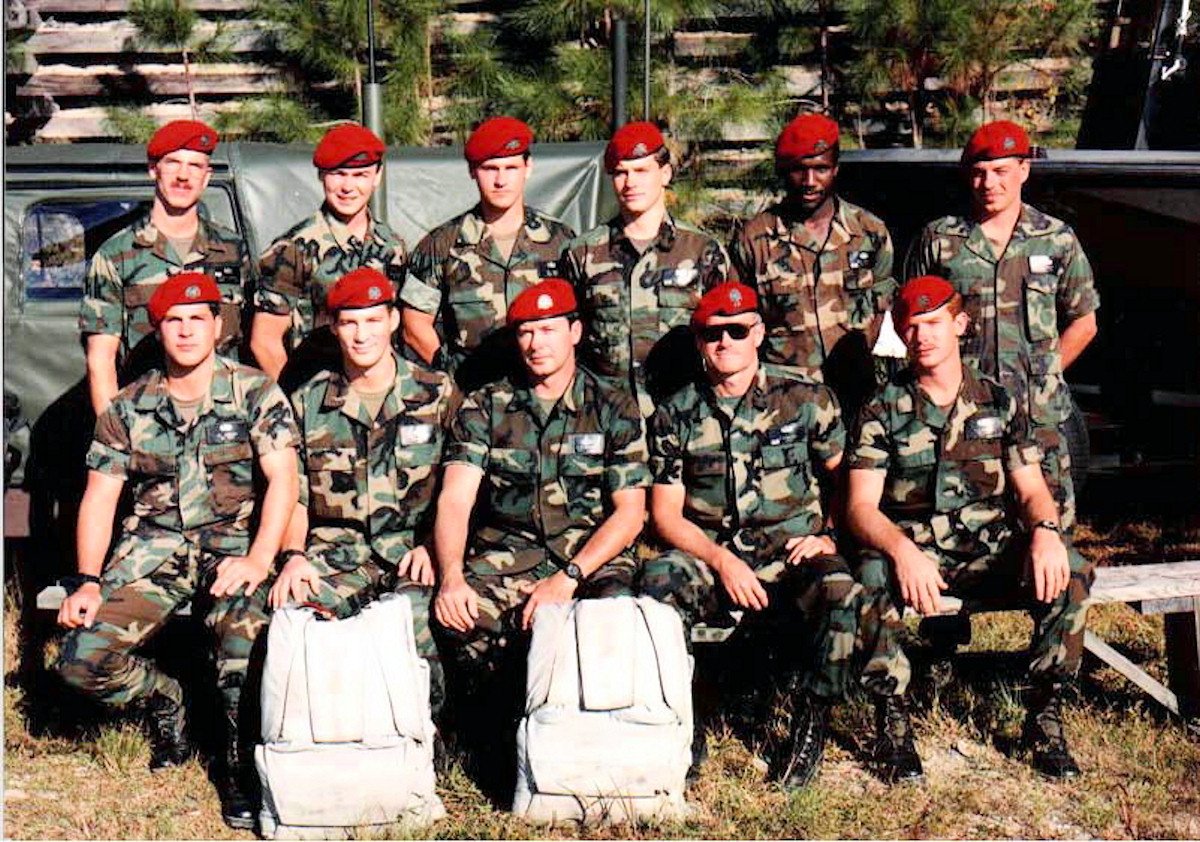 Back row: Ralph Humphrey, James Holloman, Gary Kunis, Tony Logsdon, Murice Wilson, Doug Allen ***** Front row: Dale LaFleur, Mike Breeden, John Lebold, Capt. Nelson, and Tom Tinker


1989; Pat Rogers, Mickey Wright, John Lebold, and Ron Childress