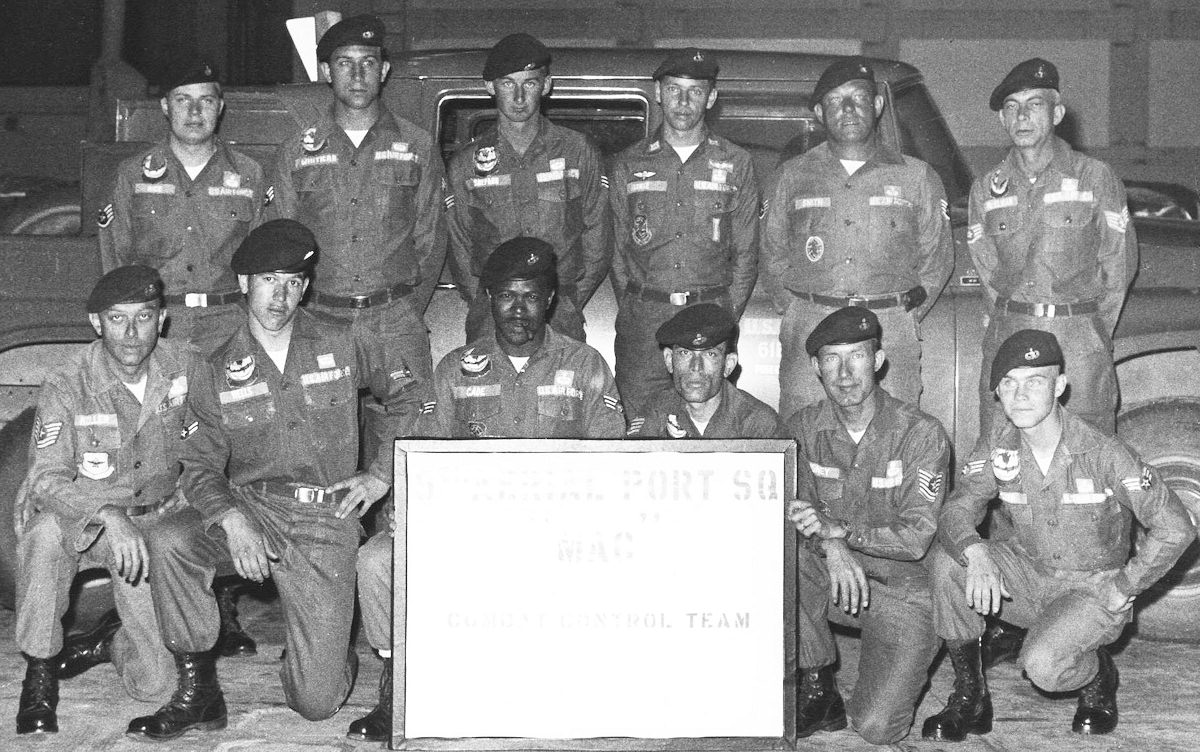 RAF Feltwell, UK; Gerald "Jerry" Rice, Leo A. Whiticar, Charles O. Shepard, Arlon Jahnke, Donald R. Smith, and James B. McElvain Front Row; Tom Koller,
Norman "Larry" Wells
, Linnie J. Cade, Oscar Dillingham, Murphy Rigney. and Paul Foster

At an Anti-Drone rally a megaphone was shoved in the vets face, then they cried foul when he shoved back.
Veteran:"None of you have got the vaguest idea what you are advocating."
Sheehan:"No matter how much violence they bring to us, we're going to bring peace to them."
Watch Video to the right




Retired Combat Controller, Msgt Phil Ward


is assaulted by a radical womans group.

Phil is pictured below.
Tempers Flare At Anti-War Rally At Travis AFB
An unidentified military veteran was involved in a tense confrontation with anti-war activist Cindy Sheehan and the group Code Pink at a rally at Travis Air Force Base on Saturday, November 28, 2009.

Anti-war group Code Pink demonstrated at the military base Saturday morning in the first of six planned protests against unmanned military drones currently in use in overseas war zones.





Sheehan, a well-known anti-war activist whose son was killed while serving in Iraq in 2004, was leading the demonstration with a megaphone when a man dressed in a formal military uniform stepped up to her and berated her.





Videotape of the incident shows that Sheehan yelled "Get out of my face" through the megaphone at the man, who slapped the device away. Other protesters immediately joined Sheehan and traded insults with the man, and a shoving match broke out.




Military police quickly pulled the two sides apart.
The military veteran told reporters that he was upset with the anti-war protesters' effect on troop morale. "They ruin the troops. They get to the troops. They did the same thing in Vietnam," he said.
The man declined to give his name to reporters. "I don't want to be a personality over this, that's not my intention," he said.
Sheehan told reporters that she was disappointed her protest against what she called "morally reprehensible" military drones was interrupted by the man.
"We are here non-violently, and he came up and shoved the megaphone into my face," she said. "I'm never going to stop, no matter how we're oppressed."
Sheehan said she would be speaking to an attorney about legal action against the man.
Code Pink protester Xan Joy, who physically confronted the man during the incident, called the man a "bully" and said his behavior was meant to intimidate the protesters.
"He should be so happy and grateful that there are people in this country that are trying to protect him and his children and everybody's children from war," Joy said.
The events of the day did not end when the protesters packed up and left. When part of Code Pink's caravan paused in the middle of the road, Sheehan was given a ticket for impeding traffic.
"I got assaulted by this old man and I'm the one given a ticket. So, yeah, it's bulls****," Sheehan said.
Several members of Code Pink said they wanted charges filed against the man in uniform, but no arrests were made.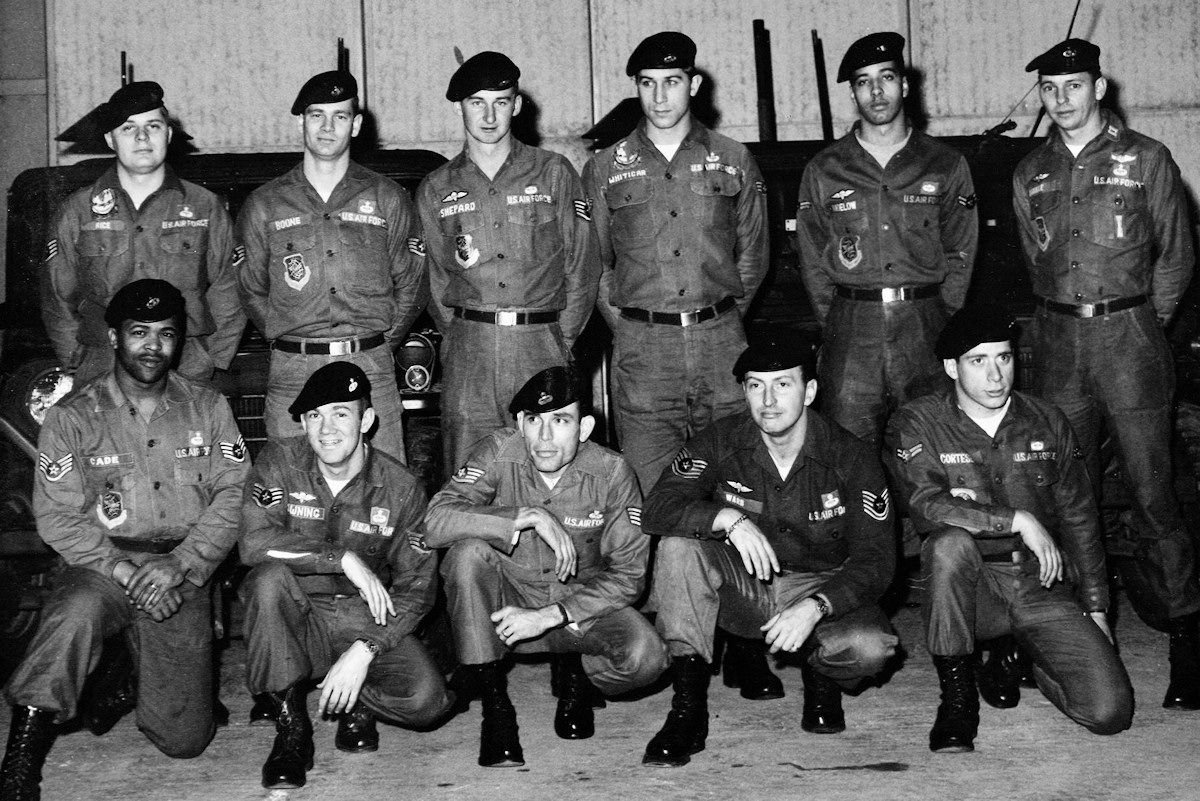 Gerald "Jerry" Rice, Lou Boone, Charles O. Shepard, Leo A. Whiticar, Gilbert "Gil" Bigelow, Arlon Jahnke, Linnie J. Cade, Gary Downing, Oscar Dillingham, Phillip E. Ward, and Lou Cortese
From Norman "Larry" Wells; When I saw the article about CCT & Cindy Sheehan I wasn't sure if it was the same Sgt. Ward that I knew until I read the part about the Beret being stepped on and his reaction to it. Then I was positive. We were in a bar having a few beers (what a surprise) after coming off the drop zone one night and some obnoxious SOB was making fun of the "funny hats." As you well know, we worked hard for those and were damn proud to wear them and couldn't let something like that go un-challenged so a little scuffle ensued in which Phil kicked the (you know what) out of him, dragged him out the door, came back in and tossed his beret in the middle of the bar floor and threatened to do the same thing to anyone else who walked within 10' of it.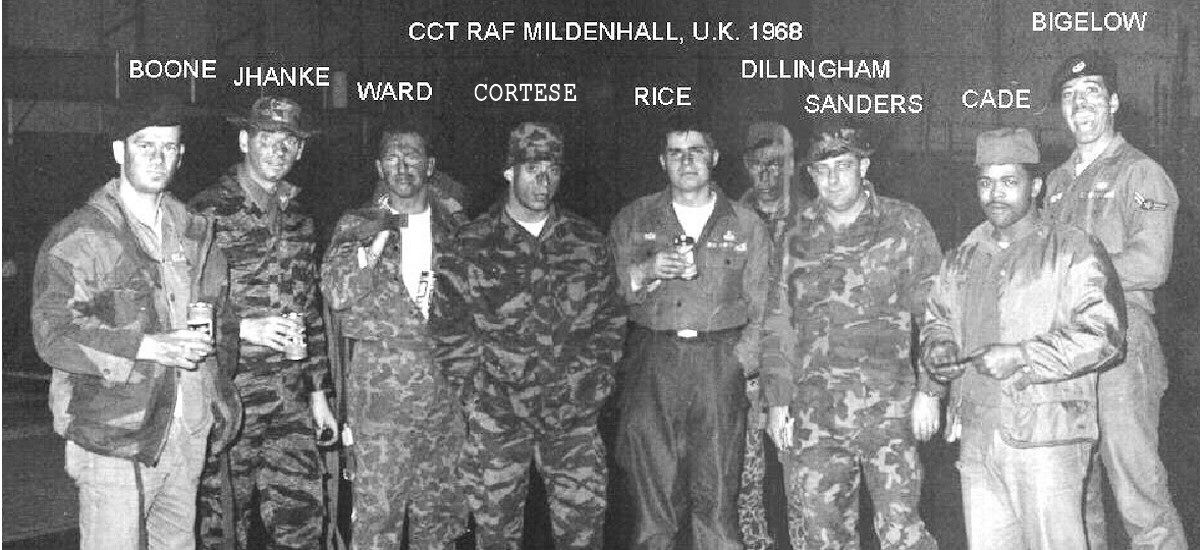 Lou Boone, Arlon Jahnke, Phil Ward, Lou Cortese, Jerry Rice, Oscar Dillingham, ? Sanders, Linnie Cade, and Gil Bigelow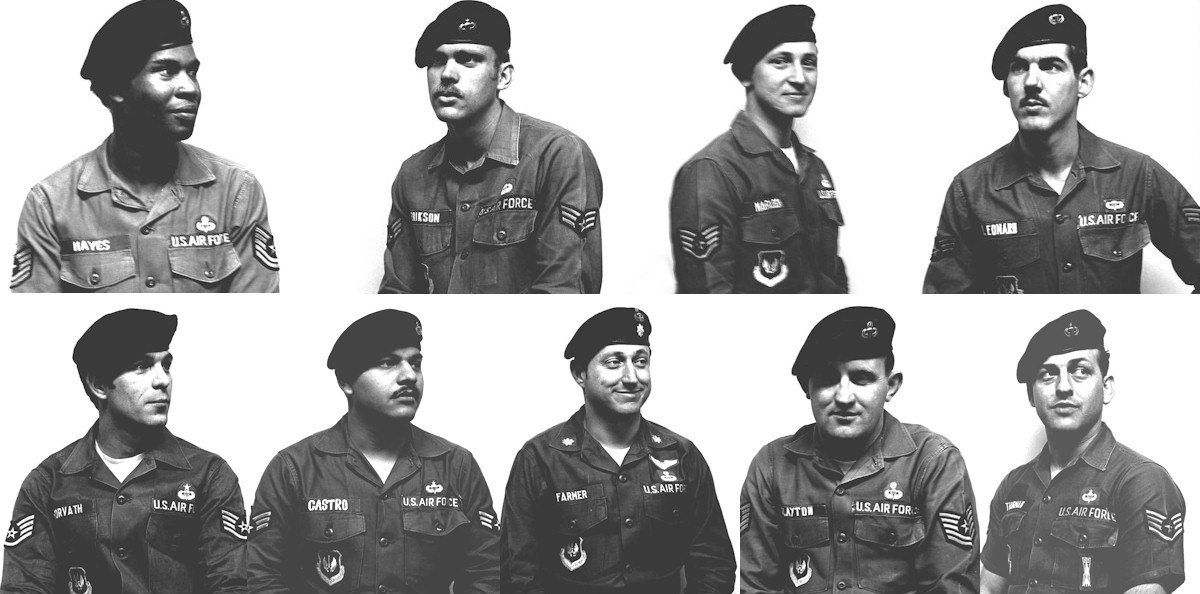 Dark Hayes, Norm Erikson, Tom Naragon, Mike Leonard, Steve Horvath, Mario Castro, Bob Farmer, Billie Slayton, and Loren A. Thurman Note; Missing photograph of Mike Steinbeck