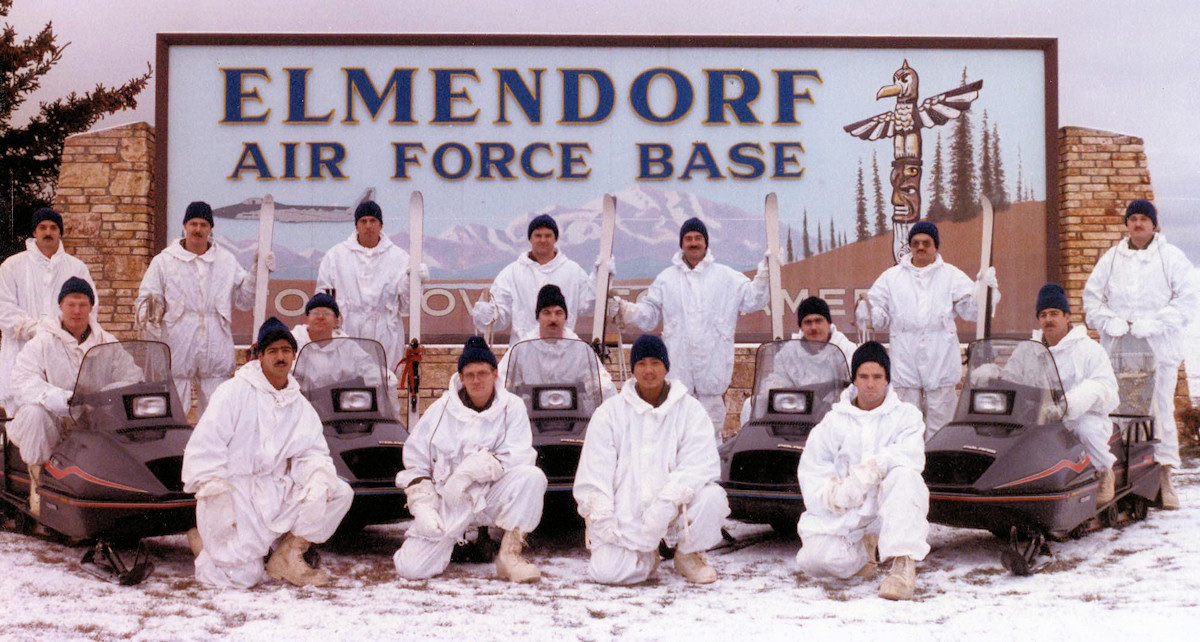 Back Row; Gary Lantrip, Terry Harris, Bill Weiss, Tony Simpson, Jim Charvat, Support, & Jack Baker..... Sitting; Randy Kubitz, O. C. Adams, Support, Mike Sheridan, & John Holder....... Front Row; Stewart Orosco, Mike Dale, Support, & Ody A. Dickey III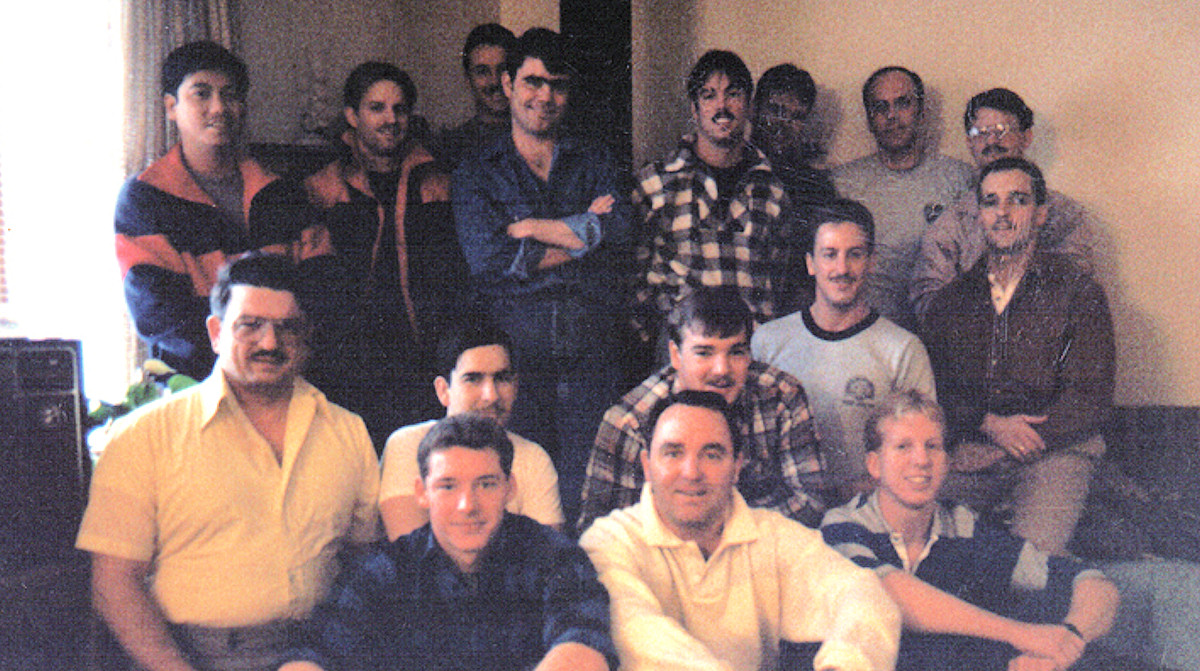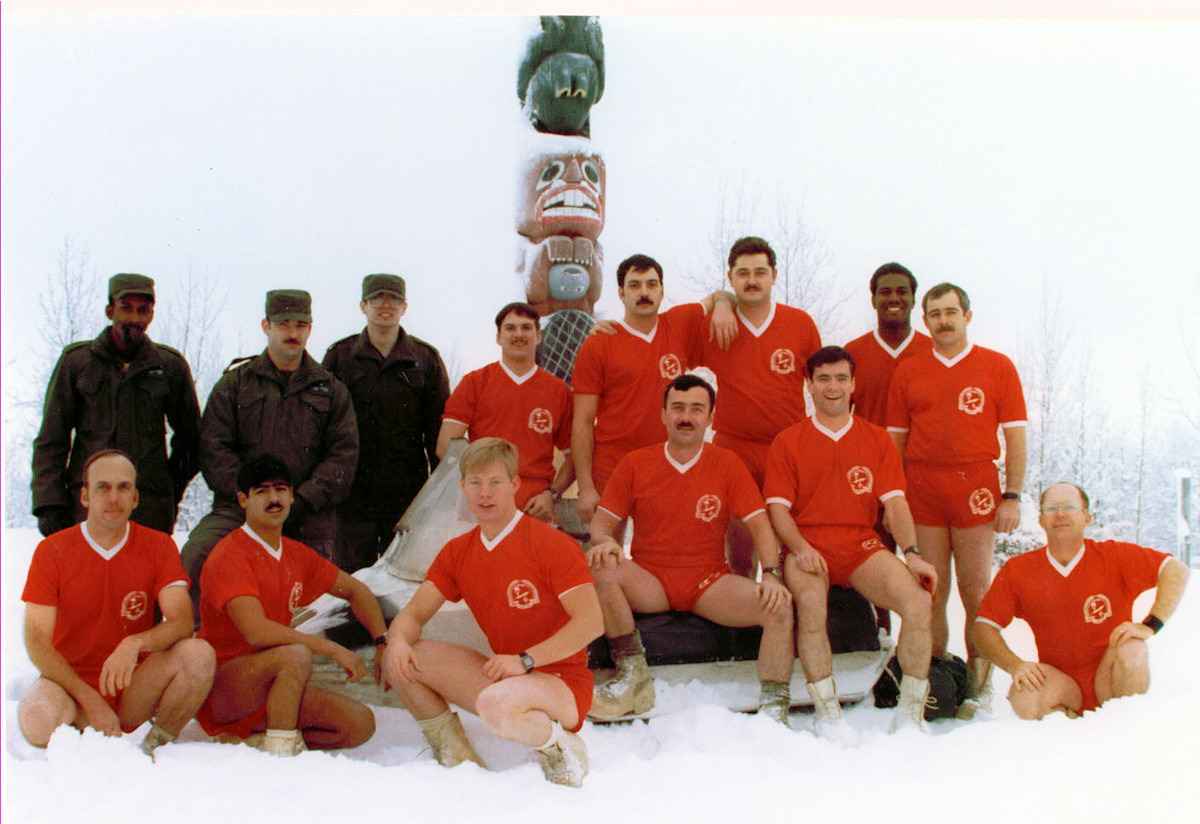 Support; Anderson, Detrick, & Linn *** CCT; Jeff Ford, Gary Lantrip, Jack Baker, Frank Humphrey, John Holder, Bill Weiss, Stu Orozco, Randy Kubitz, Jim Charvat, Ody Dickey, and O. C. Adams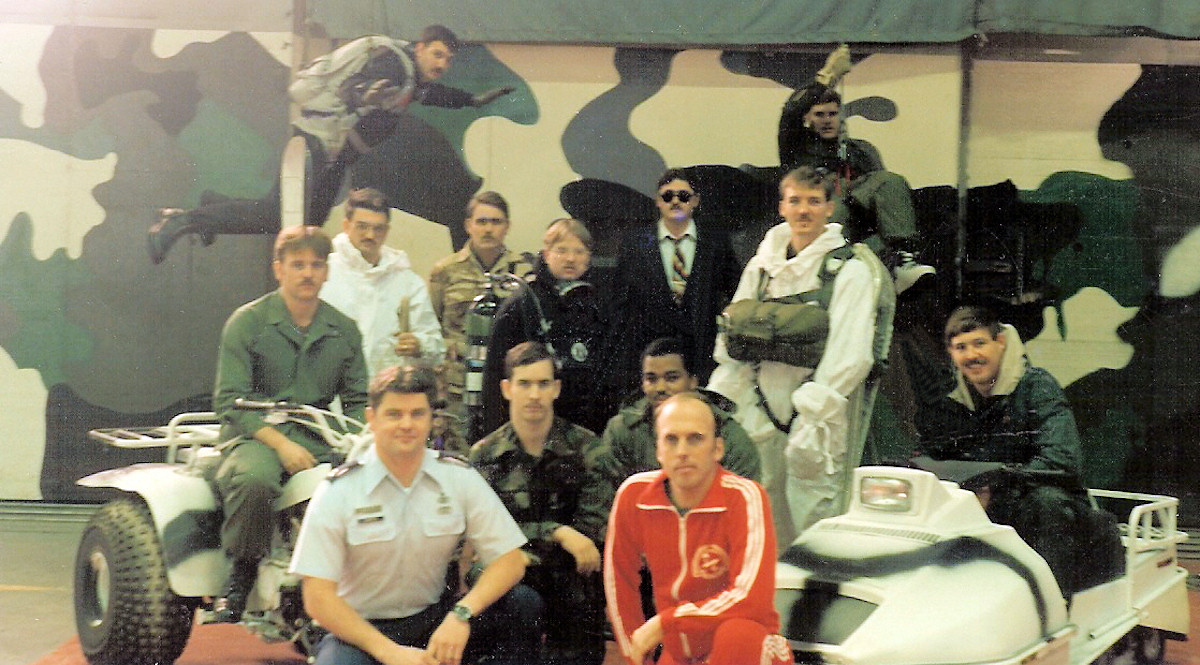 THE ALL ENLISTED, ALL MARRIED, ALL HALO, ALMOST ALL SCUBA TEAM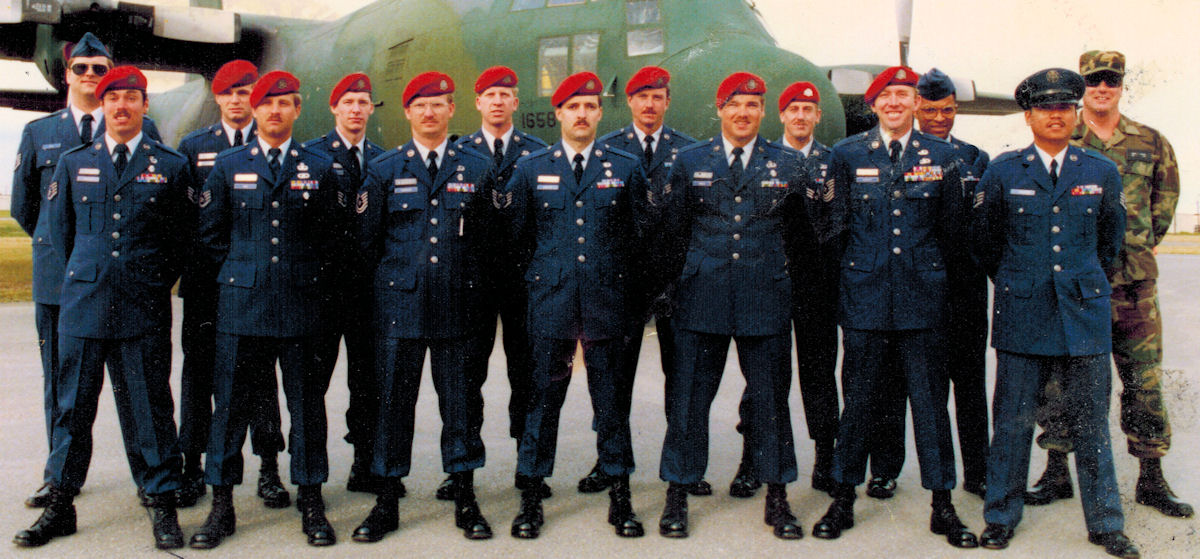 1991 L to R; S
Sgt Mark "Marcus" Rush, SSgt John "Spike" Gardner, Sgt Sean "Scooter" Gleffe, SSgt George "Andy" Hale, Sgt James "Vinny" Forget, TSgt R. J. "Homey" Yarbrough, Sgt Chris "Linus" Meier, SSgt Karl "Seagull" Hamiliton, Sgt Dewayne "I'm not going to Pope" Morey, Sgt Jay "J. D." Daniels, Sgt Brad "I didn't get the word" Walker, MSgt Roger "Common Air Breather" Hoggatt, SSgt John "J. J." Johnson, Sgt Chris "Poo" Prado, and SSgt Bob "Bush Co." Howland. Not pictured; Jesse "Leno" Wertman Special Thanks to James Forget, Send Pictures!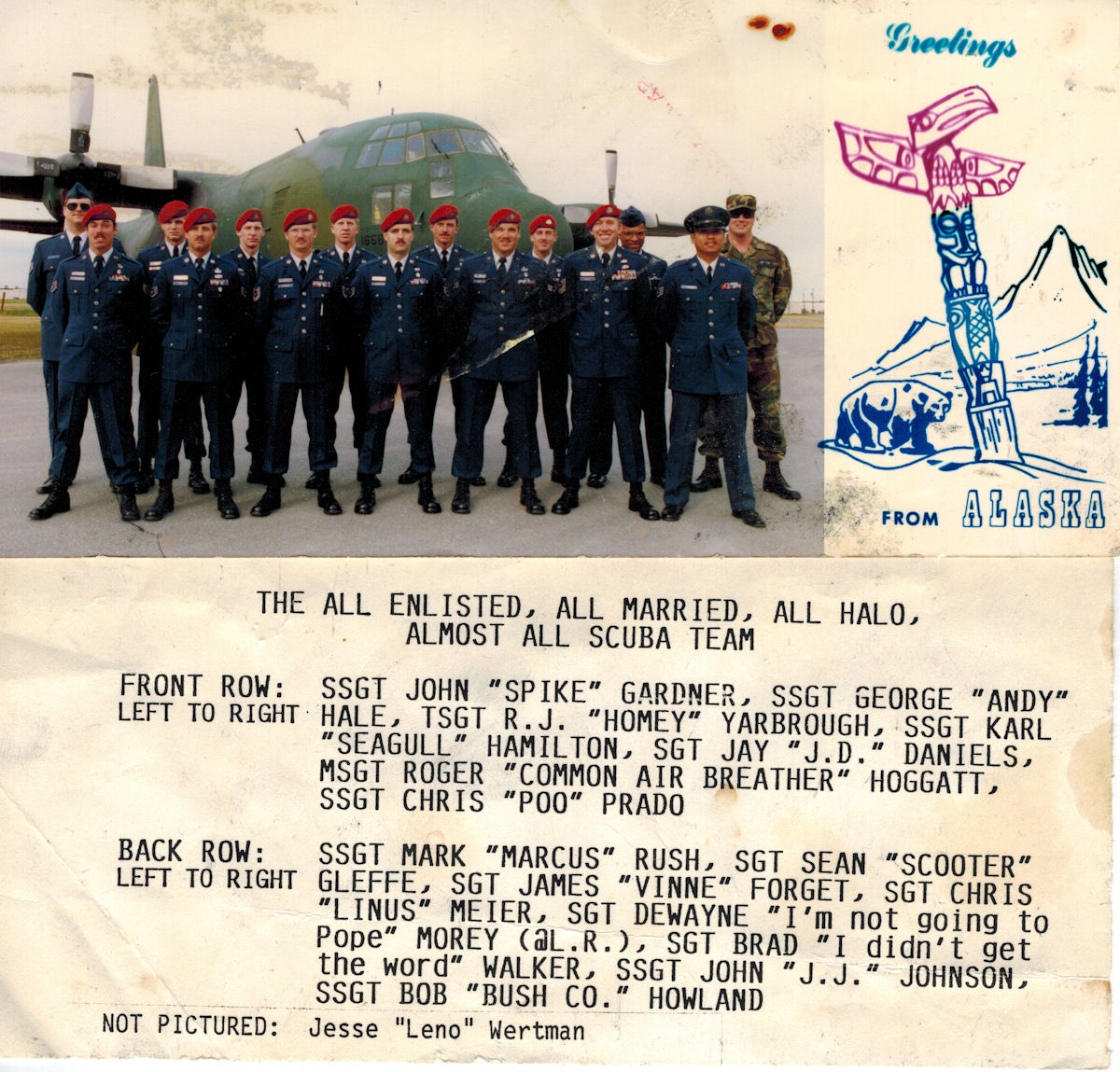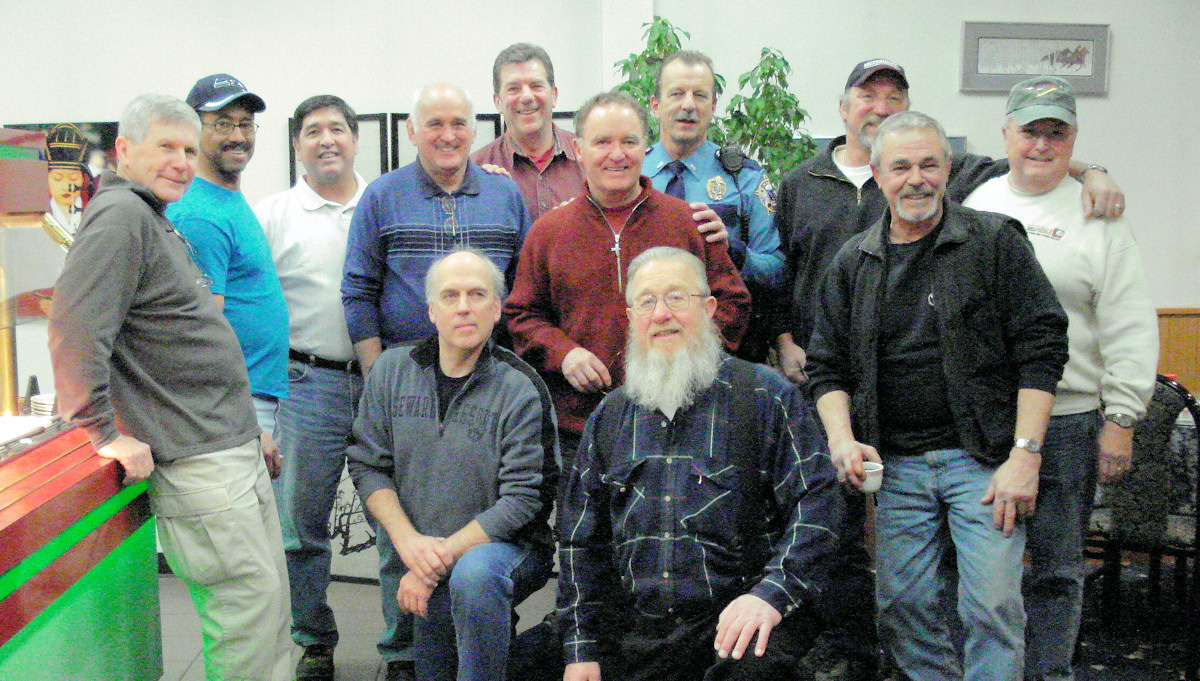 Larry Barnes, John Norsworthy, Jay Regan, Skip Arnold, John Drozdowski, Rick Vassar, Duke Ballard, Bob Eubank, Tom Laney, Bill Weiss, Emmet Heidemann, and Edward Haberger

J. C. Bradshaw, Wayne Norrad, Nick Kiraly, and Johnny Pantages all visit Alaska and enjoy the company of the guys, and some fishing .........